Profile of CONTIGO´s partner Umed Singh
Supply chain
Trading partner: Umed Singh, microenterprise
Function: Producer
Structure: Own Production
Tradeway: Import CONTIGO via Service Provider Amit Batra / Indien
Products
Silver jewellery
Location
Jaipur, India – distance to Europe: 6,100km
Founded in 2000
History
1971: Umed Singh starts a technical schooling and light engineering training in Jaipur
1980-1985: Employment in the silver manufacturing company of his uncle
1985: Umed Singh starts working as contractor for Poppy Dandiya (famous goldsmith and designer in Jaipur) with 20 indoor and 80 outdoor crafters
2000: Umed Singh establishes his own workshop in his private house
2016: Downsizing of the workshop to 8 crafters
2020: Staff is reduced to 6 crafters due to difficult economic situation in Jaipur silver industry
Cooperation with CONTIGO since 2003
Structure of the business
Number of employees:
6 employees (men)
3 silver smiths
1 polishing person
1 stone setting person
1 person in quality control
All silver crafters are migrants from the area of Kolkata, Westbengal
Work organisation

The workshop is located in the upper floor of Mr. Umed Singh's private house. One work room with roof terrace, enough daylight and ventilation. Smithing table for three crafters, one table for stone setting, two polishing machines. All tables with spots. The crafters work while sitting on the floor.
Most production steps in the handcrafted jewellery are done manually: flattening the silver, cutting the sheet silver, shaping the jewellery, soldering and ornamenting, stone setting. All steps are done in house with traditional tools.
Sales
Supply to domestic wholesellers (70%)
Export (30%) to CONTIGO
Goals
To provide employees with health insurance and life insurance in short terms
To modernise workshop production
To provide his workers full employment throughout the year
Special features
Why does CONTIGO work with Umed Singh: Mr Umed Singh is a dedicated craftsman with profound technical knowledge and a good sense of quality. Very committed towards customers and staff.
Fairtrade classification
FTP = Fairtrade in Progress, due to the informal structure
Fairtrade aspects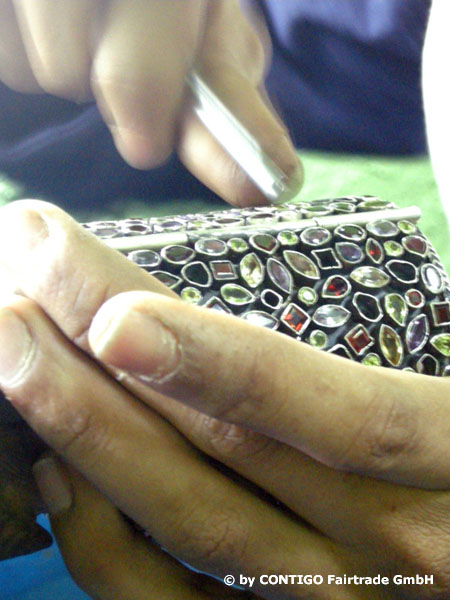 Umed Singh complies with the following Fairtrade Principles:
No child labour
No discrimination
No discrimination due to gender, disability, religion, ethnicity, sexual orientation, political orientation, or infection with HIV
Fair wages
Average wage at Umed Singh: US $ 250/month

Fixed salary for quality control and packaging
Piece rate for production
for periods with less work, employees receive basic payment which is cleared against production later

Weekly or monthly payment of workers in cash
Bonus for Diwali and Holi

Salaried staff: token bonus for Holi, one month salary on Diwali
Piece rate staff: small cash presents and clothes for the family
Humane working conditions
Working hours:
8 hours/day
Breaks for tea and lunch
6 days/week
Social benefits:
Salaried staff: continued payment of wage in case of sickness, holiday leave
The small workshop is working in the traditional, informal way. The proprietor is responsible for the wellbeing of the workers. Aid is given whenever a person or his family is in need. Due to the size of the company the contribution to ESI / PPF (health and pension scheme) is not compulsory
2 silver crafters (Santos Dash, Neelkash) work with Umed Singh for 20 years. They settled with their families in Jaipur. The master and sample maker Santos Dash recently brought in his son as trainee
Piece rate workers from Westbengal stay for a period of 3-5 years. They move back to their native place for marriage, taking care for the parents, house construction. Good crafters are always welcome to return to Umed Singh, if they wish to continue work
Daily meetings and discussions on production related topics
Educational opportunities:
Initial training for all new employees
Transparency
Informal records are kept on payments
SAR (Self Assessment Report) was duly submitted to CONTIGO
Monitoring
Personal visits in Jaipur (2008, 2020)
Country information
See Encyclopaedia Britannica: India
Photos