Profile of CONTIGO´s partner Toucan Krafte
Supply chain
Trading Partner: Toucan Krafte, microenterprise
Function: Producer
Structure: Own production plant, affiliated production groups
Tradeway: Direct import CONTIGO
Products
Costume jewellery made of recycled sari fabrics
Location
Ghitorni, urban village in the South West district in the state of Delhi, India– distance to Europe: 6.000km
Founded in 2003
History
Managing director Shaina works for her husband's company, who sells leather goods and furniture as a designer; over time, the idea of starting her own business with a meaningful project germinates
2003: Foundation of Toucan Krafte
2019: Toucan Krafte becomes a member of the Indian organization "Fairtrade India"
2020: A second building is rented for showroom and packaging department
Cooperation with CONTIGO since 2018
Structure of the business
Number of employees: 
Managing director: Shaina Jarg
In the main office:

12 permanent employees
40-50 women in production, depending on order situation, on a daily wage basis (mainly training and repair work)

Departments:

Design, product development
Customer support
Production support: training of new artisans for home production
Quality control
Shipping, Export

Cooperation with 20 groups in Ghitorni (a total of 300 women are employed) who produce the beads and finished jewellery at home
Work organisation: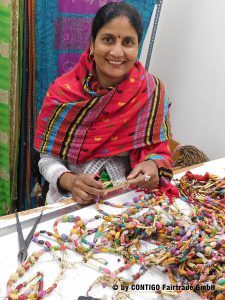 New employees are first trained in the central workshop: beadmaking, assembling and finishing of costume jewellery
Trained ladies work at their homes in the neighbourhood: this allows them to take care of the family (children, relatives) and the household chores
All working materials are supplied by Toucan Krafte, processed orders are delivered to the quality control at Toucan Krafte office
Control and repair work is done in the central building. Women can bring their small children. They find books and toys to pass the time while the mothers are working
Homeworkers receive piece rated wages which are calculated according to time and effort
Sales
Exports (100%) to the U.S.A., France, Spain, Great Britain, Mexico, Finland, Japan, Netherlands, Italy, Greece
Goals
To produce sustainable products: use of only upcycled materials, handcrafted instead of machine made, link up to date design and upcycling
To improve the income conditions for women in the urban village by permanent employment
To promote the school attendance of the beading ladies children
Special features
Education is the key to a better life: The only requirement to work as a beadmaker for Toucan Krafte is to commit to sending the children to school. Shaina herself is in contact with the school directors to keep up to date on the development of the children in school. Depending on the income situation Toucan Krafte supports the families financially for school expenses (fees, uniforms, learning materials), currently Toucan Krafte supports 50 children.
Why does CONTIGO work with Toucan Krafte: The social orientation of Toucan Krafte with the aim of creating fair income opportunities especially for women, combined with the focus on recycling materials and waste reduction, resulting in beautiful products make Toucan Krafte an ideal partner for CONTIGO.
Fairtrade classification
FTA = Fairtrade Approved
Fairtrade aspects
Toucan Krafte complies with the following Fairtrade Principles:
No child labour
No discrimination
No discrimination due to gender, disability, religion, ethnicity, sexual orientation, political orientation, or infection with HIV
Fair wages
Minimum wage in Delhi: INR 12,610/month (INR = Indian Rupee) 
Wages at Toucan Krafte:

Permanent employees receive between INR 15,000 and 20,000 / month
Production employees receive an agreed daily wage
Home workers receive piece rated wages which are calculated according to time and effort

The fastest employee receives INR 28,000/month
Average earnings between INR 5,000- 7,000/ month

Monthly payment in cash and against cheque
Travel allowance
Overtime is remunerated twice over
Humane working conditions
Working hours:
Social benefits:
Paid leave
Continued payment of wages in case of illness or accident (18 days)
In case of need: financial support for the education of the children of the homeworkers (school fees, school uniform, medical emergencies)
Educational opportunities:
Thorough induction training in the central workshop
Transparency
Work contracts are available
Payroll is available
Pay slips are available
SAR (Self Assessment Report) was duly submitted to CONTIGO
Monitoring
Personal visits in Ghitorni (2020)
Member of Fairtrade India (since 2019)
Country information
See Encyclopaedia Britannica: India
Photos