Profile of CONTIGO´s partner Santir Silpa
Supply chain
Trading Partner: Santir Silpa, microenterprise
Function: Producer
Structure: Own production plant, affiliated production groups
Tradeway: Direct import CONTIGO
Products
Bags and accessories made of goat leather
Location
Kolkata (district of South Pansila) in the state of West Bengal, India – distance to Europe: 7,300km
Founded in 1978
History
Background: The family of Biswanath Chatterjee initially came to India/Kolkata as refugees from East-Pakistan (today Bangladesh), where Mr. Chatterjee started to work for a textile company
1978: Economic crisis, high unemployment rate
Together with his uncle Naresh Chakraborty, who is married in Germany, Mr. Chatterjee primarily starts to sell shanti leather products: their customers are students, who distribute Indian handicrafts at university campuses in Germany and Italy
With the help of his friend and production manager Bijoy Bit, Mr. Chatterjee set up his own leather workshop in his residential building. The distribution for Germany is organised by Weltladen Minden
2002: Weltladen Minden contacts CONTIGO with the request to assist in marketing the shanti products
2002: CONTIGO gets to know Santir Silpa
2008: Santir Silpa employs 10 women and 9 men permanently and works together with additional 4 groups from the surrounding area
2015: decline of the craft, in earlier times there were 63 companies in the district of North 24 Parganas who worked in shanti leather, now only two are left, including Santir Silpa
From 2015: important customers in Europe are gone, due to the lack of sales only 5-8 staff members can be employed permanently

Cooperation with CONTIGO since 2002
Structure of the business
Number of employees:
8 employees (3 women, 5 men)
Partnership with 5 workshops in the district
In the year 2017 many employees have been working for Santir Silpa for more than 15 years. The youngest employee is 45 years old.
Organisation of workforce:
In the main workshop:
Production manager Mr. Bijoy Bit
Tasks of the women: painting of the embossed leather, which is called "touching" (Sabita Saha, Rama Nag)
Tasks of the men: embossing, cutting, complex sewing works. Further tasks: quality control, preparation of material packages for the external workshops, packaging and shipment of the products
June-August: due to the monsoon rains no or less production, nevertheless   the employees are coming to work to try out new models, samples and designs, continuous payment of the employees     
Santir Silpa works together with 5 workshops, each is specialised in a certain product segment (bags, wallets, small accessories)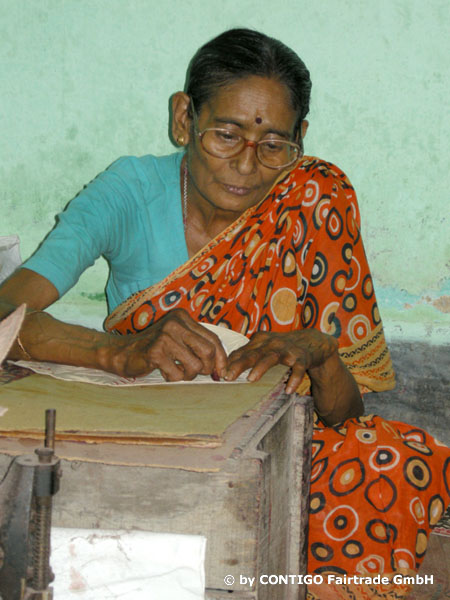 All raw materials are getting prepared (embossed, coloured, cut): the material packages are delivered by Santir Silpa
Work is paid by piece rate, as agreed before. The out door workshops do work predominantly but not exclusively for Santir Silpa
Sales
Exports (100%) to Japan, Canada, Germany and Spain
Goals
To maintain all jobs
To secure a stable income
Special features
Why does CONTIGO with Santir Silpa: Between CONTIGO and Santir Silpa a long-standing partnership has been developped. CONTIGO contributes a lot of product development and improvement of quality. All suggestions are listened to and well implemented. As a result the amount of jobs are stable. There is no fluctuation among employees. The quality of the products is continuously getting better and better. The working atmosphere is good and cordial.
Fairtrade classification
FTA = Fairtrade Approved
Fairtrade aspects
Santir Silpa complies with the following Fairtrade Principles:
No child labour
No discrimination
No discrimination due to gender, disability, religion, ethnicity, sexual orientation, political orientation, or infection with HIV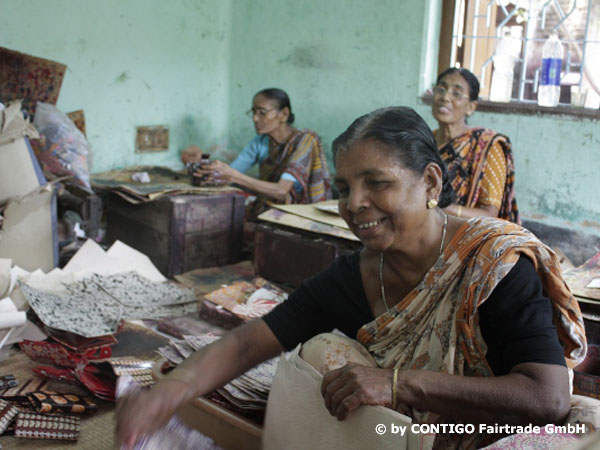 Fair wages
Minimum wages in the state of West Bengal: (INR = Indian Rupee)

Un-skilled worker: INR 7.776/month
Semi-skilled worker: INR 8.553/month
Skilled worker: INR 9.409/month

Wages at Santir Silpa:

Un-skilled worker: INR 7.000/month
Semi-skilled worker: INR 9.000/month
Compared to others in the district of North 24 Parganas, the wage level is good and is increased by social benefits (see below)
Salary increment every year (due to inflation)
Bonus payment (1.5 months salary) on the occasion of the main religious holidays
Humane working conditions
Working hours:
9.5 h (8:00am-5:30pm)
1 break
6 days/week
Social benefits:
Paid holiday (30 days)
Continued payment of wages in case of illness
Voluntary payment of contributions to health insurance ESI (=Employee State Insurance), both contributions paid by employer
All employees are accident-insured
Establishment of a social fund:

Employees can apply for loans for family matters (marriages, births, deaths)
Decision over the use of the fund are made collectively by the employees
Transparency
Pay slips are available
SAR (Self Assessment Report) was duly submitted to CONTIGO
Monitoring
Personal visits in Kolkata (2008, 2011, 2013, 2014, 2015, 2017, 2018, 2019)
Country information
See Encyclopaedia Britannica: India 
Photos