Profile of CONTIGO's partner Veva
Supply chain
Trading Partner: Vaniché / Veva, microenterprise
Function: Producer
Structure: Own production plant, affiliated production groups
Tradeway: Direct import CONTIGO
Products
Silver jewellery
Location
Chiang Mai, Thailand – distance to Europe: 8,300km
Founded in 2006
History
2000: Vaniché Co.Ltd is established by a group of sisters and brothers of Vanichmongol family. First business area: toys and textiles
2006: The sisters Saipin and Ying expand the business to silver jewellery, VEVA is established as brand name, derived from VE (= we: four family members) and VA ( Vanichmongol)
Since 2007: Introduction of the nature inspired jewellery collection on international trade shows
2013: Purchase of a new production building, considerable growth of staff
2016: Expanding international success and recognition as design brand leader in Thailand, work force grows to 31 people
2018: Collapse of the international market, continuous decrease of sales (loss of big customers, increasing prices for raw material, Euro crisis)
2019: Restructuring of the company: cut down of work force and reorganisation of the whole production schedule
Cooperation with CONTIGO since 2012
Structure of the business
Number of employees:
8 permanent employees (6 women, 2 men)
2 directors: Ms. Saipin Vanichmongkol (marketing) and Ms. Ying Sainampung (design)
Cooperation with various subcontractors and a company specialised in silver casting
Work organisation: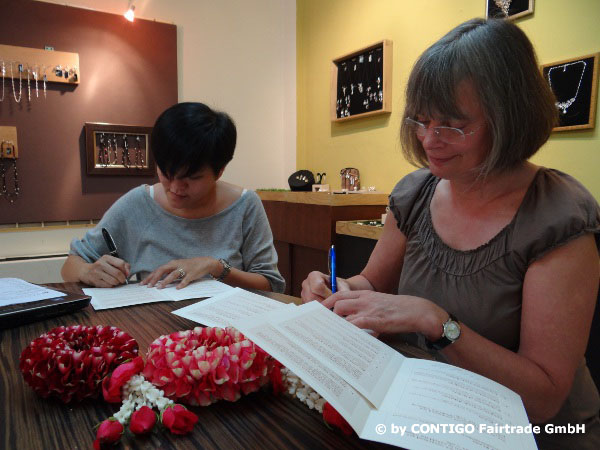 Main workshop:
Administration, marketing and product design
Purchase of materials
Manufacturing of master moulds (plaster)
Preparation of models (waxing) for the silver casting process
Distribution of jewellery to subcontractors for further processing
Polishing, stone setting, gold and silver plating
Fixing of fittings (chains, hooks, clasps) to ready made pieces
Quality control, packing and dispatch
Restructuring in 2019:
Permanent workforce was decreased from 25 to 8 people
The salary for former staff was continued for 2 months after leaving the company to allow everybody to find new jobs
The production schedule was adapted to the requirements of the market, to cover periods with less orders
Indoor staff took over more responsability and was trained according to their skills on various processes in administrating the production schedule. Higher qualification and increased salaries lead to better motivation of the remaining staff. The more flexible and efficiant production secures the recovery of the company
Subcontractors:
Processing after silver casting: cleaning, sanding (matt finishing), polishing, soldering
Two small units and four individuals, partly former experienced staff. To newcomers a two months training is given on the job
Veva provides soldering and polishing equipment, if needed. Piece rates are agreed according to time and skills needed
Casting process is (as before) done by a service provider outside, as the technical equipment is highly specialised and expensive. Veva provides the silver for the jewellery casting
Work environment
Modern equipment of workstations with the necessary protections
Well-ventilated and well-lit work spaces
Well-equipped kitchen is located on-site where lunch can be prepared
In addition: catering service for lunch
One common room for lunch break
Sales
Home market (30%): Products are sold via duty free shops in Bangkok
Exports (60%) to Germany, Spain, China, US
Goals
To operate the company efficient and sustainable
To provide well-paid and qualified jobs, specially to single mothers
Capacity building and self-development for all employees
To strengthen long term trade relations
Special features
Why does CONTIGO work with Veva:  Veva is a family company with "heart and hand ". CONTIGO appreciates Veva's strong commitment for training and educating of their employees and the effort to provide a safe perspective. Veva stands for innovative and high-quality products and constant product developement. Veva understands like hardly anybody that quality is the key to success.
Fairtrade classification
FTA = Fairtrade Approved
Fairtrade aspects
Veva complies with the following Fairtrade Principles:
No child labour
No discrimination
No discrimination due to gender, disability, religion, ethnicity, sexual orientation, political orientation, or infection with HIV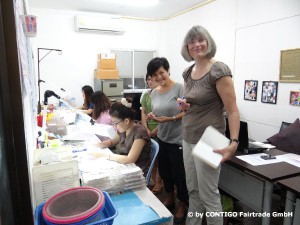 Different minorities from Myanmar and Thailand, as well as people with disabilities work at Veva.
Fair wages
Average wage in this sector/region: THB 9,000/month (THB = Baht)
Salaries at Veva:

Skilled worker minimum 12.000 THB
Specialists (e.g. sample maker): up to THB 16,800

Monthly salaries are remitted to bank accounts
Payment of bonuses
Higher wages in case of overtime (150% of normal wages)
Humane working conditions
Working hours:
8 hours/day
5 days/week
1 lunch break (1 hour)
Social benefits: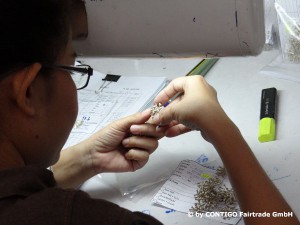 Paid holidays (max. 31 days, depends on seniority of employee; special feature: 1 extra holiday for Chinese New Year)
Maternity leave: salary of 1,5 months before birth is paid by Veva, salary of 1,5 months after birth is paid by social insurances
Payment of contributions to governmental health insurance and social security system. Employer and employee pay each 5 % of the salary
Continued payment of wage in case of sickness or accident (30 days)
Commuting allowance (partial)
Working gear allowance
Payment of yearly health check ups
Free drinking water
Lunch fee, daily THB 25
Educational opportunities:
Thorough initial trainings for all employees
Capacity building according to skills and responsibilities
Offer of health and security trainings
Occupational safety:
All safety standards are met
Transparency
Work contracts are available
Payroll is available
Pay slips are available
SAR (Self Assessment Report) was duly submitted to CONTIGO
Monitoring
Personal visits in Chiang Mai (2010, 2012, 2016, 2019)
Feedback interview during several visits in Germany
Country information
See Encyclopaedia Britannica: Thailand 
Photos
Visiting Veva in Chiang Mai (2016):
Visiting Veva in Chiang Mai (2012):