Profile of CONTIGO's partner Seet Kamal
Supply chain
Trading Partner: Seet Kamal, major company
Function: Producer
Structure: Own production plant, affiliated production groups
Tradeway: Direct import CONTIGO
Products
Note- and pocketbooks with handmade recycling paper and leather covers
Stationary items
Lamp shades and seasonal decoration made from various papers
Location
Jaipur, in the state of Rajasthan, India – distance to Europe: 6,100km
Founded in 1997
History
1997: Establishment of the company by Gautam Nathany with 5 employees and a group of artisans. The company´s name traces back to his grandparents first names. Focus on paper products and notebooks
2004: Export trainings by CBI Holland facilitated the access to international trade fairs
2006: CONTIGO meets Seet Kamal for the first time, cooperation starts
Till 2011: Diversification of product ranges, office products and home decoration, number of staff increases to 30
2011: Seet Kamal is awarded with the "Green Award" (see below)
2014: Construction of a new five floor production site, 350 employees and crafters
2016: Purchase of neighbouring land to build a modern warehouse for materials. Intensive internal reorganisation of all production steps and processes in order to improve quality and competitiveness
2017: Construction of another building as packaging and shipping center, number of employees and crafters raises to 500
Cooperation with CONTIGO since 2006
Structure of the business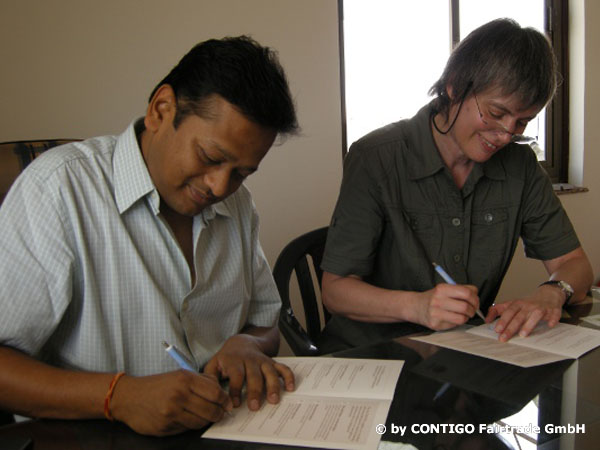 Number of employees:
Ca. 500 employees, working in
management, administration, accounting (20)
HR department, internal safety (4)
marketing, sales department (6)
design, graphic and product development (10)
planning of production, quality control (12 with assigned teams)
packaging, labelling (16 with assigned teams)
production: specialists in screen printing and laser techniques, screen making (4)
production and quality control (ca. 420 artisans in teams of 7-12 persons under the guidance of a supervisor, proportion of women: 40%)
Work environment:
Description of production site:
Entrance area with gate keeper's house, room for child care, consulting room for health agent, canteen
Two multi-floor buildings for administration and production
Adjoining building for storing different materials and chemicals
Rear buildung for notebook production
Neighbouring plant: warehousing cardboard boxes, packaging and despatch department
Located outside (still under construction): production facility for packaging and gift boxes 
Organisation of workforce:
A) Production steps at the main production site (examples):
Production of notebooks with leather covers:

Cutting and embossing the leather
Dyeing with sponges or spraying pistols
Cutting and binding of the paper booklets (recycling paper)
Assembling, glueing and sewing of the different parts
Quality check during and after the production

Production of honeycomg paper decoration and lamp shades

Cutting and punching of paper in various shapes
Embossing of the fold line, folding, assembling, glueing
Affixing the magnetic clasps
Quality check during and after the production

Department for printing and laser cutting of single paper sheets

Screen printing, lamination, texture printing, digital laser design with modern machines
Traditional screen printing, own screen maker at the company
Production of paper garlands:

Punching of the papers
Sewing of the garlands and mobiles with electric sewing machines
Quality check during and after the production
B) Production steps outside the main production site
Production of handmade paper sheets (made of recycling cotton)
Digital printing
Dyeing of textiles for various home decor and fashion accessories
Sales
Home market (10%)
Exports (90%) to Germany, Italy, UK, Spain, U.S.A., and Australia
Goals
To set up new business areas (packaging concepts and packaging design)
To modernise the company, including warehouse, distribution, administration
To optimise all production steps
To implement complete quality control and permanent innovation of the product ranges
To establish environment friendly production
Special features
Environmental commitment:

Seet Kamal runs an own water treatment plant for waste water on the roof top. Waste water from screen cleaning returns to the water cycle, water consumption decreased by 70%.
Green area: all new buildings have small balconies with hanging gardens, courtyard with tree population, own plant nursery, bird bath places

Social commitment:

Support of a school for mentally disabled children in Jaipur
Internal: Seet Kamal offers health checks (also for the employee´s families, see below)

Awards:

2011/2012: Green award (for a very environmentally friendly production), awarded by FORHEX (Handicraft Exporters Association of Rajasthan)
2015: "Best exporter in paper category", awarded by the Export Promotion Council of India (EPCH)
Why does CONTIGO work with Seet Kamal: CONTIGO values the innovative power of the company. All processes, product ranges and quality are permanentally improved. The working conditions are best practise. A long-standing partnership with mutual trust and a personal relationship has been developed.
Fairtrade classification
FTA = Fairtrade Approved
Fairtrade aspects
Seet Kamal complies with the following Fairtrade Principles: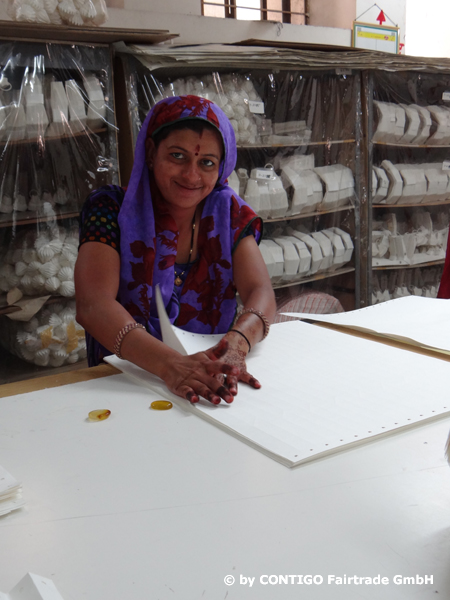 No child labour
No discrimination
No discrimination due to gender, disability, religion, ethnicity, sexual orientation, political orientation, or infection with HIV
Fair wages
Minimum wages in the state of Rajasthan: (INR = Indian Rupee)

un-skilled workers: INR 5,382 / month
semi-skilled workers: INR 5,642 / month
skilled workers: INR 5,902 / month
Average salaries at Seet Kamal (production and quality control):

un-skilled workers: INR 5,400 / month
semi-skilled and skilled workers: INR 6,400 / month
Seet Kamal established bank accounts for all employees and crafters
Payment is transferred to bank accounts or paid out as cheque
Salary is increased due to inflation once a year (October / November)
Bonus payment due to performances
Higher surcharges for Sundays and bank holidays
Continuation of payments in case of less work
Humane working conditions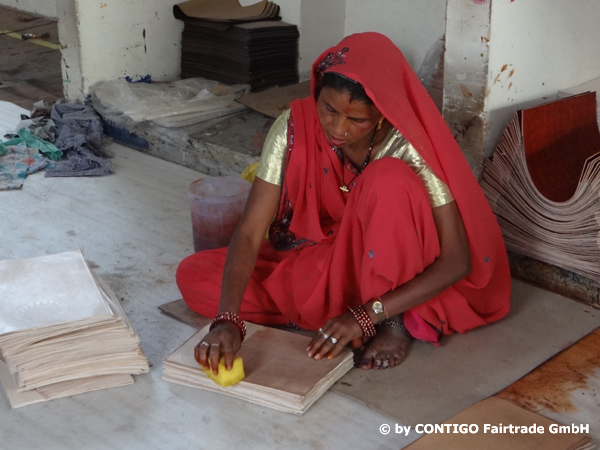 Working hours:
8 hours/day
3 breaks (30 minutes lunch break, two tea breaks 15 minutes each)
6 days/week
Social benefits:
For employees at Seet Kamal and all artisans in production groups:
Paid leave (9 festival holidays, 21 days for recreation)
Paid sick leave and after accidents
Contributions to health insurance ESI (=Employee State Insurance), employer pays 4,75% and employee 1,75% of monthly gross wage
Contributions to pension scheme PF (=Employees´ Provident Fund), employer and employee pay each 12% of monthly gross wage
Voluntary service: Seet Kamal pays accident insurance for everybody
Voluntary service: financial support when employee buys a high quality helmet for the moped (as there are many accidents and injuries)
Special health agent in the Human Ressorces Department, who is in charge of health services for all staff members and their families, doctors and hospital consultation, helps with formalities, claims for the insurer
Women commitee (6 members) who takes care of gender issues and the interests of female employees
Seet Kamal established a medical camp for regular health check ups for all staff members, focus on diabetes and high blood pressure, free medication for diseased employees

Educational opportunities:
First aid course
Fire safety exercises and other emergency exercises
Occupational safety:
All safety standards are met in the various departments. Information boards in all departments help to raise awareness
Protective clothing is provided (gloves, breathing masks)
Escape and rescue plans are installed
Fire protection is installed, fire protection manager is in charge of maintenance of all fire extinguishers, external checks are executed
Janitor takes care of repairs, maintenances and safety of all machines, checks safety of the drinking water
First aid kits are easily accessible to everyone, 10 trained first aider
Separated and locked warehouse for chemicals (colours and glue) and other flammable substances
Transparency
Work contracts are available
Payroll is available
Pay slips are available
SAR (Self Assessment Report) was duly submitted to CONTIGO
Monitoring
Personal visits in Jaipur (2008, 2011, 2014, 2017, 2020)
Feedback interview during several visits in Germany
Machine-made paper sheets are certified by FSC (=Forest Stewardship Council, products from responsible forest management)
Company audit by AQSR (American Quality Standards Registrars), ISO 9001-2008, safety, quality and efficiency
Company audit by ICS (Initiative clause sociale, French company), focus on social, health and safety standards
Country information
See Encyclopaedia Britannica: India
Photos
Visiting Seet Kamal in Jaipur (2017):
Seet Kamal receives award:
Visiting Seet Kamal in Jaipur (2014):
Video