Profile of CONTIGO´s partner Sapia
Supply Chain
Trading Partner: SAPIA, medium enterprise
Function: Producer, Exporter, Service Provider
Structure: Own production site, satelites, associated producers
Trade Way:
Products
Decorations made of natural materials
Jewellery made of tagua nuts and other seeds
Semi-precious stones and metal charms bracelets
Bag and accessories made of vegan materials (Doña Rosa)
Jewellery made of resin and semi-precious stones (Diazgranados)
Precolumbian gold plated jewellery (Arque Arte)
Natural fiber hats (Montezuma)
Gourd jewellery (Fussioni)
Products from Doña Rosa, Diazgranados, Arque Arte, Montezuma and Fussioni are routed through Sapia.
Location
Bogotá, Colombia – distance to Europe: 8,400km
Founded in 1997
History
1997: Piel Acida was founded by Ana Maria Piedrahita
2009: Sapia was founded (through a merger of Piel Acida and Salvarte)
2014: Restructuring of the company, SAPIA Fair Trading Partner (SFTP) is responsible for artisans, production and export, El Market operates exclusively as retailer chain
SFTP is CONTIGO's trading partner
Ana Maria, a medical doctor by training, experiments in her free time with orange peels and crafts little dolls
Turns her hobby into a job
At first production begins at her home and she dries orange peels in her parents´ backyard
Continuous increase of production, a furnace is purchased
1997: Founding of Piel Acida following successful participation in Bogotá trade fair
At first, neighbours and friends collect orange peels for Piel Acida, but soon this is no longer enough – supplies are bought from juice makers
1999: Javier Cardenas becomes an employee, as an industrial engineer he optimises the production chain
Within a short amount of time, production grows ten-fold
2000: First international trade fair visit where orange peel dolls are sold
2002: CONTIGO meets Piel Acida
2002: CONTIGO orders orange peel dolls and other products made out of peels (this is the first big order for Piel Acida)
2003: Development of new collection: jewellery made from Tagua
2009: Piel Acida merges with Salvarte (a national chain of handicrafts shops) and becomes "Sapia"
Now both national and international markets can be accessed by Sapia
Merger led to employment of more workers, a better production chain, higher productivity
Production is moved to larger production facilities where furnaces are in separate rooms
Ana Maria, who is in charge of designing at Sapia, works closely with Greta Herbst (CONTIGO´s designer) to develop products for the European market
2010 and 2011: Sapia visits Germany and makes several presentations at CONTIGO shops and in world shops
2012: Sapia pays study fees for three students that work at Sapia and that will be employed full-time by Sapia after finishing their university degrees
2012: two new "El Market" stores are opened (total of 4 in 2012)
2013: Sapia moves to a building with three floors
Number of Sapia's "El Market" shops grows to 6 in total

4 shops at the Bogotá airport
2 more "El Market" shops at the airports in Cartagena and Medellin

2014: Two El Market shops are opened (in Mexico and Puerto Rico)
2014: The founding companies of Sapia (Salvarte and Piel Acida) are starting to operate more independently from each other. Sapia Fair Trading Partner (SFTP) is responsible for production and export whereas "El Market" is the steering company for the retail businesses
SFTP has an independent management, separate facilities and employees
SFTP is partner and supplier of CONTIGO
2015: Six more El Market shops are opened: Three national and three international shops, 12 shops in total
2018: Six more El Market shops are opened in Spain (Madrid and Canarias)
2020: Effects of the Corona pandemic on SFTP:

Staff layoffs and wage reductions in the central team
Many employees had to take second jobs to continue making a living
Collapse of the local market, significant drop in sales at own El Market stores (online store was set up to absorb losses)
Government aid only available for the "Sattelites
Cooperation with CONTIGO since 2002
Structure of the business
Number of employees: 
The people in and around Sapia (SFTP):
Direct employees: 67 women, 22 men
"Satellites": Seasonal workers who work at their homes and are paid by piece: 6 women
Partner workshops who manufacture and finish complete products for Sapia: 41 (24 women, 17 men)

At Doña Rosa: 7 direct employees (decreased due to the pandemic situation, but the rest are pending to be incorporated again depending on the orders in 2021) + three sattelite workshops
At Montezuma: 5 employees + cooperation with external workshops (up to 30 weavers, depending on order situation)
At Arque Arte: 3 employees + 2 home workers
At Diazgranados: 4 employees
At Fussioni: 8 employees
Organisation of workforce:
Director SFTP: Javier Cardenas Muller
Head of exports and quality management: Andrea Alvarez
Work enviroment
A) Central workshop from SFTP: three-storey building
Ground floor: warehouse for "El Market" shops, shipping
First floor: production of samples, production of orange peel items, quality control, drying of tagua and orange peel, offices for accounting department and export department, three meeting rooms (for trainings as well)
Second floor: offices for "El Market" employees, two meeting rooms with a TV and communal kitchen with microwave oven
B) "Satellites" – home workers
6 women
Tasks: assembling of jewellery pieces
Payment every 15 days
C) External partner workshops:
Doña Rosa – own page 
Montezuma – own page
Arque Arte – company profile:
Location: Bogotá, northeast quarter Usaquen
Manager: Oscar Jaime Santa
Employees: 3 permanent, 2 female home workers
Work organisation:

Production of pendants and ear hangers at the central workshop
Assembling of the necklaces is done at home by the two home workers

Materials: gold comes from "Fair mined" certified gold mines ("fair mined" licence)
Background information: In 2008 Oscar Jaime Santa took over the workshop from his aunt and is still producing the Pre-Colombian gol plated jewellery.
Sales: predominantly to souvenir shops, museum of Pre-Colombian gold jewellery in Bogotá, only a small quantity is exported to Australia, Mexico, the Philippines and Germany
Payment:

Home workers receive piece rate
Permanent employees: receive 15 % more than the Colombian miminum wage (COP 877.803 / month) and all statutory compensations:

Payment of the 13th monthly salary ("cesantía"): this is paid directly into a state pension fund at the beginning of the year. The interest of this salary (12%) is directly paid out to the employee.
Payment of the 14th salary / holiday bonus ("prima de servicios")
Transport allowance is paid (COP 102.854 / month) on top of the salary
Overtime is remunerated in accordance with statutory regulations

Social benefits for all permanent / salaried employees:

Health insurance: employer pays 8,5 % and employee pays 4 % of monthly gross wage
Pension fund: employer pays 12%, employee pays 4% of monthly gross wage
Continued payment of wage in case of sickness, accidents and maternity leave (statutory regulations)
Paid leave (20 national and religious holidays, plus 15 recreation days)
All employees are covered by Arque Arte´s accident insurance
On the total amount of her salary costs Arque Arte pays social contributions to the following institutions (statutory): the national vocational training service SENA (Servicio Nacional de Aprendizaje), the national family aid organisation ICBF (Instituto Colombiano de Bienestar Familiar), and to various family recreation centres (Cajas de Compensación Familiar)
Sales
Home market (89.5%) through "El market" shops
10.5% exports through SFTP to the U.S., Italy, Germany, Netherlands, Canada, Australia, Panama and Puerto Rico
Goals
To develop quality craftsmanship in Colombia
To financially support employees that go to university
To employ a higher number of Colombian designers
To form partnerships with more suppliers from different industries (tagua workshops, leather workshops, tanneries, etc.)
To process more natural and eco-friendly materials, combined with competitive global design and quality
To expand and to look for new customers groups who understand, support and apply fair trade principles
To further expand the gifts category to new customers (as Sapia acquired many experiences with their El Market shops)
Special features
2012/2013: an emergency plan is introduced to support employees and their families in the case money is needed for medication, operations, maids (in case of sickness when no one can take care of the household)
2015: Human resource department grows in order to be more conscious of the employees needs
2018: Human resource department establishes more health and wellness activities for the employees (relaxing massages, nutrition guides, dental brigades)
2020: Sapia implemented online commerce for El Market shops, through delivery apps
2020: The technology area was formally built since the company needed to operate from a distance due to the pandemic situation
Why does CONTIGO work with Sapia: Amazing development of the company has taken place and a long-lasting, close partnership with CONTIGO has been developed. They are very committed to Fair Trade and innovation. CONTIGO has established strong personal ties with them.
Fairtrade classification
FTA = Fairtrade Approved
Fairtrade aspects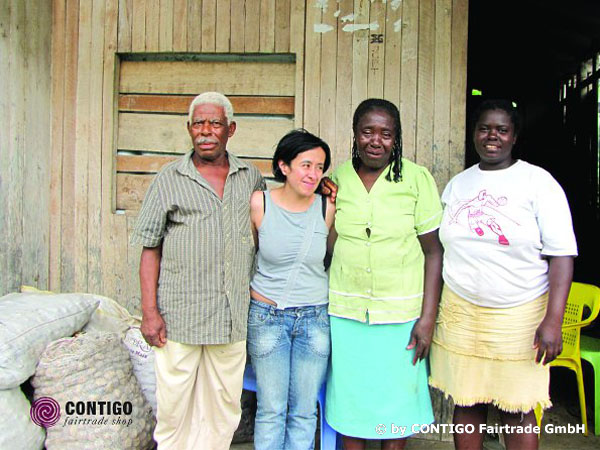 Sapia complies with the following Fairtrade Principles:
No child labour
No discrimination
No discrimination due to gender, disability, religion, ethnicity, sexual-orientation, political orientation, or infection with HIV
In Sapia people of many different ethnic groups cooperate
Fair wages
Minimum wage in Columbia: COP 877.803 / month (COP= Colombian Peso)
Minimum wages at SFTP: min. COP 1.270.937 / month

Fixed salaries for all departments
Salaries are paids out last Friday of the month through wire transfer

Bonus payments (or non cash benefits) for very committed employees
SFTP pays the statutory compensations for their salaried employees

Payment of the 13th monthly salary ("cesantía"): this is paid directly into a state pension fund at the beginning of the year. The interest of this salary (12%) is directly paid out to the employee.
Payment of the 14th salary / holiday bonus ("prima de servicios")
Transport allowance is paid (COP 102.854 / month)
Overtime is remunerated in accordance with statutory regulations

New working gear paid for twice a year
Humane working conditions
Usual working time: 40 h per week.
Can be enhanced to 48 h per week, if needed, according to the Columbian labour laws
Hours above 48 hours are counted as overtime, for which additional surcharges are paid
5 days/week
Social benefits:
SFTP pays the statutory compensations for their salaried employees:
Health insurance: employer pays 8,5 % and employee pays 4 % of monthly gross wage
Pension fund: employer pays 12%, employee pays 4% of monthly gross wage
Continued payment of wage in case of sickness, accidents and maternity leave (statutory regulations)
Paid leave (20 national and religious holidays, plus 15 recreation days)
All employees are covered by SFTP´s accident insurance
On the total amount of her salary costs SFTP pays social contributions to the following institutions (statutory): the national vocational training service SENA (Servicio Nacional de Aprendizaje), the national family aid organisation ICBF (Instituto Colombiano de Bienestar Familiar), and to various family recreation centres (Cajas de Compensación Familiar)
On a voluntary basis: additional costs for hospital stays covered
To strengthen the community feeling amongst employees and for maintaining a friendly atmosphere at work
Every month the employees birthdays are celebrated and the employee receives a gift from the company (a voucher card of COP 50,000 to spend in a supermarket)
Annual company party is organised
Every last Friday of the month the Human resource department organises a breakfast for the employees
During Christmas season, once a week the Human resource department provides a breakfast for the employees
Halloween party with custom contest

Educational opportunities:
Sapia supports employees who decide to go to university (they pay for study fees and working hours are adapted)
Apprenticeships offered

First one to two years of school then 6 months practical training at Sapia (paid)
Transparency
Work contracts are available
Payroll is available
Pay slips are available
SAR (Self Assessment Report) was duly submitted to CONTIGO
Monitoring
Personal visits in Bogotá (2006, 2011, 2013, 2015, 2017)
Feedback interview during several visits in Germany
Country information
See Encyclopaedia Britannica: Colombia
Photos
Visiting Sapia in Bogotá / headquarters
Visiting the workshop Angel Azul:
Sapia on a lecture tour through Germany
First visit of CONTIGO in Bogotá in December 2006