Profile of CONTIGO´s partner SPB Uni-Commerz Ltd.
Products
Baskets of different designs and shapes
Location
Office and warehouse: Accra, Ghana – distance to Europe: 4,400km
Basket production: region of Bolgatanga, 800 km north of Accra
Founded in 1989
History
Dr.-Ing. Victor Mainoo studies Mechanical Engineering in Germany
1981: Dr. Mainoo returns to his native country Ghana, works until the 1990s for a Ghanaian national research institute (Council for Scientific and Industrial Research- CSIR)
1989/1990: With financial support from the Ausgleichsbank in Bonn, Dr.-Ing. Victor Mainoo and Dipl.-Ing. Kwame Addo Kissi found SPB Uni-Commerz Ltd., goals:

Marketing opportunities for small producers
Employment and income opportunities in rural areas to counter rural depopulation
Preservation and strengthening of traditional handicraft techniques

SPB helps small artisans to enhance knowledge and awareness in different issues, e.g. management, health, social and environmental responsibility
1997: CONTIGO meets SPB Uni-Commerz Ltd.
1998: Beginning of trading partnership with CONTIGO
Developments and challenges:

Increasing migration of rural populations to major cities or abroad
Other industries offer better earning opportunities
Price increase of goods due to enormous exchange rate fluctuations (€ – Ghanaian Cedi)
Increasing competition for baskets from Asian low-wage countries
Number of producing groups decreased in the last decades from 30 to 5 today
Number of weavers decreased from formerly 700 to 90 today
SPB delivers 96% of its exports to Fair Trade customers
Cooperation with CONTIGO since 1998
Structure of the business
Number of employees:
3 employees (2 women and 1 man)
Additional employees for quality control and packaging/logistics: 2 women and 8 men
Long-time cooperation with 5 rural cooperatives and several individual weavers in and around the village of Bolgatanga in northern Ghana (approximately 90 weavers)

Groups organize themselves completely by themselves
They do not produce exclusively for SPB, as full-year employment is not yet possible
Each group has specialised in a basket model or a colour combination
SPB provides (advance) financing for raw materials
Organisation of workforce:
The office in Accra is responsible for:

Warehousing finished baskets
Export organization

The office in Bolgatanga (northern Ghana):

Warehouse for finished baskets
In the rented, bright rooms the women can meet and weave (in addition the interchange is good for the team spirit)
The local coordinator places the orders, checks the quality, pays the agreed piece wages and organizes the transport to Accra

Background information:

Basket weaving is a seasonal work in the dry season (in the rainy season from July to October agriculture is done for own use)
Basket weaving is a secure additional income for the women to ensure schooling and family health care
Sales
Home market (2%)
Exports (98%)
Goals
To expand the Fairtrade customer base
To support small and disadvantaged producer groups in the rural areas of Ghana
To expand marketing of products to both, the local and international market
To establish an ecologically sustainable production chain
To strenghten the socio-political comprehension
Special features
SPB Uni-Commerz Ltd. conducts literacy courses and encourages participation in technical trainings
Why does CONTIGO work with SPB Uni-Commerz Ltd.: Partnership since 1998. SPB Uni-Commerz's baskets are bestsellers.
Fairtrade classification
FTA = Fairtrade Approved
Fairtrade aspects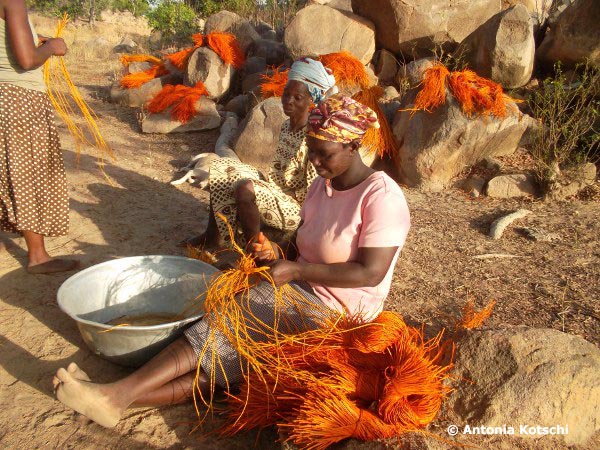 SPB Uni-Commerz Ltd. complies with the following Fairtrade Principles:
No child labour
No discrimination
No discrimination due to gender, disability, religion, ethnicity, sexual orientation, political orientation, or infection with HIV
Fair wages
Minimum wage in the region: GHS 177/month (GHS= Ghana New Cedi)
Wage at SPB:

Permanent employees in Accra and the coordinator in Bolgantanga receive GHS 300/month
Weavers in Bolgatanga receive an agreed piece wage which is above the average market price. The monthly income depends on the time budget of the weavers

Monthly payment in cash
Higher wages in case of overtime
Humane working condition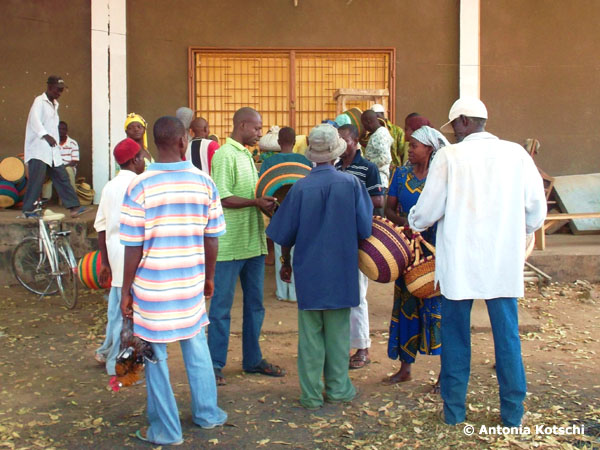 Working hours:
Weavers organise the time and work by themselves:
Social benefits:
Permanent employees receive:
Paid leave
Continued payment of wages in the event of illness or accidents
If necessary, weavers receive financial support by granting interest-free loans for school costs and medical bills
Support for producers in agricultural activities
Educational opportunities:
Expenses for training and education of employees are covered
Transparency
Payroll is available
Pay slips are available
SAR (Self Assessment Report) was duly submitted to CONTIGO
Monitoring
Personal visits in Accra (2019)
Country information
See Encyclopaedia Britannica: Ghana
Photos