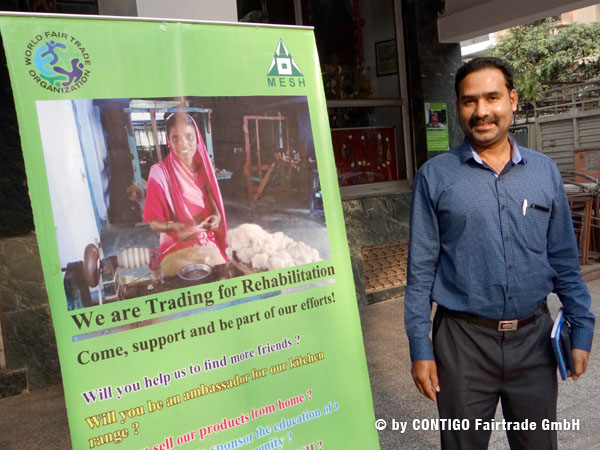 Profile of CONTIGO´s partner MESH
Products
Shopping bags and printed bags made of cotton
Location
New-Delhi, India – distance to Europa: 6,000km
Founded in 1981
History
Beginning of the 1970s – 1981: The institution Bethany Village (in Ganaur, state of Haryana) initiates projects to generate income for leprosy patients. Training on sewing machines for the production of home textiles. Raising of poults, first sales to family members and closer friends
1976: First exports of hand-stitched bed covers to Sweden. Domestic customers also become aware of the textiles
1981: Founding of the central marketing organisation MESH (=Maximising Employment to Serve the Handicapped) with the aim of creating income opportunities and thereby perspectives and rehabilitation for people with leprosy and other impairments
In the following years:

Further professional chick farms and sewing workshops (in the Anandagram Leprosy Colony in Delhi) can be established
Cooperation with other workshops and institutions in the states of Maharashtra, Tamil Nadu, Uttar Pradesh and Rajasthan

1982: MESH opens its first retailshop
1984: MESH receives an export licence
1987: The organisation moves to the present-day location in New-Delhi
2000: MESH receives the Helen Keller Award for its commitment. Sales volume grows to over 10 million Indian rupees
2007: MESH becomes a member of Fair Trade Forum India
2008: MESH becomes a member of the WFTO (World Fair Trade Organisation)
2007-2009: With the financial support of the Swedish Fairtrade importer IM Soir, MESH participates in the project "The World of good fair wage guide", a project to calculate and enforce fair wages in manufacturing workshops
2008: The sale of poults is stopped as it is no longer competitive
2008: MESH founds a design studio which offers internal trainings for product development
2015: Through the "Producer Development Project" MESH supports its producer groups to better achieve and implement Fairtrade guidelines according to the WFTO, in the following years monitoring systems are implemented at the producer groups

Structure of MESH:
Long-term cooperation with 34 artisan workshops (2016) in 11 states in India, with more than 1,000 craftsmen and women
31% of craftsmen and women are affected by leprosy
62% of all employees are women, 5 groups consist of women only
14 groups work with MESH according to a "guarantee system" (based on 12-25 year long-term cooperation)
Groups are regularly visited and monitored, transparent insight into personnel accounting (no child and forced labour) and payroll accounting, cost and price calculation -> MESH encourages producers to pay minimum wages, improve working conditions and safety measures
Organisation:
Elected board with members (have voting rights) and board secretary (5 men and 3 women)
Cooperation with CONTIGO since 2016
Structure of the business
Number of employees working in New-Delhi:
11 fulltime employees (4 women, 7 men), working in: production management, sales & customer support, design & product development, quality control, packaging & export, administration
Mesh has an own retail shop in New-Delhi
Work organisation:
MESH provides trainings and experts with regards to fair trade topics, marketing and design for the workshops
Workshops of the CONTIGO bags: 
1) Sewing of the bags:
Workshop: Bethany Weaves" at "Bethany Leprosy Colony"
Location: on the outskirts of Bapatla, in the state of Andhra Pradesh
Specialisation in hand weaving and sewing of bags, pillowcases and bed covers
Number of employees: 81 employees (75 women, 6 men)

Thereof 6 suffer from leprosy
The other 75 employees are relatives of the affected persons

¾ of sales go to MESH
Member of Fairtrade Forum India
2) Printing of the bags:
Workshop: "Hubli Hospital for the Handicapped Rehabilitation & Training Unit", which provides manual work tasks for people with physical impairments of any kind
Location: Hubli in the state of Karnataka
Specialisation in printing, sewing, wood carving and card production
Number of employees: 47 employees (18 women, 29 men)

Thereof 10 employees suffer from leprosy
23 employees have other physical impairments
Sales
Home market (20 %), predominantely via the own retailshop
Exports (80% ) to the U.S.A., Great Britain, Australia, Germany, Sweden, Canada, Switzerland
Goals
To create income opportunities for people with physical impairments and leprosy diseases
To train and educate on the basis of individual possibilities
To establish a good economic basis (thereby ensuring good payments and cash flow)
To maintain and improve product quality
To develop calculations which make it possible to pay fair wages
To offer permanent, year-round employment for all craftsmen and women
Special features
Commitment to people with physical and mental impairments: They have little chance in the normal labour market. By working at Mesh they can make a living with dignity.
Voluntary financial support for the education of the children of the employees: Mesh established a fund for scholarships
Why does CONTIGO work with MESH: An admirable social commitment combined with high product quality.
Fairtrade classification
FTA = Fairtrade Approved
Fairtrade aspects
MESH complies with the following Fairtrade Principles:
No child labour
No discrimination
No discrimination due to gender, disability, religion, ethnicity, sexual orientation, political orientation, or infection with HIV
Fair wages
Minimum wage in New-Delhi: INR/month (INR = Indian Rupee)

un-skilled employees: INR 10,374/month
semi-skilled employee: INR 11,466/month
skilled employee: INR 12,610/month

Average wage at MESH: above average
Monthly salary is transferred to employees own bank account
Bonus payment of a 13th monthly salary
Humane working conditions
Working hours:
The statutory working time and break regulations are met.
Social benefits:

For all employees at MESH in New-Delhi:
Paid festival and national holidays (9-11 days per year)
Paid recreation holidays (7 days)
Paid sick leave (13 days)
Payment of contributions to pension scheme PF (=Employees´ Provident Fund), employer and employee pay each 12 % of monthly wage
Payment of contributions to health insurance MEDICLAIM
In case of need: financial support of one month's salary/year for medical allowance and medication
Voluntary financial support for the education of the children of the employees, max. INR 500/month
Transparency
Work contracts are available
Pay slips are available
SAR (Self Assessment Report) was duly submitted to CONTIGO
Monitoring
Personal visits in New-Delhi (2016, 2018)
Member of

Forum Fairtrade India since 2007
World Fair Trade Organisation since 2008
Country information
See Encyclopaedia Britannica: India
Photos
Video