Profile of CONTIGO's partner Exporsal
Products
Hammocks and hammock chairs
Cushion covers
Bags
Location
San Salvador, El Salvador – distance to Europe: 9,900km
Founded in 1974
History
1974: Exporsal (Exportaciones Salvadoreñas) founded by Cecilia Castro
Partnerships established with small producers throughout El Salvador
From 1981: Export to 12 countries
1982: Cecilia Castro passes away and her daughter Elena Maria de Alfaro becomes the CEO of Exporsal
Her goal is to make Exporsal debt-free, which she succeeds in doing
Exporsal continues to implement the company philosophy of Cecilia
After repayment of all debts Elena Maria de Alfaro decides to stay and to continue with the company
Social benefits are expanded: employees' children receive financial support for their school fees (sometimes up until high school graduation)
2008: CONTIGO meets Exporsal
2011: Partnerships with 200 families throughout El Salvador
2011: Exporting to 32 countries
2016: 220 artisans are involved in the production
2016: Exporting to 42 countries
Cooperation with CONTIGO since 2008
Structure of the business
Number of employees:
11 employees on-site 
Exporsal provides work to over 220 people countrywide
Long-term partnerships with appr. 28 workshops
Organisation of workforce:
Exporsal provides designs, raw materials, and working capital to craftsmen
Cotton is delivered by a plant 16km from San Salvador, where the cotton is processed and died
Craftsmen organise themselves with their employees:

Cotton and wood is picked up from Exporsal
After finishing a product they conduct a first round of quality checks on-site
Delivery of finished products to Exporsal
Exporsal conducts a final round of quality checks, then packaging and shipping is organised
Sales
Exports (100%) to Europe, USA, Caribbean, Chile, Israel, and Lebanon, in total 42 countries
Goals
To support employees and craftsmen in their personal development
To partner with NGOs to improve the living and working conditions of the craftsmen and their families
To create work opportunities in rural areas
To prevent rural depopulation
To support the poor
To work with other organisations in supporting small businesses
To preserve the traditional art of weaving
Special features
Awarding of scholarships to the children of employees and craftsmen
Why does CONTIGO work with Exporsal: long-lasting trading partnership with Exporsal due to their high-quality products that are highly sought after. Committment to improving living conditions in throughout El Salvador.
Fairtrade classification
FTA= Fairtrade Approved
Fairtrade aspects
Exporsal complies with the following Fairtrade Principles:
No child labour
No discrimination
No discrimination due to gender, disability, religion, ethnicity, sexual orientation, political orientation, or infection with HIV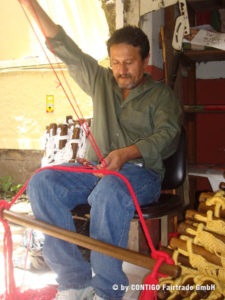 Fair wages
Minimum wage in the region: US$ 220/month
Average wage at Exporsal:

for seamstresses in high season (October- April): US$ 1,000-1,250/month (payment by piece)

for seamstresses in low season (May-September): US$ 400-600/month (payment by piece)

Other employees: US$ 300-350/month (unskilled), US$ 400-600/month (skilled)
Two-week payment of all salaried workers by check or by bank transfer
10% of annual profit is distributed amongst employees and craftsmen
Payment of Christmas bonus
Higher wages in case of overtime (plus meals and accomodation for staying over-night)
Humane working conditions
Working hours:
8 hours/day
2 breaks (1 hour and 15 minutes)
5.5 days/week
Social benefits:
All employees on-site receive:
Health insurance and pension fund (both employer and employee pay contributions) 
Continued payment of wage in case of sickness or accident
Social security insurance/ unemployment insurance (after end of the working contract employees receive a one month worth of salary in the next 12 month)
Paid holidays (21 days), whereas the national labour law stipulates 15 days as a minimum
Life insurance (in case an Exporsal employee passes away, family will receive a fixed amount to cover e.g. funeral expenses)
Free loans to buy machines and tools that help to improve the quality or the capacity of production, as well as to build spaces that allow producers to make the process more efficient
Exporsal supports the children of the employees and the craftsmen in their education (up until high school) and finances all materials needed for school, including school trips, school uniforms, laptops etc.
Since 2004: Exporsal awardes university scholarships to the two best students amongst staff children (Elena receives all reports, makes a decision based on them)
Educational opportunities:
Continuous trainings to improve productivity and quality
Exporsal offers vocational education
Training courses on health care and safety
Transparency
Work contracts are available
Payroll is available
Pay slips are available
SAR (Self Assessment Report) was duly submitted to CONTIGO
Monitoring
Feedback interview during several visits in Germany
First visit in El Salvador is envisaged
Country information
See Encyclopaedia Britannica: El Salvador
Photos
Exporsal, El Salvador