Profile of CONTIGO´s partner Calypso
Products
Jewellery made of glass and silver
Location
Santiago de Chile, Chile – distance to Europe: 12,200km
Founded in 1998
History
Initially Calypso, founded by Marcela Cofré Salinas and her husband Oscar, produces shoes for women, but since beginning of the 1990s the business is no longer profitable due to new export regulations
Idea to make jewellery came up in 1995
1995: Calypso produces first jewellery items becoming another income source for the company
1998: Calypso officially registers as a jewellery business
Calypso increases production volume, sells items locally
Due to weak national economy Calypso starts export
2004: Calypso and CONTIGO first meet
2005: New building for a workshop is acquired
2009: Burglars raid into the Calypso building and house of owners during a trade fair
Since 2009: regular participation in international trade fairs in order to expand customer base
2010: Crisis due to earth quake and rising costs
March 2011: Calypso is restructured and size of workshop is cut in half
Since 2011: Member of World Fair Trade Organisation (WFTO), strong cooperation with other Chilean fair trade organisations
October 2015: organisation of and participation in Chilean first fair trade fair, in order to promote fair frade
Cooperation with CONTIGO since 2004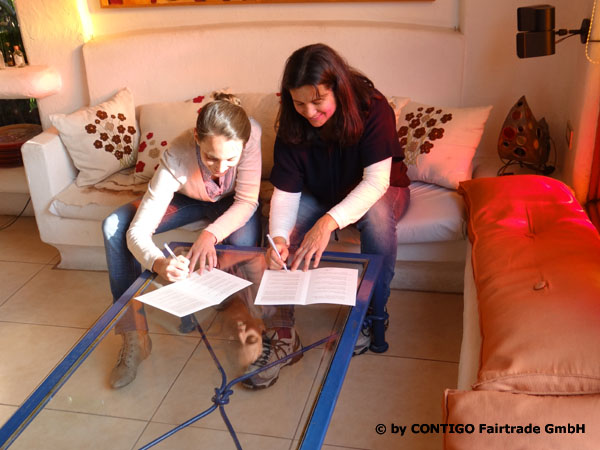 Structure of the business
Green Glass (founded by Marcela´s son Oscar) is a business unit of Calypso, both companies work together in the same place
Number of employees:
11 employees
Partnerships with 2 silver jewellery workshops:

Renato Workshop (1 employee)
Promano Workshop (60 employees)
Sales
Exports (100%) to USA, Germany, Austria, Italy, France, Norway, and the Netherlands
Goals
To create stable, long-term jobs
To promote Fairtrade in Chile
To set-up a new web page with online shop
Special features
Why does CONTIGO work with Calypso: Calypso and the people in the region still need full support after the earthquake. They are a small company but produce great jewellery. They also hire workers without previous education to provide everyone with a chance to earn an own income.
Fairtrade classification
FTA = Fairtrade Approved
Fairtrade aspects
Calypso complies with the following Fairtrade Principles:
No child labour
No discrimination
No discrimination due to gender, disability, religion, ethnicity, sexual orientation, political orientation, or infection with HIV
Fair wages
Minimum wage in Chile: US$ 370/month
Average wage at Calypso: US$ 650-900/month
Bonus for Christmas, Independence Day (US$ 40)
Lunch allowance (US$ 42-100)
Commuting allowance (US$ 72)
Employees receive a share of annual profit
Humane working conditions
Working hours:
9 hours/day (8:30am – 5:30pm)
1 break (lunch)
5 days/week
Social benefits:
Health insurance
Unemployment insurance (each employee has an unemployment savings account which can be accessed after employment ended, for each year of employment one month of salary is paid into that account)
Pension fund for all employees
Financial help with rent and finding accommodation
Additional work can be taken home by employees to generate more income (by-piece payment)
Paid holidays (15 days)
Transparency
Payroll is available
SAR (Self Assessment Report) was duly submitted to CONTIGO
Monitoring
Personal visits in Santiago de Chile (2008, 2012)
Feedback interview during several visits in Germany
Member of:

WFTO (World Fair Trade Organization) since 2011
Country information
See Encyclopaedia Britannica: Chile
Photos
Visiting Calypso