Profile of CONTIGO´s partner Calypso
Supply chain
Trading Partner: Calypso, microenterprise
Function: Producer
Structure: Own production, associated workshops
Tradeway: Direct import CONTIGO
Products
Jewellery made of glass and silver
Location
Santiago de Chile, Chile – distance to Europe: 12,200km
Founded in 1998
History
1995: Marcela Cofré Salinas initially a professional landscaper, discovers her passion for making glass jewellery and installs a small production in the backyard of a shoe making workshop
1998: After closing down the former production site, Calypso officially registers as a jewellery business and becomes the main family income of Marcela Cofré Salinas and her husband OscarMunoz
Calypso increases production volume, sells items locally
Due to weak national economy Calypso starts to export
2004: collaboration of Calypso and CONTIGO starts
2005: New building for a workshop is acquired
Since 2009: regular participation in international trade fairs in order to expand customer base
2010: Crisis due to earth quake and rising costs
March 2011: Calypso is restructured and size of workshop is cut in half
Since 2011: Member of World Fair Trade Organisation (WFTO), strong cooperation with other Chilean fair trade organisations
October 2015: organisation of and participation in Chilean first fair trade exhibition
2019: Calypso reduces staff and production, workshop is rented out to Green Glass, company of Marcela Cofre's son
2020: under Covid pandemic workshop is downsized again to only family members. Calypso focuses on promoting Fairtrade in Chile, building up a network of small producers and creating opportunities for them to sell directly on the domestic market
2021: Product range is extended by ceramic products (tableware and jewellery)
Cooperation with CONTIGO since 2004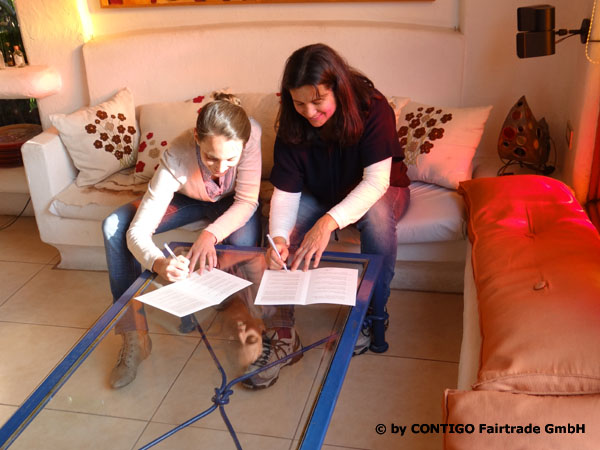 Why does CONTIGO work with Calypso: Calypso is dedicated to the concept of Fairtrade. Te founder Marcela Cofre is president of the Chile association of Fairtrade and built up a nation wide network of artisans and supporters. Contigo appreciates the quality and creativity of Calypso's glass jewellery.
Structure of the business
The family premises is shared by Calypso and Green Glass (founded by Marcela´s son Oscar). The production facilities are used by both companies.
In 2020 under Covid pandemic Calypso downsized operation drastically. Green Glass rented the complete premises and took over some staff from Calypso. The founder couple Marcela Cofre and her husband Oscar senior as well as Master Miguel Casas (for glass polishing) are still in production, her daughter Paloma (student) assists her parents by building up a webshop for domestic sales.
Number of employees:
founder couple Marcela Cofre and her husband Oscar (senior)
part-time employee Master Miguel Casas (for glass polishing)
Outdoor cooperation:

Don Renato Varas (with 1 employee), family workshop for all silver work
Two ladies Sonia and Romina (single mother with 2 kids) working from home. For both of them assembling of necklaces is a sideline income
Since 2021 cooperation with two external potters Jorge Rosales from Pomaire (ca. 60 km south of Santiago de Chile) and David Gomero, as well as another potter's assistant
Sales
Exports (95%) to USA (souvenir shops of cruise lines), Germany, France. In 2020 sales to US cruise lines stopped completely due to Covid.
5% domestic sales via webshop and exhibitions in Chile.
Goals
To promote Fairtrade in Chile
To empower small producers to market handicrafts in Chile and overseas directly by participating in exhibitions
To open a permanent Fairtrade outlet for crafters in a renowned city mall
Fairtrade classification
FTA = Fairtrade Approved
Fairtrade aspects
Calypso complies with the following Fairtrade Principles:
No child labour
No discrimination
No discrimination due to gender, disability, religion, ethnicity, sexual orientation, political orientation, or infection with HIV
Fair wages
since 2020: only founder couple is working indoor
outdoor work is paid per piece on mutual agreement
Humane working conditions
Working hours:
9 hours/day (8:30am – 5:30pm)
1 break (lunch)
5 days/week
Social benefits:
only founder couple is working
Transparency
SAR (Self Assessment Report) was duly submitted to CONTIGO
Monitoring
Personal visits in Santiago de Chile (2012)
Feedback interview during several visits in Germany
Member of:

WFTO (World Fair Trade Organization) since 2011
Country information
See Encyclopaedia Britannica: Chile
Photos
Visiting Calypso