Profile of CONTIGO´s partner Shine Accessorize
Supply chain
Trading Partner: Shine Accessorize, microenterprise
Function: Producer
Structure: Own production plant, affiliated producers
Tradeway: Direct import CONTIGO
Products
Jewellery made of capiz shell and other natural materials
Location
Cebu City, Philippines – distance to Europe: 10.700km
Founded in 2012
History
1986: First visit of the German co-founder of Shine Accessorize to the Philippines, he is fascinated by the manual skills of the people and establishes a small export company for different producer groups, development of own designs
Later: due to increasing requests, building of their own small workshop
Predominantly export to Europe: the jewellery out of natural materials is produced under BSCI standards and according to customers´ current requirements
2012: Company´s name changes to Shine Accessorize, founder Shalenie Alvaro
Main focus: working with local people on the manufacture of natural materials
2016: CONTIGO meets Shine Accessorize, a first visit in Cebu follows
Cooperation with CONTIGO since 2016
Structure of the organisation
Number of employees:
Full-time employees: 6 women
Part-time employees: 20-80 women and 2-5 men, depending on order situation
Organisation of workforce:
Main workshop:
Administration
Production: preparation of materials and finishing of the jewellery out of different elements
Quality control (raw materials and finished products)
Warehousing (raw materials and finished products)
Packing and shipping
Sales
Home market (50%)
Exports (50%) to Germany and Switzerland
Goals
To create jobs and income opportunities locally (high emigration rates of young people)
To process local materials and therefore preserve the tradional handcraft
Special features
Shine Accessorize complies with the high standards for labour conditions according to BSCI
Shine Accessorize only processes natural and local materials (except components e.g. closures)
Why does CONTIGO work with Shine Accessorize: Shine Accessorize is a well organised company with good networking activities around Cebu, high quality standards, efficient and innovative in design.
Fairtrade classification
FTP = Fairtrade in Progress, young business partnership
Fairtrade aspects
Shine Accessories complies with the following Fairtrade principles:
No child labour
No discrimination
No discrimination due to gender, disability, religion, ethnicity, sexual orientation, political orientation, or infection with HIV.
Fair wages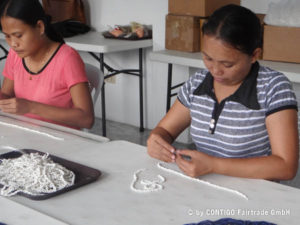 Minimum wage in the region: PHP 394/day (PHP= Philippine Peso)
Average wage at Shine Accessorize:

Un-skilled worker: PHP 394/day
Skilled worker: PHP 394-500/day

Fixed salary for all employees
Salary is paid out by cheque, twice a month
Double wages in case of working on holidays
Bonuses for good working performance
Humane working conditions
Working hours:
8 hours/day
90 minutes break, split into three breaks
5 days/week
Social benefits: 
Paid holidays (15 days)
Continued payment of wage in case of sickness or accident
Contributions to health insurance (PhilHealth) and social security system (SSS)
Contributions to national pension fund "Pag-IBIG" = Home Development Mutual Fund (loans for housing, other multipurpose loans)
In case of overtime Shine Accessorize provides food, beverages and transport service homeward
Occupational safety:
All safety standards are met
Transparency
Work contracts are available
Payroll is available
Pay slips are available
SAR (Self Assessment Report) was duly submitted to CONTIGO
Monitoring
Personal visits in Cebu (2016)
Country information
See Encyclopaedia Britannica: Philippines