Profile of CONTIGO´s partner Glass Style
Products
Handmade tableware and home decorations made of glass
Location
Cairo, quarter Heliopolis, Egypt – distance to Europe: 3,000km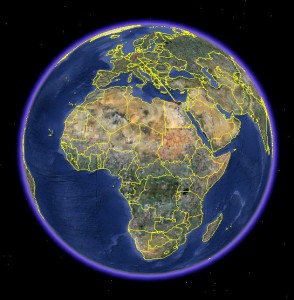 Founded in 1992
History
Walid Onsy is a glass artist and professor at the faculty of Applied Arts in Cairo. He is well known and attends many national and international exhibitions
1992: Foundation of a studio for handmade glass art in "Fusing" technique, at the beginning in the range of room decorations. Walid Onsy developed the glass melting process himself
2002: Restructuring and expansion of the studio, specialisation in functional and artistic glassware and objects such as statues, lamps, glass windows
Since 2010: Focus on export by participating in various trade fairs, new international customers can be won
From 2018: Glass Style applies together with 19 other Egyptian companies for membership in the WFTO (= World Fair Trade Organisation)
Cooperation with CONTIGO since 2018
Structure of the business
Number of employees:
Management: Walid Onsy and his wife Suzan Bahaa
19 full time employees (11 women, 8 men)

12 permanent employees in production and quality control, women predominantly design the glass
2 management (see above) und 1 senior designer
4 sales and marketing
All employees can be employed all year round
Organisation of workforce: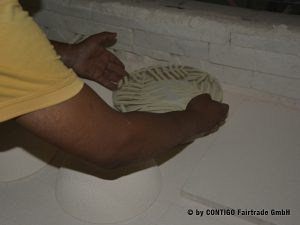 All production steps are completed in their own workshop.
Work steps:
Material: simple, non-recycled glass plates with a thickness of 3-8 mm; either only one layer of glass is used or two layers of glass are fused together
Production of raw glass moulds from refractory material can be used between 150 and 300 times
Cleaning of the glass
Cutting of the glass according to the planned shape
Painting of the glass: designs are hand-painted with food-safe colours
Preparation of the melting process by adding a glass separating substance (kaolin, white clay) to the mould to prevent the glass from sticking to the mould during the melting process
Furnace melting (between 800 and 880 degrees) between 8 and 10 hours
Cooling of the glass to avoid cracking takes another 24 hours
Finishing processes, e.g. cleaning, grinding or polishing, so that the end product becomes transparent, semi-transparent or covered
Quality control
Work equipment:
Glass Style is the only workshop in Egypt with a melting furnace for large products.
Sales
Exports (40%) to Europe, Middle-East and the U.S.
Home market (60%), amongst others: sales via their own gallery, hotels, public institutions
Goals
To further develop the Egyptian glass craft and to preserve a centuries-old cultural asset
To move to a larger production site with better equipment
Special features
Why does CONTIGO with Glass Style: Ambitious couple, focus on design and quality, family business
Fairtrade classification
FTP = Fairtrade in Progress
Fairtrade aspects
Glass Style complies with the following Fairtrade Principles:
No child labour
No discrimination
No discrimination due to gender, disability, religion, ethnicity, sexual orientation, political orientation, or infection with HIV
Fair wages
Minimum wage in Cairo (handicraft sector): EGP 1,200/month (EGP=Egyptian Pound)
Fixed salaries at Glass Style:

EGP 2,000 – 2,500/month for un-skilled employees (in the training and induction phase)
EGP 3,500 – 4,500/month for skilled employees

Salaries are paid out in cash monthly
Bonus payments

Annual bonus: 15% of the monthly salary is paid out as a bonus per quarter
Holiday bonus
On important religious holidays (begin and end of Ramadan)

Overtime is paid in double the normal pay per hour
Humane working conditions
Working hours:
8 hours/day
Regular lunch break
6 days/week
Social benefits: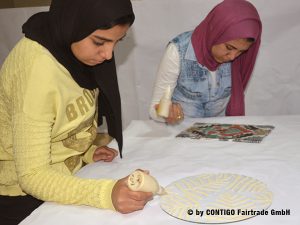 Paid holidays (one week of recreation leave + paid national and religious holidays)
Continuous payment of salary in case of sickness or accident
Contributions to health insurance are paid
In case of need: payment of further medical expenses
In case of need (e.g. for family affairs): loans or advance payments are available, individual reimbursable plan
Occupational safety
All safety standards are met
Working uniforms, protective clothing and safety glasses are provided
Transparency
Payroll is available
Pay slips are available
SAR (Self Assessment Report) was duly submitted to CONTIGO
Monitoring
The Egyptian Alex Bank support the preparation process for WFTO membership
Country information
See Encyclopaedia Britannica: Egypt