Profile of CONTIGO´s partner Artisan Well
Supply chain
Trading partner: Artisan Well, medium enterprise, producer organization (association)
Function: Producer
Structure: Own production plant, associated production groups
Tradeway: Direct import CONTIGO
Products
Items made of cow leather
Location
Kolkata, in the state of West Bengal, India – distance to Europe: 7,300km
Founded in 2005
History
2005: Foundation of Artisan Well, as a representative of 15 manufacturer groups with 200 members from West Bengal. Goals: product development, improved quality standards, better social standards for all members, joint marketing and distribution of their products
2008: Artisan Well specialises in the production of leather goods, relocating of the workshop premises in the outskirts of Kolkata. Artisan Well takes over the former leather production cooperative Utkal Leather Crafts
2013: Artisan Well works with 7 producer groups for leather indoor. Only 4 out of formerly 13 external producer groups can be supplied with orders
2015: Hiring of an Indian lady as freelance designer in order to develop new leather ranges
2015: Support of a training center for women (initiated by NGO Tamas Society) with 18 women, Artisan Well pays charges for rent, electricity, trainer wage. Aim: education of women from rural areas in the leather processing
2016: Artisan Well becomes member of the World Fairtrade Organisation (WFTO)
2017: The central workshop hosts 12 producer groups for leather production. The cooperation with the NGO Tamas Society and the trainings for women end for the time being
2018: Purchase of a plot of land to build a bigger production unit south of Kolkata in the rural area off Baruipur / Mallikpur
2019: Construction of the new building is in process

Two production buildings are planned
Close to the railway station (Mallikpur station), easily accessible for employees, shuttle bus bring them from the station to the workshop

2020: Situation during the Covid-19 pandemic:

Production groups work rotating, only 4 groups present in the building at the same time.
Setting up overnight accommodation and a bus shuttle for employees as long as local public transport is closed.
A decline in sales of 25% is expected for the current financial year.

2022: Completion and official inauguration of the new company building (May)
Structure of the marketing organisation Artisan Well (status of 2019):
The organisation consists of 31 producer groups:
External groups / decentralised workshops: jute (1), horn items (1), wood crafts (1), shanti leather (1), wallets and small items made of cow leather (15)
Internal groups / at the central workshop: leather, production of bags (12)
Organisation (stable since 2005):
Members meet once a year
During annual meeting they elect a board comprised of eight members for the main handicraft groups (see above)
Board meetings quarterly
Cooperation with CONTIGO since 2005
Why does CONTIGO work with Artisan Well: Longterm and trustful cooperation,  charaterized by high commitment to quality and workshop. Well accepted ranges, excellent and dedicated staff with long experience. There are 1 to 2 on-site visits by CONTIGO for product development every year. The continuous innovations in design, materials and techniques have brought Artisan Well an enormous growth spurt. CONTIGO supports the modernization of the factory equipment through donations and loans.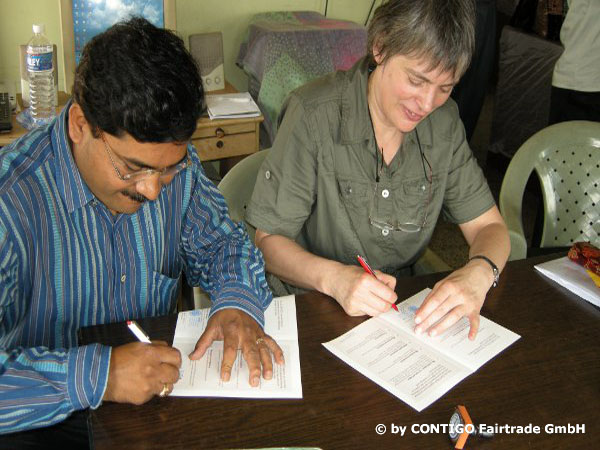 Structure of the company
Number of employees:
Internal employees:

5 employees for administration, marketing, exports
1 production manager for planning of the whole process, calculation (Mr Sajal)
1 assistant of production manager (Ms Gopa)
2 foremen for patterns, product development
10-12 producer groups with each 3-6 people (fluctuating)
7 women for quality control
7 skilled employees for hand bag production

19 external groups – providing work for 60 families

jute products
horn items
wood crafts
shanti leather
wallets and accessories made of cowhide leather

Gender commitee, consists of three female employees and two men ( production manager and CEO), representing the interest of women and settle quarrels
External, freelance product designer
Work environment:
Production premises with ground floor and three storeys:
Three working rooms and a small side room (for storage purposes) on each floor
3-4 persons work in each room
All floors are equipped with fire extinguishers and bathroom facility
All working rooms are equipped with tables and chairs (till 2014 employees have been working on the floor)
First floor: workplaces of sample makers and office of production manager
Second floor: quality control
Attic storey: recreation room for employees
The administration office, accounting office, showroom and logistics are in a seperate office appartment in 30 minutes (by car) distance.
A new building of 3.000 sqt is under construction. From 2021 on office and production will be merged under one roof in Mallikpur. The old building will be kept in order to employ more production groups.
Organisation of workforce:
Work organisation internal groups (at the central workshop):

Finalising of leather accessories, which are prepared by external groups. Production of leather bags
10-12 in-house producer groups with 3-6 employees each: team consists of un-skilled, semi-skilled and skilled (or highly skilled) artisans
Team leader coordinates the members, also keeps an account about the work performance, piece rate (which is agreed) and payment (against signature)
The sample makers Nur and Chatter, and the production manager Mr Sajal, are responsible for:

Coordination of all processes
Pattern making and product development
Calculation of piece rates for internal and external groups (they calculate the working time of the single production steps and estimate the weekly quantity)

Work organisation external groups (decentralised workshops):

Groups for small leather items do not work for Artisan Well exclusively (Artisan Well can not offer a year-round employment due to lack of orders)
For every order the groups receive prepared packages of cut leather and other materials from Artisan Well
Finished orders are delivered on Fridays, pay-out is on Saturday
Quality control after delivery
Advance payment according to agreement, 60% of the balance will be paid on delivery of goods and 40% after quality control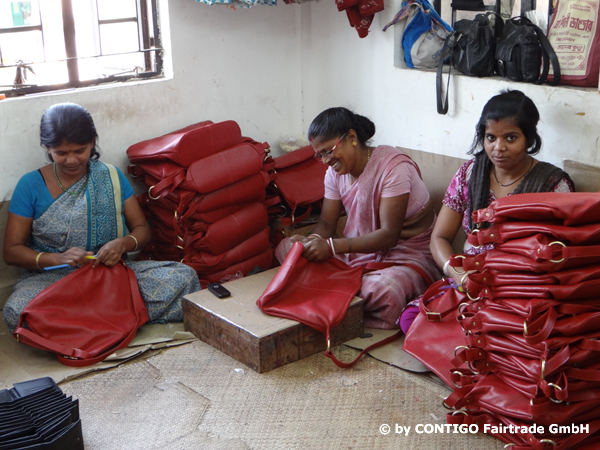 Sales
Exports (100%) to Germany, Austria, Finland, Netherlands
Goals
Quote from Artisan Well: "We believe that poor artisans deserve appreciation of their workmanship and dignity as a human beings."
To support local craftsmen by marketing their products
To offer year-round employment for all members
To develop new products and quality standards (as a basis for more success)
To train and further develop craft-making skills of producers
To continuously improve the living standards and social benefits of the workers
Fairtrade classification
FTA = Fairtrade Approved
Fairtrade aspects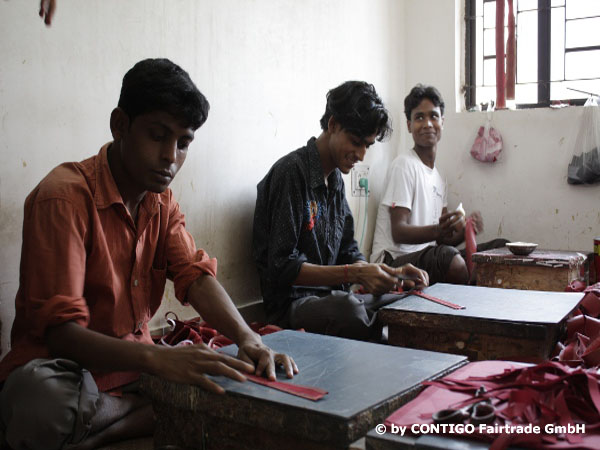 Artisan Well complies with the following Fairtrade Principles:
No child labour
No discrimination
No discrimination due to gender, disability, religion, ethnicity, sexual orientation, political orientation, or infection with HIV
Fair wages
Minimum wage in the state of West Bengal: (INR = Indian rupee) for tannery and leather industry

un-skilled : INR 8,005/ month
semi-skilled: INR 8,806/ month
skilled: INR 9,687/ month
Wages at Artisan Well:

Permanent staff: wages depend on competence and performance

Quality control: INR 8,250 / month
(comment: in other companies women working in quality control are not permanent staff, they earn lower daily wages and do not receive social benefits. At Artisan Well women from quality control receive a fixed salary, bonus payments and social benefits – see below)
Production staff (semi skilled and skilled) with non piece rate tasks, as cutting, material preparation etc. : INR 10,000 – 12,000 /month
Specialists (highly skilled), sample maker: INR 13,500-22,00 /month
Monthly payment to individual bank account

Production workers at the internal / central workshop receive piece rate wages

2019: Adjustment of piece wages to increased local cost of living
Income varies due to order situation and attendance time of workers
Cash payment every Saturday against signature
Additional benefit: free breakfast and lunch
In times of less work, group members receive a basic income (INR 6,000/month), which is compensated against later work

Production workers at the different decentralised workshops receive piece rate wage

Advance payment according to agreement, 60% of the balance will be paid on delivery of goods and 40% after quality control
Annual wage increases at least to the amount of the inflation rate
Overtime and Sunday work allowances (double salary)
Extra payments on occasion of important holidays (Muslims: End of Ramadan. Hindus: Durga Puja) for garments and family visits in the villages (approx. 20% of the monthly salary)
Bonus / performance incentive

Incentives for internal production groups with timely completion of an order
Permanent staff and group leaders receive one monthly salary as a bonus payment (if the annual profit allows to do so): it is a voluntarily bonus by Artisan Well, no legal claim)
Humane working conditions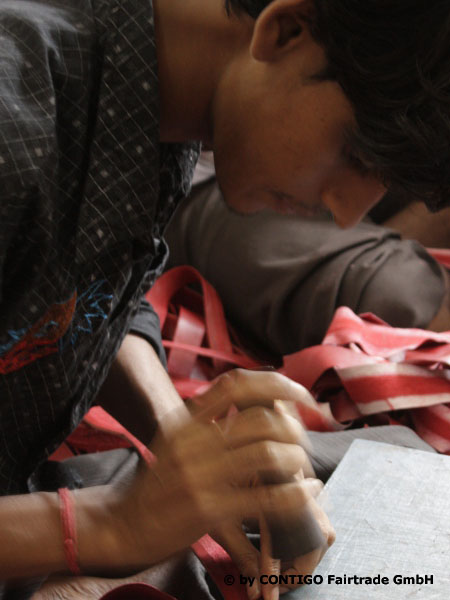 Working hours:
Permanent staff: 10:30am – 6:30pm
Producer groups (internal): 9:30 am-6:30 pm
incl. two breaks (à 30 minutes)
6 days/week
Social benefits:
Employees with fixed salaries receive the following social benefits:
Payment of contributions to health insurance ESI (= Employee State Insurance), employer pays 3,75% and employee 0,75% of monthly gross wage
Payment of contributions to pension scheme PF (= Employees´ Provident Fund), employer and employee pay each 12% of monthly gross wage (less "housing allowance")
Paid holidays:

10 days for personal needs (recreation, bereavement, weddings etc.).
17 -19 paid bank holidays (official and religious holidays)
Non taken holidays will be compensated in cash at the end of the financial year

Continued payment of wage in case of sickness or accidents (12 days)
Voluntary benefit paid 100% by Artisan Well: life insurance, payout after 15 contribution years as a lump sum
Production workers at the internal / central workshop receive the following social benefits:
Monthly payment into pension insurance PF (= Employees' Provident Fund): for all groups that decide to join the pension fund
Voluntary benefit paid 100% by Artisan Well: life insurance, payout after 15 contribution years as a lump sum
In case of need (e.g. for family affairs): interest-free loans (or advance payments) are available, individual reimbursable plan
Artisan Well provides free snacks for tea breaks, group leaders pay for lunch
Educational opportunities:
Vocational training of young men is provided throughout the year (training and preparation of professional life)
Women from the quality control department are taught how to do easy work steps in the leather production
Occupationl safety:
20 employees receive a first aid training
Fire licence, regular external checks
Transparency
Payroll is available
SAR (Self Assessment Report) was duly submitted to CONTIGO
Monitoring
Personal visits in Kolkata (2008, 2011, 2013, 2014, 2015, 2016, 2017, 2018, 2019)
Feedback interview during several visits in Germany
Member of:

World Fair Trade Organisation WFTO (Guaranteed Member) – since 2015
Country information
See Encyclopaedia Britannica: India
Photos
New company building (2022)

Visit in Kolkata (2019 & 2020) 
Visit in Kolkata (2017 & 2018) 
Visit in Kolkata (2014)
Visit in  Kolkata (2013)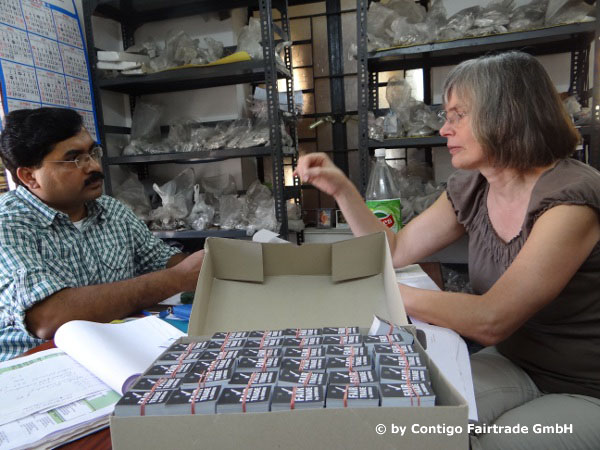 Visit in Kolkata (2011)
First visit in Kolkata (2008)