Profile of CONTIGO´s partner Kapula
Supply chain
Trade partner: Kapula, medium size enterprise
Function: Producer
Structure: Own production facility
Distribution: Direct import CONTIGO
Products
Candles and ceramics (till 2022)
Location
Bredasdorp, province Western Cape, South Africa – distance to Europe: 9,600m
Founded in 1994
History
Ilse Appelgryn loses her teaching job during apartheid and decides to revive the family business, candle making
1996: Hiring of 6 employees
1998: First delivery to Berlin/Germany
1999: Opening of Kapula-Gallery in Bredasdorp
2000: Number of employees rises to 40
2000: Participation in Expo 2000 World Fair in Hannover/Germany
2000: Ilse Appelgryn receives award (KAP from Chamber of Commerce and Industry, Cape Town)
2000: CONTIGO meets Kapula through a German church community
2003: Start of ceramics production (hand painted)
2006: Employee number rises to 250
2008: Most successful year due to partnering with large clients such as UNICEF
2009: Worldwide economic crisis leads to loss of many larger customers
2010: Year of big changes (problems and conflicts with a German minority shareholder)

February: Kapula is closed down
April: Restructuring with the help of CONTIGO as well as German and Austrian Fairtrade and worldshops: a new beginning with large orders from CONTIGO and Woolworth South Africa
December: Payment of bonuses to employees

February 2011: First annual report since reconstruction verifies a positive outcome
Since January 2012: New ceramic bisque factory with modern tunnel furnace is established
Improvement of sanitary facilities
2015: Certified member of WFTO (=World Fair Trade Organisation, guaranteed member)
February 2016: Take-over of the ceramic factory Intshiba, also in Bredasdorp, adoption of all 17 ladies (bisque makers, painters), provided with ordinary working contracts, all social benefits und regular and punctual payments and other benefits of the Kapula culture
May 2017: Take-over of another ceramic manufacturing company, which is threatened with closure, with 16 employees and equipment
2018: Kapula invests in new production equipment:

second blunger (mixing machine for clay)
second holdingtank for ready mixed clay
two further dryers for the drying room (for faster drying of bisque moulds)
Kapula is the leading producer of handmade ceramics in South Africa

2020: Situation under Covid pandemic

March: complete lockdown of production. Kapula applies for funds from the Covid 19 unemployment insurance (UIF) for all employers, which are granted with a delay

. The salaries can still be paid with small discounts.

May: Production resumed with 20% of the workforce (30 employees). No orders from South Africa, South African customers in the "Business Rescue" program, payment of liabilities suspended.

September: 75 employees can be reemployed

By October: heavy losses due to the collapse of the tourism industry (35%). Hardly any demand on the domestic market. The total order volume in October has shrunk to a quarter of the previous year

December: staff increased to 105 employees

2021: Restructuring and optimisation of production, training of employees to be able to react even better to the changing order situation caused by the Corona pandemic
2022: Kapula terminates its membership of the WFTO at the end of May due to the high membership fees and unrecognisable advantages for Kapula and its customers
2022: Due to technical problems in the ceramics production (unreliable electricity supply and the lack of availability of clay and glaze), Kapula is forced to drastically reduce the ceramics workshop. A majority of the employees from ceramics change to candle production. (an update on the number of employees will follow shortly, see Structur of the business)
Cooperation with CONTIGO since 2000
Why does CONTIGO work with Kapula:
CONTIGO has no other trading partner with whom it has such close ties. The rescue of Kapula from insolvency in 2010, caused by a hostile attack from outside, made the start. This required an enormous financial effort by CONTIGO, supported by other lenders and the worldshops. The preservation of all jobs, the development of the ceramics production and the modernisation of the equipment are a result that makes all of us proud. We were and still are close to all what happened in Kapula and to their people. We have known many of the employees personally for years. CONTIGO and Kapula are like a family.
Structure of the business
Status: October 2021 (in revision: June 2022)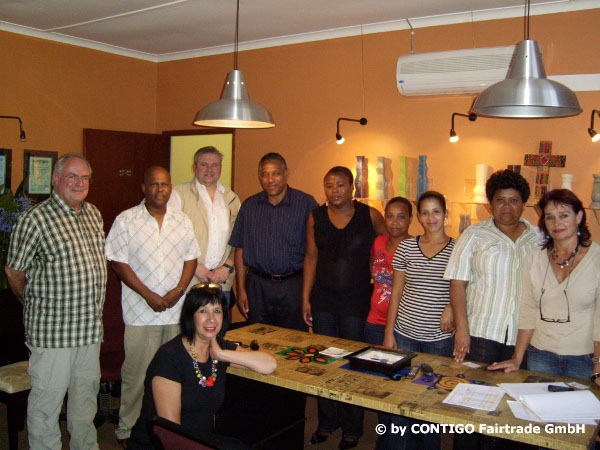 Number of employees:
114 employees (98 women, 16 men)
11 employees in middle management, thereof 10 women
50 employees have been working at Kapula for over 10 years, thereof 13 employees are with Kapula over 20 years
46 women are single mothers
41 women earn the basic income (bread winner) for their families
42 employees have proprietary
Work environment:
7 sections:
Handcraft (production of candles, casting of blank shapes) – 17 employees
Hand painting (painting of candles) – 20 employees
Two bisque factories (production of bisque ware for ceramic) – 18 employees
Two ceramic factories for painting and glazing – 32 employees
Packaging store (packaging and shipment) – 13 employees
Gallery (showroom and retail outlet) – 2 employees
Administration, sales and accounting – 12 employees
Work equipment and organisation of workforce:
Work division in the departments:

Supervisor organises every single production step in the department and on the tables, depends on individual skills. Trouper helps new employees
Supervisor keeps records of attendance and daily production

Regular meetings and agreements with supervisors and responsible persons of every department:

Every Monday: production meeting
Every Tuesday: meeting of the middle management with the responsible persons of every department

Cross training of employees to be skilled in more than one work discipline: trouper teach new employees and re-educate other employees (e.g. from candle painting to ceramic painting)
Sales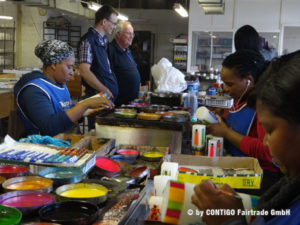 Exports (45%)

Predominantly to Germany
Small orders from Austria, UK, Denmark, Italy, U.S.A., Australia, Sweden

Home market (55%)
25% of Kapula business is from CONTIGO purchases
Goals
To introduce a pension scheme
To establish online marketing
To early amortise the loans given for the new start in 2010 by CONTIGO and the German and Austrian worldshops
Special features
Recycling / wax scraps are recycled:

Selling on to a producer of wax crayons
Production of BBQ charcoal lighters
Selling on to beekeeper

Awards:

2000: Ilse Appelgryn receives the "The Black Management Forum's Western Cape Entrepreneur of the Year" award
Fairtrade classification
FTA = Fairtrade Approved
Fairtrade aspects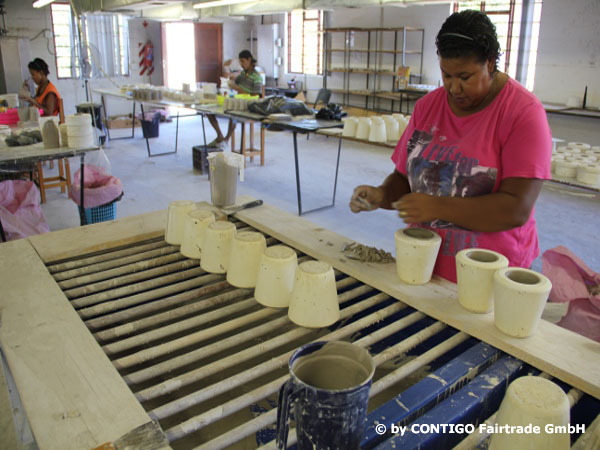 Kapula complies with the following Fairtrade Principles:
No child labour
No discrimination
No discrimination due to gender, disability, religion, ethnicity, sexual orientation, political orientation, or infection with HIV
Employees from different ethnic groups (Coloureds and Xhosa) have been working at Kapula for many years.
Fair wages
South African minimum wage (since February 2021): ZAR 21,69 / hour (ZAR = South African Rand)
Wages at Kapula:

Minimum wage for beginners: ZAR 3,853 / month
Later: gradual wage increase (depending on skill and experience)
Employees in production: ZAR 3,853 – 4,700/ month

Employees receive a monthly fixed wage
On the last Friday of a month: wages are paid into employees´ own bank accounts
In case of overtime: compliance with Labour Law on overtime rates (x 1.5 on working day, x 2 on Saturdays)
Bonus payment at the end of the year: ZAR 500-800 / employee
In July of each year wage negotiations take place: wages are adjusted to match and better the official inflation rate
Humane working conditions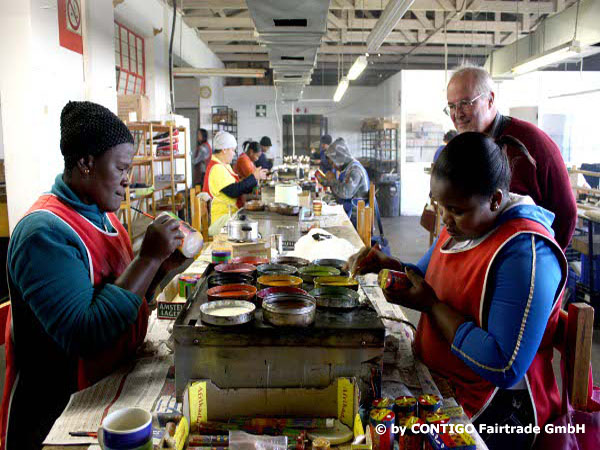 Working hours:
8.5 hours / day
Working hours: 8 am – 5:30 pm, Monday – Thursday, Friday: 8 am – 3:30 pm
2 breaks (breakfast: 10 – 10:15 am, lunch: 1 – 1:45 pm)
5 days / week
Social benefits:
All employees receive the following benfits:
Contributions are paid to governmental UIF (= Unemployment Insurance Fund), employee and employer pay each 1% of monthly gross salary
Kapula pays an accident insurance for all employees
Paid leave:

Holidays: 15 working days and public holidays (company holidays: 15.12. – 11.01.)
Employees who have been with Kapula for over 7 years receive 2 more extra holidays
Compassionate leave of 3 days per year

Wage continuation:

In case of sickness: 30 days paid sick leave over a three year cycle (thereafter UIF pays appr. 75 % of salary)
Maternity leave (one month before due date and three months after birth): Kapula pays one week wage continuation, thereafter UIF pays the rest, appr. 38-60% of average income of the last six months, depending on income level)

Health care:

Company agreement with local surgeries about medical services of employees (and their families): private medical service costs appr. ZAR 300-400 incl. drugs, costs are paid by Kapula and will be deducted from monthly income in small instalments
Health care service in public clinics and hospitals are free of cost for everyone

Common celebrations and activities to strengthen the good working atmosphere

Educational opportunities:
Regular trainings and further educations for "occupational safety", "fire protection" and "First Aid"
Paid leave for further education courses
In-house training is done between factories, multi-skilling of employees
Occupational safety:
Working gear and protective clothing is provided
Mandatory safety committee is available
Regular safety and fire drills
Every factory has its own trained first aiders and safety representative
Transparency
Work contracts are available
Payroll is available
Pay slips are available
Annual report submitted to CONTIGO
SAR (Self Assessment Report) was duly submitted to CONTIGO
Monitoring
Personal visits in Bredasdorp (2007, 2010, 2011, 2012, 2017)
Feedback interview during several visits in Germany
Member of World Fair Trade Organisation WFTO (Guaranteed Member) from 2015 till 2022
Regular social and safety audits by Kapula´s biggest customer in South Africa (Woolworth)
Country information
See Encyclopaedia Britannica: South Africa
Photos
Visiting Kapula – November 2017
Visiting Kapula – February – March 2012
The new furnace – January 2012
Visit February 2011
Bonus payment 2010
Visit August 2010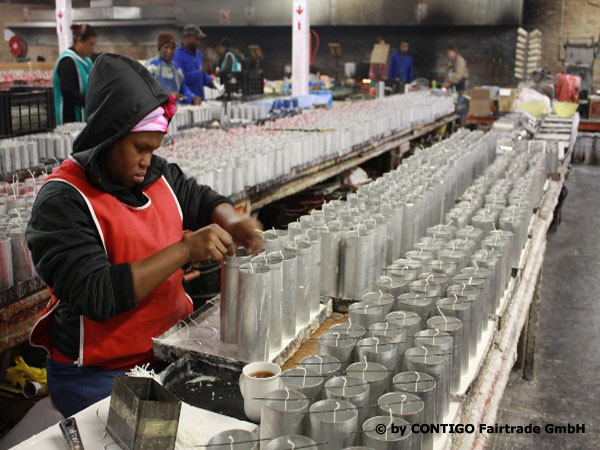 Visit February 2010
Visit 2007