Profile of CONTIGO's partner Asango
Supply chain
Trading Partner: Asango, microenterprise
Function: Exporter
Structure: Affiliated production groups
Tradeway: Direct import CONTIGO
Products
Location
Office: city district Kilimani, Nairobi, Kenya – distance to Europe: 6,400km
Production is located:
in Nairobi´s city districts: Kibera, Waithaka and Kilimani
in Makweni County: Makindu (ca. 200 km south east of Nairobi)
Founded in 1992
History
William Ongele works in his village as a talented craftsmen with wood and soapstone
Export organisation African Heritage hires William to work in their workshops in Nairobi
1992: Founding of the family business Asango together with Williams wife Sophie
Specialisation in wood, metal, recycled bone and horn craftsmanship
2005: CONTIGO meets Asango
2009: Relocation of the company to new premises outside Nairobi
2014: Restructuring of the company, relocation back to Nairobi (Kilimani city district), expansion of cooperation with other production sites: Asango supports the workshops with regards to production processes and fairtrade standards
2021: As result of the Corona pandemic lockdowns 2020 / 2021 many employees of Asango moved back to their villages and keep this as permanent way of employment
Cooperation with CONTIGO since 2005
Why does CONTIGO work with Asango:
The company is a prime example for informal structures of African handicrafts. Asango is the bridge for a network of craftsmen throughout the country to the international market. For them, this means income in their home villages instead of fleeing to the city. All materials are available in the country and come from nature. What we appreciate about Asango is the focus on original African handicrafts with simple means. At the same time, the founder William Ongele has the artistic flair that allows his products to stand out on the international market in terms of design and quality. CONTIGO has been a small but constant customer with regular annual orders since the beginning.
Structure of the business
Number of employees:
5 artisans in door (3 women and 2 men)
7 artisans outdoor
Cooperation with producer groups in Kiambu, Kisii, Kisumu, Makweni, Busia, Nairobi County
Organisation of workforce:
At the Asango office:
Tasks: distribution of orders to production groups, collection of finished production, quality control, labelling and packing, administration
Creative director: William
Application tie dye decoration: William
Office, administration and accounting: Sophie
At the external production workshops:
Workshops organise themselves completely independently (purchase of raw materials, complete production)
In case of need (or due to individual agreements) Asango makes advance payments
Since Asango is not able to employ them all year round, they also produce for other clients or sell their goods directly on local markets, e.g. to tourists
By piece payment, daily cash
Sawing and sandpapering: men
Carving and ironworks: men
Decorating and finishing touches: women
In case of high work load, tasks are diverted to external workshops
Sales
Home market (7%)
Exports (93%) to U.S.A., Canada, Germany, the Netherlands, Switzerland, Austria, UK, France, Japan, Denmark
Fairtrade classification
FTA = Fairtrade Approved
Fairtrade aspects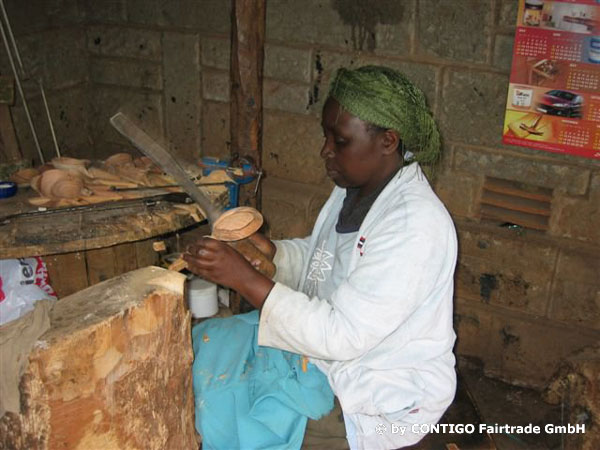 Asango complies with the following Fairtrade Principles:
No child labour
No discrimination
No discrimination due to gender, disability, religion, ethnicity, sexual orientation, political orientation, or infection with HIV
Fair wages
Minimum wage in Kenya: KSH 13,500 / month (KSH=Kenyan Shilling), status of 2022
Average salary for comparable work/companies in Nairobi: KSH 17,000/month
Salary at Asango:

daily wages vary from KSH 800 to 1,350 depending on the work load
monthly income in door 18,000 – 36,500 KSH

Bonus when working on the weekend
Most wages are based on piece rate, artisans may chose for daily or weekly (Friday) payment
Bonus paid out for holidays/festive days (Christmas, Easter): KSH 5,000-8,000/holiday
Humane working conditions
Working hours:
8 hours/day
Breaks: 1 hour and 45 minutes for tea breaks and lunch
5 days/week
Social benefits:
Paid holidays (21 days)
Voluntary payment by Asango (as not regulated by law): Continued payment of wage in case of sickness or accident
Regular health check-ups
Treatment costs in clinics are partially paid
Employees are supplied with breakfast and lunch for free
In special emergencies, Asango covers the cost of school fees and uniforms for staff children
Educational opportunities:
Thorough training of all new employees
Occupational health and safety:
Working gear and protective clothing are provided
Transparency
Wage transfer vouchers are available
SAR (Self Assessment Report) was duly submitted to CONTIGO
Monitoring
Personal visit in Nairobi (2008)
Feedback interview during several visits in Germany
Country information
See Encyclopaedia Britannica: Kenya
Photos
2008: visiting Asango in Kenia