Profile of CONTIGO´s partner Almeerath
Products
Decorative items made of mouth blown glass
Decorative items made of wire and beads
Decorative items made of clay
Location
Alexandria, quarter: Roushdy, Egypt – distance to Europe: 2,800km
Founded in 1996
History
1996: Almeerath founded by Mrs. Nevine Sobhi
1998: First export of Christmas glass beads to a German customer
2007 CONTIGO meets with Almeerath for the first time
Cooperation with CONTIGO since 2007
Structure of the business
Number of employees:
Director: Nevine Sobhi
36 full-time employees (33 women and 3 men)
75 part-time employees (mainly women working at home)
Since the founding in 1996, Almeerath has stable cooperations with three independant workshops:

Workshop for glass in Alexandria (1 employee)
Workshop for glass in Qalyub, quarter Meet-Nama (10 employees)
Workshop for wire products in Alexandria (5 employees), e.g. hearts made of thick wire are produced here (blank shapes)
All three workshops only produce for Almeerath, good order situation, they can provide all-the-year workplaces and income for their employees
When ordering Almeerath pays at least 30% in advance (for raw material purchse, wages etc.)
Work environment:
Two-storey main building (historic buildung, fenced and guarded), with the following departments:
Organisation of workforce:
At the central workshop:

Prepackaging of the materials for the women who work at home
Central production and workplaces for assembly of

Beads to wire shapes
Beads, decorations and hangings to glass bowls

Production of the clay range

Pouring figures and cut (after pattern)
Drying
Assembling / glueing of the single parts
Decorating, painting, with glitter

Work-sharing production, depending on task

Grouped around tables (assembling of the single gypsum parts)
Single tables (quality checks, packaging)
Blank shapes of wire receive an antirust coating

Production at home

Mainly housewives and mothers who want to earn an extra income for the family, and single mothers to enable them to send their children to school

To some extent they teach family members, neighbours and friends

Only subproducts are crafted at home, e.g. wires wrapped around with pearls
Final assembly of the shapes is done at Almeerath
Sales
Exports (100%) to Germany, Italy, Spain, Switzerland, Austria, Scandinavia, Estonia, UK, Ireland, Japan, USA
Goals
To create secure incomes, especially for divorced or widowed women or single mothers who can only work from home
To create more employment opportunities
To expand the international customer base of Almeerath
To offer an annual work trip for employees to visit museums in Cairo
Special features
When hiring new employees, widows and divorcees have priority
2.5% of annual profits are donated to a poorhouse (ZAKAT AL MAL, a form of alms-giving to the poor, a religious obligation, due to the Five Pillars of the Islam)

Why does CONTIGO work with Almeerath: Managed by a dedicated woman, focus on encouragement for women in difficult circumstances. High creative potential, high quality standards and reliable business partner.
Fairtrade classification
FTA = Fairtrade Approved
Fairtrade aspects
Almeerath complies with the following Fairtrade Principles:
No child labour
No discrimination
No discrimination due to gender, disability, religion, ethnicity, sexual orientation, political orientation, or infection with HIV
Fair wages
Minimum wage in the region of Alexandria, handcraft sector: EGP 1,000/month (EGP=Egyptian Pound)
Salaries at Almeerath:

EGP 1,200-1,300/month for unskilled workers
EGP 1,500-2,000/month for skilled workers
Fixed salary for full-time employees
Part-time employees and women working at home are paid by piece

Salaries are paid out in cash at the end of each month
Profit share is paid to employees (equal to one month of salary):  1/12 of this bonus is paid out every month
Due to increased fuel costs Almeerath pays transport allowance to all employees (fixed amount added to salary)
Bonus payment for religious festivals
Overtime is paid in double the normal pay per hour
Humane working conditions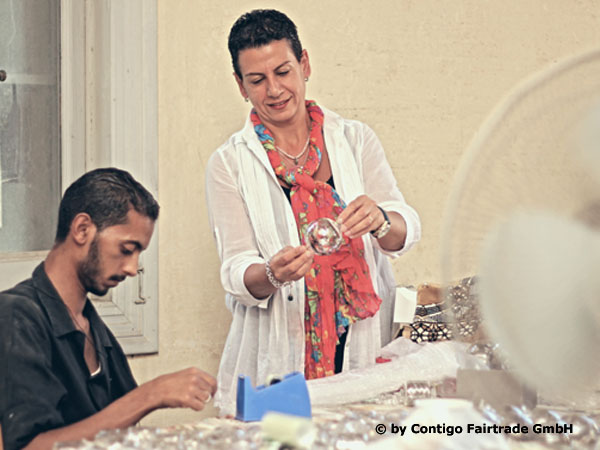 Working hours:
7 hours/day (from 8:30 a.m. – 4 p.m.: early end of work to get home safely)
30 minutes break
6 days/week
Social benefits:
Paid holidays (21 days plus official holidays)
Continuous payment of salary in case of sickness or accident
In case of need Almeerath pays hospital bills or surgical costs (also for family members)
In order to strengthen the team spirit Almeerath organises an Iftar meal and gathering at the end of Ramadan, with all employees, home workers and employees from the external workshops
Educational opportunities:
Teaching different production steps, all-round applicable
Annual training on safety regulations and use of fire extinguishers
Occupational safety:
All safety standards are met
Working uniforms and protective clothing are provided, yearly replaced
Transparency
Work contracts are available
Payroll is available
Pay slips are available
SAR (Self Assessment Report) was duly submitted to CONTIGO
Monitoring
Personal visit in Alexandria (2017)
Feedback interview during several visits in Germany
Country information
See Encyclopaedia Britannica: Egypt
Photos
Nevine Sobhi visits CONTIGO in Göttingen (September 2018)
Visiting Almeerath by a CONTIGO-employee (August 2017)
Pictures from Almeerath
Video