Profile of CONTIGO´s partner Dhanabadee
Supply chain
Trading partner: Dhanabadee, medium enterprise
Function: Producer
Structure: Own production plant
Tradeway: Direct import CONTIGO
Products
Vases, housewares and decoration articles made of ceramic
Location
Lampang, Thailand – distance to Europe: 8.400 km
Founded in 2003
History
1954: The founder of the company Apa E Simyu Saechin immigrated from China via Vietnam to Thailand. He settled in Lampang where he found a source of high quality kaolin in the region and built the first ceramic factory. In the next decades his traditional Chinese inspired "chicken bowl" becomes a bestseller in the whole kingdom of Thailand
1965: Closing down the former factory and opening "Dhanabadesakul Crockery". Up to today the famous "chicken bowl" is still produced according to the traditional production method: all steps are handmade

Shaping the raw material
Painting the ceramic
Burning of the ceramic in the oldest kiln in the region around Lampang, called "Dragon Kiln" (today part of the museum)

1990: Establishment of the "Dhanabadee Art Ceramic Company Thailand" in the second generation by the son of the founder, Mr. Panasin Dhanabadesakul
2003: Renaming of the manufactory in Dhanabadee Decor Ceramic Co. Ltd., production capacity is increased and improved in order to remain competitive on the international market. Focus on design and elaborate decoration techniques
2012: Foundation of the Dhanabadee Ceramic Museums in Lampang by Mr. Panasin Dhanabadesakul, to preserve the beginning and upgrowth of the ceramic production in Lampang
Cooperation with CONTIGO since 2017
Structure of the business
Number of employees:
162 employees (119 women and 43 men)

Therefrom in the production: 114 women and 38 men
Work environment: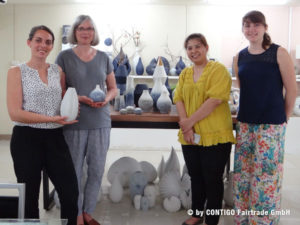 1) Production building is located on the outskirts of Lampang:
single-storey hall complex with two semi-floors for offices and clay tanks
wide courtyard with a small, covered shelter with seating for breaks, a large, open, covered meeting and canteen room
small shop for snacks for the staff
2) Nationwide known DHANABADEE museum and showroom is located in the city of Lampang
Organisation of workforce:
Production halls are divided into departments according to the work process (labelled): storage of materials, clay mixing plant, mould making, ceramic production, decoration, drying rooms, kilns, packaging.
Quality control is performed in various steps of the production. In each department the progress of production is recorded and documented on routing slips.
New employees are trained for three months by experienced staff.
Production steps:
manufacturing of the moulds
mixing of the clay
filling the role models (bisques)
release and drying
decoration work
glaze and colour application
burning process
final quality control
packaging
Sales
Home market (40%)
Exports (60%) to 70 countries worldwide
Special features
Sales of the ceramic souvenir range "White Elephant" support different projects

Schools for blind students
Scholarships for handicapped pupils and students
Why does CONTIGO work with Dhanabadee: Long-established company that preserves the cultural heritage of ceramics production, today with a modern management. Excellent quality, innovative designs, accurate deliveries, excellent social standards.
Fairtrade classification
FTP = Fairtrade in Progress, young business partnership
Fairtrade aspects
Dhanabadee complies with the following Fairtrade principles:
No child labour
No discrimination
No discrimination due to gender, disability, religion, ethnicity, sexual orientation, political orientation, or infection with HIV.
Fair wages
Minimum wage in the region: THB 310/day (THB= Baht)
Average wage at Dhanabadee:

Un-skilled worker: THB 310/ Day
Skilled worker: 310-500/ Day

All employees receive a fixed salary, no piece-rate
Weekly or monthly salary is transferred to employees own bank account
Holiday bonus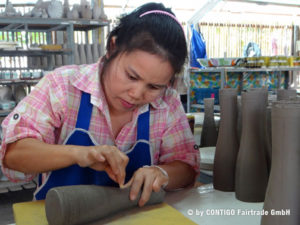 Humane working conditions
Working hours:
8 hours/day
1 hour of lunch break
6 days/week
Social benefits:
Contributions to governmental health and social insurance are paid
Continued payment of wage in case of sickness (30 days/ year)
Paid holidays (13 national/ traditional holidays, paid leave for recreation depend on the seniority, at least 6 days/year)
Maternity leave: 1.5 salaries before due date paid by Dhanabadee
Occupational safety:
Marked, free escape routes
Fire extinguishers in all working areas
Extinguishing hose with water connection in the outdoor area
Transparency
Work contracts are available
Payroll is available
SAR (Self Assessment Report) was duly submitted to CONTIGO
Monitoring
Personal visits in Lampang (2016, 2019)
Organisation and work processes are ISO certified
Country information
Information about Thailand
Photos