Profile of CONTIGO´s partner All Women Recycling
Products
KLIKETYKLIKBOX ™ (short: Klikboxes), gift boxes made from plastic bottles
Location
Cape Town, capital and primate city of the Western Cape province, South Africa – distance to Europe : 9,500km
Founded in 2009
History
Lynn Worsley is born in 1953 and raised in England. She migrates with her parents to South Africa where she makes a career in theatre, TV and radio. 1977 after her marriage she moves back to England
1984: Lynn returns to South Africa. After her divorce she starts her own business with baby body care products. Later on she works as operations manager in a fashion company
2008: Her interest in upcycling and green products makes her create her own business, providing work to unemployed black ladies from the townships
The idea of the first KLIKETYKLIKBOX ™ is born (since 2012 registered trade mark): Pet bottles are purchased from dumps and community street collectors and transformed into marketable trendy and eco-friendly gift boxes
2009: All Women Recycling is founded with 8 women (most of them single mothers) from the townships Langa, Gugulethu, Khayelitsha, and Philippi
2011: Networking activities in South Africa. All Women Recycling is part of an aid programme which is developed by FETOLA as a Finnish "aid for trade" programme, this leads to growing success of the gift boxes on the local market
2014: All Women Recycling is the winner of the SEED award (international award for companies and initiatives with sustainable corporate concepts), international support from Flanders (Belgium)
2014: The workshop moves to the present-day location, up to then the production has been at Lynn´s private house
2016: All Women Recycling is awarded at the design fair "Decorex Cape Town", best eco stand with sustainable products
2016: All Women Recycling receives further awards, amongst others from an Australian programme for sustainable eco entrepreneurship
2016  and 2017: All Women Recycling is nominated as the best exporter of the year from the Cape Chamber of Commerce
2016: Over 500.000 bottles have been upcycled (appr. 117.000 kg CO2 could have been avoided by not being burned in the dumps)
2017: The Belgian Primeminister Geerts Bougeois visits All Women Recycling
2017: Extended cooperation with women run companies and initiatives, multitude of net working activities (e.g. the "Naked Baby Project"- U.S., GOGO Project – South Africa)
2019: Winner of the Global Business Insight Award, South Africa (Most innovative gift box manufacturer)
2020: Modernisation of the company website, plans for restructuring the company according to the new guidelines of the BEE programme (= Black Economic Empowerment)
Cooperation with CONTIGO since 2010
Structure of the business
Number of employees:
13 female employees, all full-time (35 hours per week)

One employee works at All Women Recycling for 10 years
Black immigrants from Eastern Cape / South Africa, Congo, Tanzania and Malawi
Management:

Lynn Worsley (CEO, sales, education, product development, marketing, trainings: nutrition and fitness)
Francine Wayi Wayi (floor manager: supervision of the production)
Ilhaam (production management and deputy of Lynn, responsible for telephone hotline, computer works, work organisation, purchase of materials, HR)
Cindy Magsun – seamstress
Work environment:
The two workshops are located in a trade area building (Industrial Village Retreat, Cape Town), in the neighbourhood of many small businesses, divided into

Factory 1: main office, production and packaging
Factory 2: sewing and cutting of raw materials

Current location is better accessible for the women, than the former one. They travel by train or shared taxis from their homes in the townships

Work equipment:
Factory 1: low-rise building with office, production, packaging room and warehouse, spacious workshop with tea kitchen, toilet, allworkspace
Factory 2: sewing room, storage room for plastic bottles and drying room for finished gift boxes, work place of Asanti (responsible for washing, first cutting of the bottles, see below "production steps")
Used materials:

Pet bottles are collected by street collecters and donated from companies (as part of their social enterprise development program), local schools and charities
Paper napkin
Organisation of workforce:
Daily coordination of the tasks with management and team leaders; once a week meeting with all employees
There are 4 teams, with two women each, grouped around tables, team changes depending on work requirements
Each team of two can produce 30 klikboxes per day
Production steps:

Washing and raw cutting of bottles: soda bottles, water and softdrink bottles
Pasting of napkins in different patterns
Attaching of all decorative elements
Lacquering and drying of the boxes
Cutting boxes into final shape
Finishing off, quality control and packaging
Sales
Exports (95%) to Germany, UK, U.S., Ireland, Norway, Australia, Switzerland, Sweden, the Netherlands, Canada, New Zealand, Belgium, Austria
Home market (5%)

Own retail shop in Woodstock, Cape Town
Supplier to gift shops and tourist agencies in Southafrica
Fairtrade and corporate gifts
Goals
To develop environmentally friendly products
To decrease plastic waste
To support and educate young women from the townships, black ladies, single mothers
To provide secure incomes
To establish a consciousness for the environment
To create jobs for people with physical disabilities (e.g. deaf and dumb people), therfore All Women Recycling is registered at the South African Disabled Association
To introduce inspirational women to give talks each month to encourage personal growth
To develop and educate new skills (e.g. sewing, jewellery production in cooperation with an other South African workshop), to introduce new ranges
To reorganise the company´s structure: employees shall be shareholders and shall participate at the operating profit, with the aim to set up a savings account, to buy private houses in the townships
Special Features
Upcycling: old plastic bottles are used completely

Bottom of the bottles are processed into upcycling products
Middle part of the bottles are processed to greeting cards and name tags (e.g. for trade fairs and other events)
Cap of the bottles are shredded: earnings from selling this material are invested into new wheel chairs for people with disabilities or donated to children in need

Encouragement of the employees:

Development of personal skills, to strengthen self-confidence, training of verbal skills and expressing oneself
Financial independance (own bank account)
Savings, in order to buy property
Further educational offers (see below)
Why does CONTIGO work with All Women Recycling: brilliant idea, creative products, harmonious, clean, and relaxed work environment. Successful combination of poverty reduction, promotion of female employment and upcycling to protect the environment.
Fairtrade classification
FTA PLUS = Fairtrade Approved PLUS
Fairtrade aspects
All Women Recycling complies with the following Fairtrade Principles:
No child labour
No discrimination
No discrimination due to gender, disability, religion, ethnicity, sexual orientation, political orientation, or infection with HIV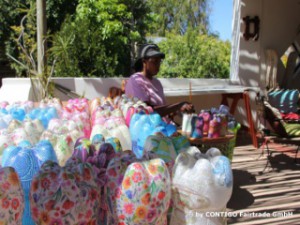 Fair wages
Official South African minimum wage (since January 2019): ZAR 3,500/month, full-time job with 40 hours per week (ZAR = South African Rand)
At All Women Recycling:

Employees work 7 hours a day (35 hours a week) due to long journey to work
New employees in training receive ZAR 140/day
Skilled employees receive up to ZAR 200/day

All employees receive fixed salaries (basis: daily wages, no piece rate)
Weekly payment of salary to employees' own bank account (two employees are not allowed to open a bank account, they receive cash payment)
Salary is increased yearly by appr. 10%, or when taking more responsibility
Humane working conditions
Working hours:
7 hours/day (9:00 a.m. – 4:00 p.m., long arrival to the Townships, therefor early end of work)
Regular breaks with free beverages (tea and coffee), every employee brings her own lunch. In case that lunch has been forgotten, Lynn provides free bread and cold cuts
5 days/week
Social benefits: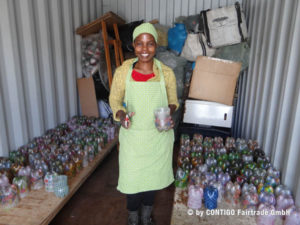 Paid holidays (three weeks summer holidays, from 22.12. till mid of January)
Continuous payment of salary in case of sickness, accident or while on parental leave (according to statutory rules)
Contributions are paid to governmental UIF (= Unemployment Insurance Fund), employee and employer pay each 1% of monthly gross salary
Loans provided, e.g. in case of family emergencies (loans are set off against future salaries and paid back)
Educational opportunities:
Teaching different production steps, all-round applicable
All Women Recycling offers different courses, by externals:

HIV prevention training
Trainings for health, nutrition, hygiene and well-being
Self-defence
Introduction of wellness days with massages and other wellness activities
All Women Recycling encourages the employees to open up their own businesses:

Lynn supports them by teaching business management and organisational issues (e.g. to develop a business plan, price calculation)
At current three employees prepare to open their businesses
Up to now 27 former employees could open start-up businesses
Occupational safety:
Working gear is sewn by Cindy (professional tailor, works at All Women Recycling since 2016)
Protecting clothing (e.g. gloves) are provided
One employee is a trained First Aider
All safety standards are met
Transparency
Work contracts are available
Payroll is available
Pay slips are available
SAR (Self Assessment Report) was duly submitted to CONTIGO
Annual reports submitted
Monitoring
Personal visits in Kapstadt (2010, 2011, 2012, 2017)
Further information
Lynn Worsley: Empowering, Upcycling and Creating (June 2016)
SEED Case Study: All Women Recycling – Empowering women in South Africa through plastic recycling (2014)
Country information
See Encyclopaedia Britannica: South Africa
Photos
Lynn Worsley visits CONTIGO in Göttingen (August 2018) 
Pictures from the former workshop: 
Video