Profile of CONTIGO´s partner Allpa
Products
Silver jewellery
Alpaca fashion
Location
Lima (Jesus Maria area), Peru – distance to Europe: 10,800km
Founded in 1986
History
1982: Peruvian Institute for Research and Development (IPID – Instituto Peruano de Investigación y Desarrollo) supports projects that combat poverty
1986: IPID aims to improve living conditions of producers by improving trade relations between craftsmen, fishermen, farmers and Fairtrade actors
They receive US $48,000 funding to start the project
1986: IPID provides a loan to a group of socially concious students (Nelly and Maria del Carmen were leading the project). Allpa is founded by them
1986: Allpa acquires export licence
1999: Partnership between CONTIGO and Allpa begins
Since 2004: Allpa is debt-free
Allpa regularly attends trade fairs (in Frankfurt, Las Vegas, Paris) to expand their customer base
Trading year 2014/2015: global crisis leads to decreasing sales of some customers. Allpa wins new US customers and can increase their sales
2015: Participation in "FYDECOM" Project, innovative technique for weaving of alpaca textiles, new designs are possible
Cooperation with CONTIGO since 1999
Structure of the business
Number of employees:
30 employees at the headquarters in Lima (José Maria): administration, design developing, quality control, labelling, accounting
Partnership with 80 workshops (either family-run concern or incorporated to artisan groups or cooperatives), support of appr. 700 families

women produce textiles
men produce jewellery and ceramics
Organisation of workforce:
Regular meetings with employees and craftsmen to provide up-to-date information
Examples of partner workshops:
Silver jewellery workshop Fermin:
Located in San Juan Lurigancho in the north of Lima
Founder Fermin grows up in a family of silversmiths and learns the craft from his father
He founds the workshop with his wife Madeleine (who now leads the workshop with female workers)
Partnership with Allpa since 2002
8 employees (3 women and 5 men)
Workers receive US $220-230/month (payment by piece)
Knitting workshop Juan Vargas:
Located in San Juan Lurigancho in the North of Lima (close to the silver jewellery workshop Fermin)
Partnership with Allpa since 2007
Juan Vargas owns his own workshop since 2008
20 employees (12 women and 8 men)

Women: sewing, attaching buttons, quality control
Men: Knitting

Additional employees hired during high season (up to 25 craftsmen)
Allpa supports Juan Vargas in building a new workshop
Knitting workshop Jose Aviles:
Located in Villa Maria del Triunfo in Lima
Partnership with Allpa since 2010
7 employees
Sales
Exports (100%) to the U.S., Canada, and Germany
Goals
To support small producer groups and provide them with access to the international market
To improve production conditions in order to increase quality of the products and productivity
To increase product ranges for the Fairtrade market
To improve technical equipment in the workshops according to international demands
Concept for 2015-2020: stronger development and positioning of Allpa brand in the market
Special features
Why does CONTIGO work with Allpa: They are very committed to improving the conditions for craftsmen. It is a very close, long-standing partnership with Allpa. Modern organisation.
Fairtrade classification
FTA = Fairtrade Approved
Fairtrade aspects
Allpa complies with the following Fairtrade Principles:
No child labour
No discrimination
No discrimination due to gender, disability, religion, ethnicity, sexual orientation, political orientation, or infection with HIV
Fair wages
Minimum wage in Peru: US $150/month
Average wage at Allpa: US $206/month
Annual profit share distributed amongst employees
Higher wages in case of overtime (200% of normal wages on Sundays and bank holidays)
Humane working conditions
Working hours:
48 h/week (according to Peruvian guidelines)
1 break (45 minutes)
5 days/week (Peruvian standard)
Social benefits:
Health insurance (governmental scheme called "ESALUD" – both employer and employee contribute, employees pay 12% of their wage, everyone has access to hospitals, doctors etc.)
Suggestions or worries can be expressed anonymously using an employee letter box
Continued payment of wage in case of sickness or accident
Paid holidays
Lunch provided for free
Educational opportunities:
Allpa offers trainings to employees (some conducted by international experts) such as English, maths, management, organisation, technology, quality assurance and computer use
Occupational safety:
All safety standards are met
Transparency
Work contracts are available
Payroll is available
Pay slips are available
SAR (Self Assessment Report) was duly submitted to CONTIGO
Regular meetings with employees and craftsmen to provide up-to-date information
Monitoring
Personal visits in Lima (2012)
Feedback interview during several visits in Germany
Member of:

WFTO (World Fair Trade Organization) since 2008
Country information
See Encyclopaedia Britannica: Peru
Photos
Allpa meets Bill Clinton (2014)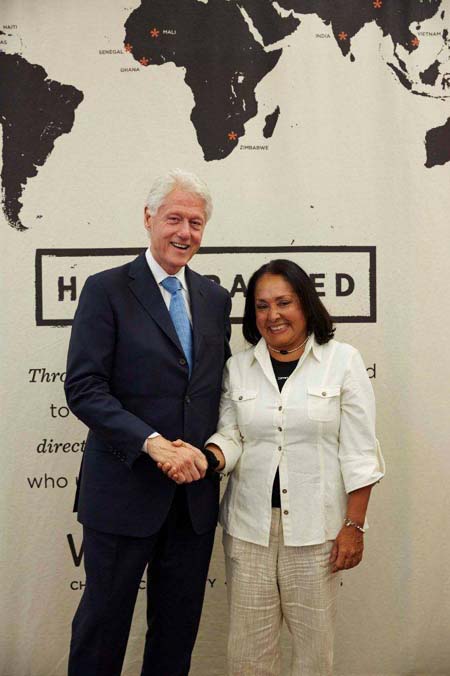 Visiting Allpa
Headquarters in Lima, Peru: administration / shipping / quality control
Allpa visiting CONTIGO
Video