Profile of CONTIGO´s partner Doña Rosa
Supply chain
Trading Partner: SAPIA, medium size company
Function: exporter, service provider
Producer: Ana Rosa Ariza, microenterprise
Structure: own production
Distribution: Import of Ana Rosa Ariza's products via SAPIA / Bogotá
Products
Bags and accessories made of
cow leather / suede leather ("Made in Barrio" collection)
cork
recycling material"Optimus", a material from the car industry, combined with recycling seatbelts
Location
Bogotá (Ciudad Bolivar), Colombia – distance to Europe: 8,400km
Founded in 2002
History
2001: Foundation of a leather workshop under the management of Ana Rosa Ariza (called Doña Rosa): three employees come from insolvent leather workshops in the neighbourhood
2008-2010: Rent of additional premises near the production area
2010: Successful launch of the "Re3" recycling product line (Re-think, Re-design, Re-new) – first contact with the processing of recycled materials
2012/2013: Workshop expands (from two to three floors), new division of production steps
2014: A minivan is bought to purchase materials, and to bring finished orders to Sapia (they take care of the export)
2015: Start of processing leather without chrome
2015: Product range is extended by vegan lines (made of materials of the car industry and faux leather, as well as cork and faux leather)
2015: Doña Rosa participates at the Colombian "Social Security System" (employer and employee pay contributions to different insurances)
2019: The CONTIGO e.V. (registered society) co-finances two professional sewing machines and further occupational safety equipment
Cooperation with CONTIGO since 2012
Why does CONTIGO work with Doña Rosa: The workshop uses local materials and transforms them into extraordinary vegan products: Renewable cork, which is used in Colombia as floor covering and in the shoe industry, is processed to beautiful bags and accessories. The Optimus collection is very sportive and offers everything that inspires the cyclist and outdoor fan. The light and water-repellent material comes from local taxis. Doña Rosa is a role model for many women in her neighbourhood.
Structure of the business
Number of employees: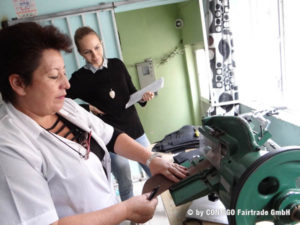 Managing director: Ana Rosa Ariza
26 permanent employees

3 salaried employees (warehouse, secretary), with fixed salary and working time
23 employees, paid by piece, with flexible working time, working in

Assembling different components: 10
Sewing: 6
Quality control: 1
Packaging: 2
Production manager: 1

Depending on order situation, cooperation with

13 employees working at home

Production of single components at home
Receive by-piece payment
Raw materials are provided by Doña Rosa
Payment is transferred to bank account

two workshops, so-called "satellites"

Produce at home or at a workshop with others
Production of complete products
Receive by-piece payment
Raw materials are provided by Doña Rosa
Work environment:
3-storey production premises with private apartment of Doña Rosa:

Ground floor, first and second floor for production
Third and forth floor (roof terrace) living area of Doña Rosa´s family
Organisation of workforce: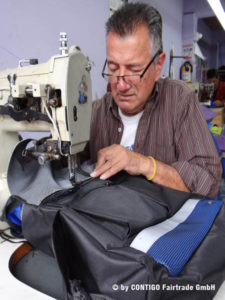 Ground floor:
Warehouse (leather and fabrics, let over materials, samples)
Preparatory work (die-cutting machines, cutting, cleaning)
Kitchen (employee brings her/his own lunch)
First floor:
At two high tables: manual cutting with sheet metal cutting templates
Milling of the leather with the skiving machine as preparation for seams
Checking the quantities and preparing the material packages for further processing on the second floor
Warehouse for haberdashery
Accounting and further office
Sample production
Second floor: Production
Approx. 9 standing workplaces for gluing, attachment of accessories (buckles, buttons)
Ssewing machine stations
Then the finished pieces are returned to the first floor:
For final quality control and
For packing
Production steps build on each other: The foreman must ensure that he/she manufactures enough pieces so that his/her follower can find work. He/she also quecks the quality of the foreman.
Three employees form a team. They mutually control each other and rotate in the various production steps.
Doña Rosa wants a worker to be able to do several production steps and not just always do the same.
There are 17 workplaces in total, seven of which are equipped with sewing machines. They form three rows, from right to left: clinching, sewing and finishing
Sales
Home market (5%) – sold by El market shops run by Sapia
Exports (95%) to Germany, Italy, Canada, Netherlands, the U.S.A., Australia, Puerto Rico
Goals
To create more jobs and income, especially for people from the neighbourhood (Ciudad Bolivar: hot spots, high crime)
To support older employees. Doña Rosa currently employs 9 people over 50 years. In this age group there is hardly any chance of permanent employment in Colombia.
Fairtrade classification
FTA = Fairtrade Approved
Fairtrade aspects
Doña Rosa complies with the following Fairtrade Principles: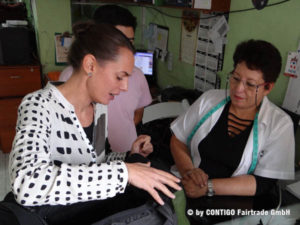 No child labour
No discrimination
No discrimination due to gender, disability, religion, ethnicity, sexual orientation, political orientation, or infection with HIV
Fair wages
Minimum wage in Colombia: COP 828,116/month (COP = Colombian Peso), status: 2019
Wages at Doña Rosa:

Employees with fixed salary receive the minimum wage COP 828,116/month
Employees with higher qualified jobs (secretary, administration): COP 1,272,00/month
Employees with flexible working time receive by-piece payment, which depends on working time of product
In case of bad order situation Doña Rosa guarantees the minimum wage
Average earning: COP 1 000 000 (40 hours per week). In good order situations the employees can earn up to COP 3 000 000 /month

Monthly wages are transferred to bank account
Doña Rosa pays the statutory compensations for her salaried employees:

Payment of the 13th monthly salary ("cesantía"): this is paid directly into a state pension fund at the beginning of the year. The interest of this salary (12%) is directly paid out to the employee.
Payment of the 14th salary / holiday bonus ("prima de servicios")
Transport allowance is paid (COP 97,032/month)
Overtime is remunerated in accordance with statutory regulations 
Humane working conditions
Working hours:
Working hours for employees with fixed salary:

48 hours (5,5 working days per week)
Regular breaks
Other employees have flexible working times
Lunch is eaten together, meals are brought from home and can be prepared in a kitchen
Social benefits:
Doña Rosa pays the statutory compensations for her salaried employees: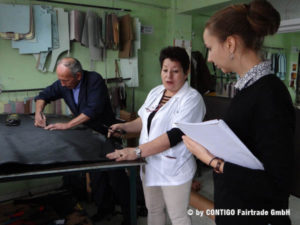 Health insurance: employer pays 8,5 % and employee pays 4 % of monthly gross wage
Pension fund: employer pays 12%, employee pays 4% of monthly gross wage
Continued payment of wage in case of sickness, accidents and maternity leave (statutory regulations)
Paid leave (20 national and religious holidays, plus 15 recreation days)
All employees are covered by Doña Rosa´s accident insurance
On the total amount of her salary costs Doña Rosa pays social contributions to the following institutions (statutory): the national vocational training service SENA (Servicio Nacional de Aprendizaje), the national family aid organisation ICBF (Instituto Colombiano de Bienestar Familiar), and to various family recreation centres (Cajas de Compensación Familiar).
Birthday or Halloween partys are celebrated together, as well as watching matches of the national socker team. This strengthens the team awareness
Educational opportunities:
Thorough initial training for all new employees in each of the production steps (all-round fit)
Some workers receive training to specialise (e.g. accounting courses, English trainings)
Occupational safety:

Working and safety gear is provided (e.g. breathing masks, protection glasses)
First aid representative: Doña Rosa (responsible for general safety and the workshop), supported by Gustavo Moya (work process)
All safety standards are met
Transparency
Work contracts are available
Pay slips are available
SAR (Self Assessment Report) was duly submitted to CONTIGO
Monitoring
Personal visits in Bogotá (2011, 2013, 2015, 2017)
Country information
See Encyclopaedia Britannica: Colombia
Photos
Visiting Doña Rosa 
Videos