Profile of CONTIGO´s partner Craft Beauty
Products
Bags and accessories made of different fabrics
Location
Hanoi (district of Long Biên), Vietnam – distance to Europe: 8,600km
Founded in 2003
History
Hoai Nguyen studies marketing and business administration and volunteers at a rural development organisation from the U.S. during her studies. Her task is to prepare local artisans and their products for the international market
2002: She changes from voluntary work to professional self-employment
2003: Hoai Nguyen and her husband Diep establish Craft Beauty to support local artisans to market their products: focus on silk accessories, bags and garments; participation in trade fairs and first exports, at that time only few employees for quality control and packaging
2004: Craft Beauty hires a sample maker in order to design own cuttings / patterns for workshops in rural areas: a small sewing workshop is set up in the private house of Hoai and Diep
2005-2009: Craft Beauty becomes member of Fairtrade Federation in the U.S.A. (membership ends, as from 2009 on only American Fairtrade companies are allowed to become members)
2006/2007: Purchase of a workshop building and construction of an own production site
2009: Craft Beauty moves to a bigger production building in the neighbourhood, the former workshop is still used as an accommodation house for commuters
2009-2017: Participation in international trade shows and establishment of an export customers base
2010: CONTIGO meets Craft Beauty for the first time, since then annual orders and continuous product development
2015: Cooperation with artisans of ethnical minorities in the provinces of Mai Chau and Nghe An
2017: Second designer is hired
2019: The CONTIGO e.V. finances the purchase of five modern sewing machines, which significantly improve the quality of their sewing work and increase productivity
Cooperation with CONTIGO since 2010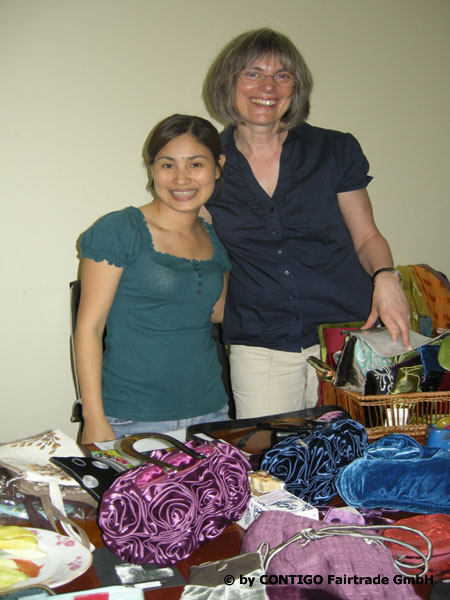 Structure of the business
Number of employees:
85 employees

45 employees in the central workshop in Hanoi

39 full-time, 6 part-time
Production, processing, packing: 26
Design, product development: 4
Quality control: 5
Administration, marketing, sales: 10

40 employees outside the central workshop, in the provinces of Ha Tay, Hung Yen, Hai Phong
 Organisation of workforce / work environment: 
Main tasks at Craft Beauty internal workshop:

preparation of production (e.g. cutting of fabrics for external workshops)
production (complex sewing tasks)
quality control
packaging
administration, product development

CEO Diep and production manager Diu Tran

visit all production locations on a regular basis
accompany closely every single production step
train new staff
enforce quality standards
External producers

Groups (mainly 3-5 people, biggest group counts 15 people) and individuals (housewives, who combine work with child care and farming)
Groups produce for Craft Beauty only
Tasks: sewing, printing, embroidery, crocheting
Structure of small producer groups: 1 woman leads a group of 3-5 women, leader plans production steps, divides and allocates tasks, is responsible for quality (and therefore receives a bonus for good quality and meeting the delivery time)
Equipment:

bigger groups are fully equipped with cutting machines and sewing machines, they do not need prepared materials from Craft Beauty; they receive an advance payment in order to purchase the materials
smaller groups and individuals receive prepared material packages, expensive equipment like sewing machines can be leased from Craft Beauty (will be billed with future orders)

Weekly meetings with all employees (on Saturdays)
Regular meetings with leaders of small producer groups
Designs, salary, working conditions, business development, and productivity issues are discussed
Bimonthly meetings with team about optimising work processes, successes, difficulties, and business outlook of the company
Sales
Exports (80%) to the U.S.A., UK, France, Sweden, Australia, the Netherlands, Canada, and Germany, Italy
Home market (20%)
Goals
To increase education and job opportunities for women and minority groups
To preserve and promote traditional crafts
To increase income
To establish new business relationships
To create new product lines
Special features
Focal point: creation of job opportunities for people with disadvantages and no school education
Outsourcing of small sewing tasks to small producer groups to provide income opportunities for rural women
Principle: work tasks should be arranged around child care
Housing with sleeping spaces, fridge, etc. available for women with a long commute (can be used for free), house is also used for women from villages when they visit for further training
Why does CONTIGO work with Craft Beauty: Product development with Craft Beauty has been very easy and successful from the first collection onwards.
Fairtrade classification
FTA PLUS = Fairtrade Approved PLUS
Fairtrade aspects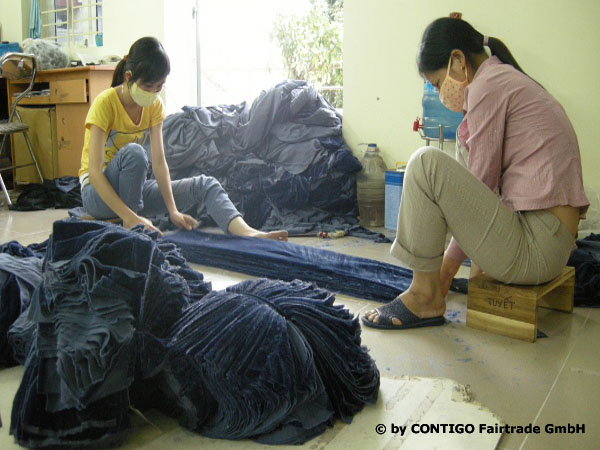 Craft Beauty complies with the following Fairtrade Principles:
No child labour
No discrimination
No discrimination due to gender, disability, religion, ethnicity, sexual orientation, political orientation, or infection with HIV
All women have the same opportunities, some women with disadvantages work in high positions.
Fair wages
Minimum wage in Hanoi: US$ 170/month
Wages at Craft Beauty: US$ 180-450/month, depending on responsibility

In the central workshop:

Office workers, manager, employees in the cutting and quality control receive fixed wage
Employees in production receive piece-rate wage

External employees receive piece-rate wage depending on orders and performance, piece rate is agreed on before order

Higher wages in case of overtime (100%)
Bonuses are paid for high performances
Annual wage adjustment, depending on the work performance and the rate of inflation, for example:

2012: wages were increased dramatically to match the inflation rate of 20%
2014-2016: bonus payments for best quality and compliance with completion deadline of orders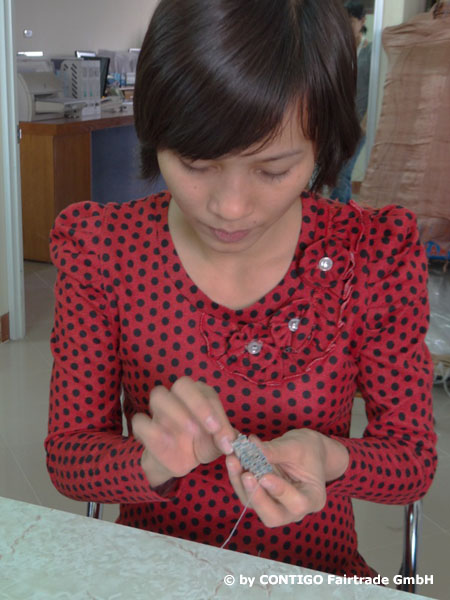 Humane working conditions
Working hours:
8 hours/day
1 break (1 hour)
6 days/week
Social benefits:
For the 45 employees who work in the central workshop in Hanoi:
Paid holidays (10 national holidays + 12 annual leave holidays)
Payment of contributions to "Social Insurances", consisting of

Pension fund
Continued payment of wage in case of sickness, accident and maternity leave
Accident insurance
Employer pays 18% and employee 8% of monthly gross wage
For all 85 employees:
Payment of contributions to health insurance (employer pays 3% and employee 1,5% of monthly wage)
Free housing provided for women who can only go home during the weekend due to long commutes (currently 10 women use the accommodation)
Financial support available in case of need

Loans provided to employees for important purchases (house) or important family matters
Loans provided to small working groups for tools, machines, and materials
Sewing machines are handed out as long-term loans

Workplace health promotion: offer of a free yoga course in-house once a week, especially for women who work at the sewing machines
Educational opportunities:
Trainings in computer skills, management skills, design, fashion, Fairtrade and export
Educating external producer groups in quality standards
Vocational education of disadvantaged women as seamstresses
Transparency
Work contracts are available
Payroll is available
Pay slips are available
SAR (Self Assessment Report) was duly submitted to CONTIGO
Monitoring
Personal visits in Hanoi (2010, 2012, 2014, 2015, 2018)
Member of:

WFTO (World Fair Trade Organization) since 2010
Country information
See Encyclopaedia Britannica: Vietnam
Photos
Visiting Craft Beauty in 2018
Visiting Craft Beauty in 2014
Visiting Craft Beauty in 2012
Visiting Craft Beauty in 2010