Profile of CONTIGO´s partner Judith Lorna
Supply chain
Trading Partner: Judith Lorna
Function: Producer
Structure: Cooperation with associated producers
Tradeway: Import via KINTA/NL
Products
Handicrafts made of meliaceae (Mahagony family) and gmelina wood
Decorations made of capiz shell
Upcycling products made of papier- mâché
Location
City district Busay in Cebu City, Philippines – distance to Europe: 10,700m
Founded in 2013
History
Judith Lorna Ypil graduated from the University of San Carlos in Cebu with a bachelor's degree in economics
She has over 25 years of professional experience in industry, export, international markets and their requirements
2010-2013: Judith Lorna Ypil works as the managing director at CONTIGO partner Capiz Shell (this company was closed at the end of 2018)
2013: Judith Lorna Ypil leaves the company due to economic and personal changes and founds her own business as a coordinator for various producer groups in the Cebu region. In the private house of the Ypils, the lower floor serves as a material and warehouse.
Since 2015: Judith Lorna Ypil is supported in business by her husband and her daughter
2016: Expansion of the product range to include decorative and household articles made of papier-mâché; the production workshop is integrated into Judith Lorna's private house
Cooperation with CONTIGO since 2014
Structure of the business
Number of employees in the main workshop:
7 full-time employees (4 woman and 3 men)
3 part-time employees (2 women and 1 man)
Departments and working areas in the main workshop:
Central coordination of production, purchase of raw materials, quality control, warehousing, labelling and export for different small producer groups in Cebu
Product development and sampling of new product ideas for "sub-contractors"
Daily visits and meetings with the groups
Work environment: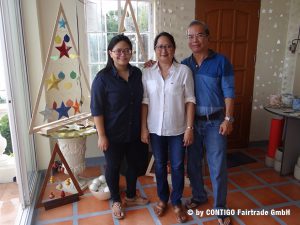 Office, warehouse and workshop within the private house of Judith Lorna Ypil
One floor as an appartment with free accommodation for employees with a long commute

Cooperation with producer groups outside (so-called "sub-contractors")
Cooperation with 3 workshops for gmelina and mahagony wood products:
Bonifacio Amaya – wood processing company with a total of 7 workshops
Oliver de los Angeles – workshop with 6 employees
William Cabanero – workshop with 1-2 family members
Cooperation with 3 workshops for Capiz products:
Siony – handicraft business with 10 permanent employees and 10 part-time employees for Capiz decorations and home accessories
Aurelio Cabrera – family-run business with 5-6 artisans, production of hand made capiz lamps
Junriel Sucalit – workshop with 3 employees for Capiz home decorations
Cooperation with single artisans who are specialised in the production of different product parts or separate production steps (patterns)
These external workshops:
receive either the raw materials (when required) or an advance payment to buy these
price per unit is agreed with Judith Lorna Ypil (depends on production time and level of difficulty)
Cash payment after delivery of products
Regular visits, (if required) trainings and supervision of all production processes by Judith Lorna Ypil
Sales
Exports (100%) to Netherlands, Germany
Goals
To offer long-term perspectives and secure incomes for the artisans and their families: quality and innovation is the requirement and the main focus to a prospering and continous trade relationship
To expand product range with more upcycling products
To increase the production capacity to meet the increasing orders of various export products
Special features
Why does CONTIGO work with Judith Lorna Ypil: She symbolises a strong and reliable bridge between the different workshops in Cebu and the consumers in Europe. With her long-standing experiences and her skill for networking, she perfectly unites organisation, product competences and social commitment.
Fairtrade classification
FTA= Fairtrade Approved
Fairtrade aspects
Judith Lorna Ypil complies with the following Fairtrade Principles:
No child labour
No discrimination
No discrimination due to gender, disability, religion, ethnicity, sexual orientation, political orientation, or infection with HIV.
Fair wages
Minimum wage in the Cebu region; for companies with 10 employees or less: PHP 376/day (PHP= Philippine Peso)
For Judith Lorna Ypil´s employees: 

Fixed salaries, depending on area of responsibility between PHP 385 – 400/day
Plus: Travel allowance are covered (PHP 150/week)

Weekly cash payment
Voluntary bonus payments after completion of large orders, for good work performance and on birthdays
Judith Lorna Ypil pays her permanent employees the statutory remuneration:

Payment of a 13th month's salary
Overtime is remunerated in accordance with statutory regulations
Humane working conditions
Working hours:
8 hours/day
2 breaks for snacks, 1 hour break for lunch
6 days/week
Social benefits:
Payment of contributions into the statutory insurances:

Health and social insurance (Philhealth and SSS)
National pension fund "pag-IBIG" (= Home Development Mutual Fund, loans for housing or other multipurpose loans)
Judith Lorna Ypil pays both employer and employee contributions

Voluntary by Judith Lorna Ypil: 

Paid leave (17 holidays and recreation days), continued payment of wage in case of sickness or accidents: due to her company size with 10 employees, Judith Lorna Ypil is exempt from the legal regulation to pay holidays or sick days, she grants it nevertheless
If required: financial support for medical treatment costs
Free meals (two snacks and lunch)
Free accommodation for employees with a long journey to the company
Educational opportunities:
Training of employees in new techniques
Participation in external seminars
Occupational safety:
All safety standards are met
Working and protective clothing are provided
Transparency
Work contracts are available
Payroll is available
Pay slips are available
SAR (Self Assessment Report) was duly submitted to CONTIGO
Monitoring
Personal visits in Cebu City (2016)
Country information
See Encyclopaedia Britannica: Philippines
Photos