Profile of CONTIGOs partner Creative Designs
Supply chain
Trading partner: Creative Designs, microenterprise
Function: Producer
Structure: Own production plant, affiliated production groups
Tradeway: Direct import CONTIGO
Products
Handcrafted silver jewellery, gold plated
Location
Jaipur, in the state of Rajasthan, India – distance from Europe: 6.100km
Founded in 2008
History
Background: Vivek Nathany comes from a family which has always been participating in the jewellery business. His father specialised in high quality gold jewellery, his brother specialised in trading with precious stones
He finishes his management study (MBA) and gains first working experiences in other industries
Emigration to the U.S.A. where he gains experiences in sales and marketing, thereafter: return to Jaipur and employment at his father's company
2008: Founding of his own business Creative Designs and development of his own ideas about jewellery
2010: Vivek Nathany conclusively returns to Jaipur
Creative Designs is specialised in jewellery of light weight and with a personal touch. His handcrafted jewellery collection "The jewellery that speaks to you" stands out against the common Indian heavy gold jewellery and works with a modern clean design
For the first time he introduces the process of gold plating in Jaipur. In his father's workshop he teaches craftsmen his knowledge of the new production techniques
2015: Relocation of the workshop, officespace and production under one roof
2020: Modernization and expansion of production, renting new premises in the industrial area Sitapura (Jaipur)
Cooperation with CONTIGO since 2016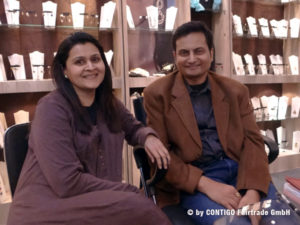 Structure of the business
Number of employees:
11 permanent employees ( 2 women, 9 men) in administration, design, quality control, finishing and packaging
Cooperation with
One subcontractor leading a group of 20 silversmiths and 3 beading ladies in Sitapura
All production steps are carried out here except for silver casting
Under construction: adding another group of producers, the new premises offer space for another 40 crafters
Cooperation with 2 companies for production steps, which can not be performed in door: silver casting and the manufacture of fittings
Organisation of workforce and work environment:
Workplace Jaipur city: Administration, showroom, design, workshop for prototypes and initial samples. Upper floor in a modern, multi-storey building, the rooms are grouped around a central atrium
Sitapura workplace: modern commercial district with a focus on jewelry production, lots of green spaces, good city connections. Employees from the city center are brought to work by a specially rented bus. A spacious area on the ground floor with spacious workrooms was rented:

offices (under construction)
Workrooms for silversmithing, soldering, engraving, polishing with well-equipped work tables, individual spots, air conditioning
Workplace for "Handcrafted Jewelery", traditional forging techniques
Space for gold plating processes
Rooms for finishing and quality control
Canteen in the back yard (under construction)
Working processes in the Sitapura workshop:
Preparing the material: rolling silver bars into thin sheets and cutting decorative elements
Surface processing by hammering, sawing, punching, soldering
Binding of gemstones
Gold plating, e-coating
Polishing, matting, attaching accessories
Finishing and assembly
Quality control and packaging
Creative Designs does not have the equipment to produce cast jewellery elements. This production step is not conducted in the workshop.
Sales
Export (95% ) to the U.S.A., France, Belgium, Great Britain, Japan, Australia, Germany
Home market (5%)
Goals
To preserve and further develop the traditional jewellery craft. New focus on modern demands: contemporary and individual styles.
To develop and strengthen the own brand in India
To expand the production, cooperation with more producer groups
Special features
Cooperation with – and financial support through – charity organizations, which take care for orphans, disabled people and people with neurological complaints
Why does CONTIGO work with Creative Designs: Focus on innovative design, quality-orientated and reliable. With passion for the craft and high responsibility for the team.
Fairtrade classification
FTA = Fairtrade Approved
Fairtrade aspects
Creative Designs complies with following Fairtrade Principles:
No child labour
No discrimination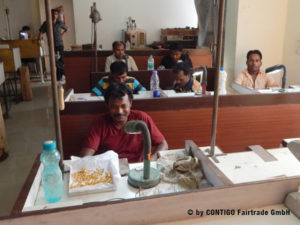 No discrimination due to gender, disability, religion, ethnicity, sexual orientation, political orientation, or infection with HIV.
Fair wages
Minimum wage in the state of Rajasthan: (INR = Indian rupee)

Un-skilled worker: INR 5,850/month
Semi-skilled worker: INR 6,162/month
Skilled worker: INR 6,474/month

Wages at Creative Designs are above average

Permanent employees: INR 10,000 – 20,000 / month, fixed salary plus bonuses: depending on performance and length of service
In production:

Unskilled (helpers): INR 5,850
Semi skilled workers INR 6,500 – 8,000 / month
Skilled workers: INR 10,000 an above / month
Agreed piece wages (depending on the level of difficulty and time required)

Monthly transfer to own bank accounts (all employees)
Bonus payment for the Diwali Festival (all employees)
Transport allowance (all employees)
Humane working conditions
Working hours: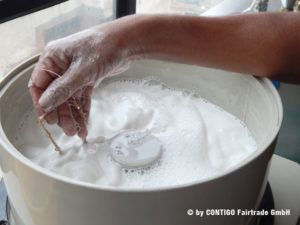 8,5 hours/day
2 breaks
6 days/week
Social benefits for permanent staff:
Paid holidays (15 days)
Continued payment of wage in case of sickness or accident
Contributions to health insurance ESI (=Employee State Insurance), employer pays 4.75% and employee 1.75% of monthly gross wage, the whole family of the employee is covered
Social benefits for piece rate staff
Paid holidays (15 days)
Contributions to health insurance ESI (=Employee State Insurance), employer pays 4.75% and employee 1.75% of monthly gross wage, the whole family of the employee is covered
Contribution to PF (provident fund)
Educational opportunities:
Intense initial training
Further education and on the job training
Health and safety training
Occupational safety:
Protective clothing (eye and mouth protection), fresh drinking water
Fire protection devices, first aid equipment, modern sanitary facilities
Transparency
Work contracts are available
Pay slips are available
SAR (Self Assessment Report) was duly submitted to CONTIGO
Monitoring
Personal visits in Jaipur (2017, 2020)
Country information
See Encyclopaedia Britannica: India
Photos