Profile of CONTIGO´s partner HaLinh
Supply chain
Trading Partner: Halinh, medium enterprise
Function: Producer
Structure: Own production plant, affiliated producers
Tradeway: Direct import CONTIGO
Products
Laundry baskets
Location
Hanoi, Phu Nghia Industrial Zone, Vietnam – distance to Europe: 8.600km
Founded in 1996
History
1996: Mr. Thang Dang Cong opens a small family business for different types of handicraft products
2005: Foundation of the company "HaLinh Rattan & Bamboo Co.", the name HaLinh derives from his daughter born in 2005
2010: First participation at a trade fair in Europe
2016: HaLinh is audited by BSCI
2017: Certification of HaLinh according to the ISO standards 14001 and 9001. In addition HaLinh becomes a member of the World Fair Trade Organisation (=WFTO)
Cooperation with CONTIGO since 2017
Structure of the organisation
Number of employees:
46 employees (32 women and 14 men) in the central company
Partnership with 11 workshops 

Over 2.000 artisans in the different workshops
Workshops are based in the provinces of Ha Noi, Nam Dinh, Thanh Hoa and Nghe An
Every workshop is specialised on one product group/ material and is organised independently
Organisation with production managers who distribute orders from HaLinh to workshops and individuals, manage production and warehouse locations and organises transport to HaLinh headquarters
Written agreements and conditions are available
HaLinh visits and monitors the workshops on a regular basis (referring to labour conditions, etc.)
Organisation of workforce:
Duties and responsibilities of the central workshop:

Development of new products, first samples and master patterns made of wood to guarantee the ordered basket form: seven designers, they also teach artisans the new products and weaving techniques)
One department which is in contact with all remoted workshops for technique enquiries and further questions
Quality control and finishing of the products from the remoted workshops, e.g. fixing of the basket handles, cutting of overlaying weed
Packaging and distribution/ export
In the remoted workshops:

With order confirmation the workshops receive an advance payment in order to buy the raw materials (sea weed), plastic stripes are given from HaLinh
Main production on the basis of the samples and master patterns made of wood to guarantee the ordered basket form
Basket bottoms and lids are particularly challenging to weave and are finished by specialised, well-trained craftsmen and women
Half-finished products are returned to the central workshop
Background information: for many weavers, basket production provides an additional source of income to agriculture and subsistence farming
Sales
100% Export (U.S.A., Australia, Germany, Sweden, France, Great Britain, Japan, Korea)
Goals
To create income possibilities for people in the  rural areas of Vietnam
To expand market and acquire new customers
To develop new ranges
To produce environmentally friendly
Special features
100% handmade products out of renewable natural materials (bamboo, rattan, sea weed, water hyacinth)
Why does CONTIGO work with HaLinh: High engagement for quality and design, the company has a high awareness for social issues and environment.
Fairtrade classification
FTA = Fairtrade Approved
Fairtrade aspects
HaLinh complies with the following Fairtrade principles:
No child labour
No discrimination
No discrimination due to gender, disability, religion, ethnicity, sexual orientation, political orientation, or infection with HIV.
Fair wages
At the central workshop in Hanoi: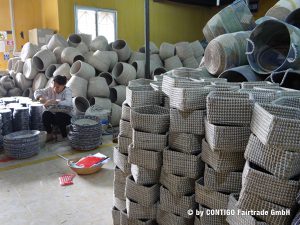 Minimum wage in the region of Hanoi: VND 4,013,000/ month (VND= Vietnamese Dong)
Average wage at HaLinh:

Skilled workers: VND 4,065,000 – 4,500,000/ month
Fixed salary for all employees
Monthly payment of workers in cash
Overtime is paid
Holiday bonus is paid
At the end of the year: bonus (depending on turnover)
Humane working conditions
Working hours:
8 hours/day
1 hour lunch break
6 days/ week
Social benefits:
At the central workshop in Hanoi:
Paid holidays (minimum 22 days, includes recreation leave, national and religious holidays) 
Payment of contributions to health insurance (employer pays 3% and employee 1,5% of monthly wage)
Payment of contributions to "Social Insurances", consisting of

Pension fund
Continued payment of wage in case of sickness, accident and maternity leave
Accident insurance
Employer pays 18% and employee 8% of monthly gross wage

Payment of contributions to unemployment insurance (both employer and employee pay 1% of the monthly wage)
Educational opportunities:
Trainings for all employees are offered about the topics fair trade and social responsibility
English courses
Occupational safety:
All safety standards are met
Instruction in security proceedings
Transparency
Work contracts are available
Payroll is available
SAR (Self Assessment Report) was duly submitted to CONTIGO
Monitoring
Personal visits in Hanoi (2018)
Audited and certified by

BSCI
ISO 14001 and ISO 9001

Member of the World Fair Trade Organization (WFTO) since 2017
Country information
See Encyclopaedia Britannica: Vietnam
Photos
Videos