Profile of CONTIGO´s partner Manila Welcome
Supply chain
Trading Partner: Manila Welcome
Function: Producer
Structure: Own production plant, affiliated producers
Tradeway: Import via KINTA/NL
Products
Painted capiz products made of capiz shell
Location
Carmona in the province of Cavite, Philippines – distance to Europe: 10,100km
Founded in 1989
History
1989: Founding of Manila Welcome Industrial Corporation by Mrs. Huang
Specialisation in the production of painted Capiz products
Company starts with four employees: one seller, one driver and two CEOs
Initially sharing a warehouse with other companies
1992: Company moves to a new bureau and production site
In the following years the number of employees rises to 20 and the number of employees of the producer groups to 30
Manila Welcome becomes leading company in decorated capiz products in the Philippines
2005: CONTIGO meets Manila Welcome
2007: Construction of an own plant
2009: Retreatment of Mrs. Huang, daughter Yii Shin Huang Chun takes over
2009/2010: Collapse of sales, redirection of sales and marketing strategy, concentration on core competences (decorating capiz products), outsourcing of lamination and forming
2014-2016: Entry to new markets (Australia and China), special focus on design department by increasing work force, trainings in new techniques and spezial computer programs
Cooperation with CONTIGO since 2005
Structure of the business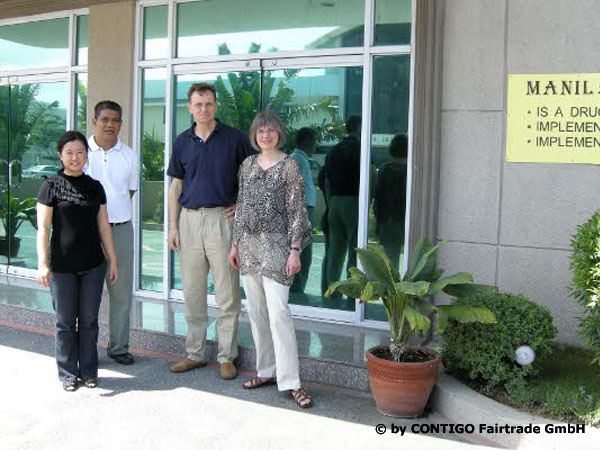 Number of employees:
38 employees (14 women and 24 men)
5 people in administration
7 people in the warehouse and quality control
19 employees in production – receive piece wage
7 people for design, product development, cutting patterns (this work is very time-consuming, can be taken home, paid by piece, in great demand by production employees as an extra income)
On demand (e.g. good order situation): cooperation with 7 "sub-contractors"
Tasks: decorating / spraying of Capiz products
Due to quality aspects, all "sub-contractors" work on-site (of Manila Welcome)
Receive piece rate wage
Organisation of workforce:
Blank products are delivered from external suppliers
They will be sprayed and decorated with complex hand cut patterns at Manila Welcome
Designers teach other employees in spraying techniques and cutting patterns
Weekly meetings in every department
Work environment:
Production site is divided in the following areas:
Bureau: administration, product development, show room, kitchen, three sleeping spaces (often used by women in case of overtime work)
Manufacturing hall: sample maker, production, quality control, packing
Warehouse: raw materials, cardboard packaging, products ready for export
Sales
Exports (100%) to Germany, Japan, U.S.A., France, Netherlands, China and Australia
Goals
To reach a stable economical result by quality assurance and product innovations
To expand the number of employees
To improve staff management (e.g. by team building measures)
Special features
Why does CONTIGO work with Manila Welcome: The company relies on quality and design in order to sustain its position in a difficult branch. CONTIGO wants to support the good work of Manila Welcome to preserve craftsmanship, vocational training and safe jobs.
Fairtrade classification
FTA = Fairtrade Approved
Fairtrade aspects
Manila Welcome complies with the following Fairtrade Principles:
No child labour
No discrimination
No discrimination due to gender, disability, religion, ethnicity, sexual orientation, political orientation, or infection with HIV
Fair wages
Minimum wage in the region: PHP 362,50/day (PHP=Philippine Peso)
Salary and pay-out at Manila Welcome: average:

Salaried employees: PHP 480/day, cash payment every 2 weeks
Employees with piece wage: average PHP 362,50/day, with huge orders  it can go up to PHP 700/day, cash payment every week
Overtime is paid
Bonus: 13th  monthly salary
Extra payments for good job performance
Humane working conditions
Working hours:
10.5 hours/day (7.30 am to 18.00 pm)
2 long breaks
5 days/week (Monday – Friday)
At the request of the female employees, Manila Welcome works only on 5 days (instead of 6 days which is more common in the Philippines). The weekend stays for the family !
Social benefits:
Paid holidays (10 days)
Continued payment of wage in case of sickness or accident
Contributions to health insurance (PhilHealth) and social security system (SSS)
Contributions to national pension fund "Pag-IBIG" = Home Development Mutual Fund (loans for housing, other multipurpose loans)
Birthday leave – voluntarily given by Manila Welcome (not statutory)
Educational opportunities:
Thorough initial training for all new employees
Painters without experience are trained by a supervisor and colleagues for one month
Internal measures to build a strong team with a good togehterness, one-to-one-talk, group discussions, suggestion box, events
Occupational safety:
All safety standard are met:
Protective clothing and mask
Fire extinguisher
Marked emergency exits
First Aid kits
Modern sanitary facilities
Modern ventilated facilities
Transparency
Work contracts are available
Payroll is available
Pay slips are available
SAR (Self Assessment Report) was duly submitted to CONTIGO
Monitoring
Personal visits in Carmona (2010, 2016)
Country information
See Encyclopaedia Britannica: Philippines
Photos
Visiting Manila Welcome in Carmona (2016):