Profile of CONTIGO´s partner COMVAL (formerly Exportexa)
Supply chain
Trade partner: COMVAL S.A.S, small microenterprise
Function: Producer
Structure: Own production premises
Distribution: Direct import CONTIGO
Products
Hammocks, hammock chairs and cushion covers made of cotton and polyester
Location
Barranquilla, Colombia (ca. 1,000 km north of Bogotá, at the Caribbean Sea) – distance to Europe: 8,500km
Founded in 2004
History
2004: Founding of Exportexa (later on: COMVAL) with three employees, trading company for yarns on the local market and the Caribbean islands; customers were local craftsmen who produced tableware and hammocks by hand
2006: Takeover of the distribution and export of these textiles, expansion of the product range to include further home textiles
2008: Purchase of own machine looms and development of the production of hammocks and hammock chairs, number of employees increases by 10 persons
Till 2018: Expansion of the production plant
2018: Consolidation of the two production halls, purchase of new looms, overhaul of old production equipment in the factory
2019: Extension of the home textile range for hotels, catering. In result: restructuring of the company
End of 2019: Hammock division is outsourced to subsidiary COMVAL, home textile ranges are continued to be handled by Exportexa
2020/2021: Situation under Corona-pandemic

2020: Slow down production due to nationwide lockdown, thanks to official work permits and hygiene regulations, production can continue on a limited scale. Employees from rural areas have problems getting to work due to limited public transport.
2021: In April also COMVAL employees were infected with Covid-19, in addition (material) supplier companies had to close down completely due to high infection numbers, curfews between 6 p.m. and 5 a.m. delayed production processes
Despite the pandemic, the customer base grow so that production capacities increase (three new looms can be installed)
Cooperation with CONTIGO since 2017
Why does CONTIGO work with COMVAL: A dedicated family-run business with deep commitment for its employees and for traditional craftsmanship. The hammocks and accessories made of recycled cotton convince with their unique designs and quality.
Structure of the business
Number of employees:
Managing director: Zaide Salebe, also responsible for: customer acquisition and support of existing customers, coordination between incoming orders and production, export of finished orders
34 employees (12 women, 22 men)

32 employees in production

For large and special orders, additional workers can be employed
Organisation of workforce: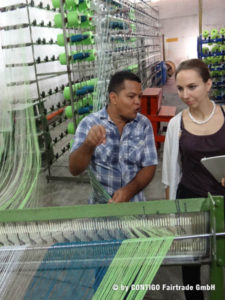 Production of hammocks, hammock chairs and other home textiles:

1. production step: Weaving of fabrics

The yarn is twisted to the desired thickness on spinning machines
The chain is threaded on by hand according to a defined design (by special hole guide, duration: approx. 4-6 hours)
Mechanical weaving process into firm lengths of fabric, which are then wrapped into bales and transported to the second production hall

2. production step: Manual finishing of the hammocks

Quality control and cutting of the delivered fabric bales into hammocks, hammock chairs, etc.
Depending on order: twisting the loose warp threads into "cadejos" (twisted braids as a connection between hammock fabric and hanging cords)
Knotting and mounting of the suspension by male employees on racks
Renewed quality control and packaging

Used materials

Polycotton: Mixture of recycled cotton fibres (75%) and polyester (25%). The cotton fibres come from waste materials from the clothing industry
The wood used for the bars comes from regional plantations and is felled under governmental concession. The plantations are awarded a reforestation certificate according to strict criteria
Sales
Home market (25%), predominantely to tourists
Exports (75% ) to France, Spain, Germany, Greta Britain, Japan, Martinique, Canada, Netherlands
Goals
Finding an overseas cooperation company to strengthen the export assortment. Aim: purchase of efficient looms for new weave sizes and fabric designs in Jacquard technique
Where possible: to change to environmentally friendly materials
Fairtrade classification
FTA= Fairtrade Approved
Fairtrade aspects
COMVAL complies with the following Fairtrade Principles:
No child labour
No discrimination
No discrimination due to gender, disability, religion, ethnicity, sexual orientation, political orientation, or infection with HIV
Fair wages
Statutory minimum wage in Colombia: COP 1,014,980.00 / month (COP = Colombian Peso), transport allowance included, ca. US$ 252 (currency exchange rate of November 2021)
Average wage at COMVAL: above average

Un-skilled employees: US$ 270-300/month
Skilled employees: US$ 300-550/month, depending on department
All wages are increased annually by the percentage increase of the statutory minimum wage (2019: 4% / 2020: 6%)

All employees receive a fixed salary
Payment twice a month in cash or by bank transfer
Bonus payments:

Night shifts are remunerated + 35 %
For "employee of the month"

COMVAL pays the statutory compensations for her salaried employees:

Payment of the 13th monthly salary ("cesantía"): this is paid directly into a state pension fund at the beginning of the year. The interest of this salary (12%) is directly paid out to the employee
Payment of the 14th salary / holiday bonus ("prima de servicios")
Transport allowance is paid
Overtime is remunerated in accordance with statutory regulations, as well as a free meal
Humane working conditions
Working hours:
8 hours/day (up to 10 hours by huge orders)
3 breaks for breakfast, lunch and snack
5 days/week (up to 6 days by huge orders)
Social benefits: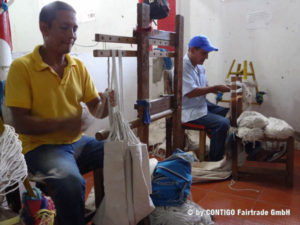 COMVAL pays the statutory compensations for all salaried employees:
Employees have health insurance through EPS
Pension fund: employer pays 12%, employee pays 4% of monthly gross wage
Continued payment of wage in case of sickness, accidents and maternity leave (statutory regulations)
Paid leave (20 national and religious holidays, plus 15 recreation days)
All employees are covered by COMVAL´s  indemnity insurance
On the total amount of her salary costs COMVAL pays social contributions to the following institutions (statutory):

the national vocational training service SENA (Servicio Nacional de Aprendizaje, no payments are due in 2021 as the company hosts an apprentice for a certain period of time),
the national family aid organisation ICBF (Instituto Colombiano de Bienestar Familiar),
and to various family recreation centres (Cajas de Compensación Familiar).

Various team-building activities, celebrations, e.g. International Women's Day, Mother's Day, Father's Day, Christmas, etc.
Occupational safety:
All safety standards are met
Working and safety gear is provided
Transparency
Work contracts are available
Pay slips are available
SAR (Self Assessment Report) was duly submitted to CONTIGO
Monitoring
Personal visits in Barranquilla (2017)
Country information
See Encyclopaedia Britannica: Colombia
Photos
Visiting Exportexa (later on COMVAL) 2017