Profile of CONTIGO´s partner Végétaux D'Ailleurs International
Quote: "Before they grow so big, the baobabs start out by being little." (Le Petit Prince by Antoine de Saint-Exupéry)
Products
Baobab saplings
Location
Bandia, 75km east of Dakar, near the international airport "Blaise Diagne Dakar", Senegal – distance to Europe: 4,600km
Founded in 2002
History
1998: Végétaux D'Ailleurs starts as an association "Afrobonsai" (training programme for young people), sale of small, home-grown trees from their own nursery on the local market
2002: Official foundation of Végétaux D'Ailleurs, the saplings and trees quickly become a success and international interest grows
Since 2005: Establishment of an own nursery near the town of Richard Toll in the north of Senegal on the border with Mauritania
2005: CONTIGO meets Végétaux D'Ailleurs
2006: Végétaux D'Ailleurs changes its company name to Végétaux D'Ailleurs International
2009/2010: The company moves to Bandia, 75km east of Dakar: a property with a well (freshwater spring) can be found there
In the following years: continuous development, reconstruction, optimization of all processes

Construction of a water-saving droplet channel system to the individual field rows with baobab trees
Construction of greenhouses

Végétaux successfully sells its Baobabs to tourists through a shop in the neighbouring airport "Blaise Diagne Dakar"
Cooperation with CONTIGO since 2005
Structure of the business
Number of employees: 
2 full-time employees

Managing directors: Volimata and Philippe Raguin

10 employees (year round)
15-30 employees (for seasonal tasks)
Work environment:
The nursery of Végétaux D'Ailleurs International owns and operates in more than 10 hectares
2/3 of production are reserved for baobabs, production capacity is around 300,000 pieces / year
1/3 is planted with other trees and plants (e.g. frangipani, moringa, Baobab chakal, etc.), permaculture, partly for research
Organisation of workforce:
Végétaux strives to offer its employees year-round work and income:
All year round tasks: planting, rearing and care of Baobab saplings
Between April and September: Harvesting / excavating the Baobabs for export
October: holiday month in Senegal
November to March: cleaning, maintenance repair of buildings, machinery, process improvements
Employees are trained in many activities and cultivation techniques, multi-skilling
Sales
Home Market (10%), retailshop at airport "Blaise Diagne Dakar"
Exports (90%) to France, Belgium, Italy, Germany, Switzerland, Netherlands, Spain, Japan
Special features
Due to regular income at Végétaux D´Ailleurs International employees are able to send their children to school
Organic farming: no use of insecticides or chemical fertilisers: Végétaux uses natural fertilisers (the contents of its septic tank, regular emptying has significantly reduced the number of mosquitoes and malaria infection on the farm)
Care for employees, prevention and education:

Health education (emptying the septic tank has an effect on mosquitoes and thus on the risk of malaria infection)
They teach women to become more independent, more self-reliant and thus more autonomous of their husbands and families
Employment of mentally disabled workers for simple gardening activities
Consulting / education activities regarding the Senegalese social system (in case of need people can apply for state aid, e.g. child allowance)
Why does CONTIGO work with Végétaux D'Ailleurs International: A great combination: a socially committed entrepreneur couple and an exciting product with a long service life.
Fairtrade classification
FTP = Fairtrade in Progress (No visit of CONTIGO as yet)
Fairtrade aspects
Végétaux D´Ailleurs International complies with the following Fairtrade Principles:
No child labour
No discrimination
No discrimination due to gender, disability, religion, ethnicity, sexual orientation, political orientation, or infection with HIV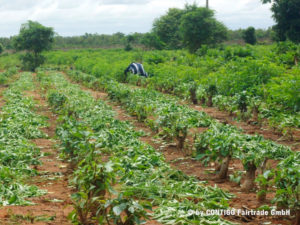 Many different ethnicities work together at Végétaux D'Ailleurs International.
Fair wages
Average wage in the sector/region: € 62.65/month
Wages at Végétaux D'Ailleurs:

Year round employees receive € 140 – 465 / month
Seasonal employees receive daily wage which is customary in their town

Monthly payment of workers in cash
Bonus payments for religious holidays for all year round employees (€ 61):

Christmas bonus
Bonus for Eid al-Adha (Islam)

Bonus payment in case of need (for weddings or bereavements)
Higher wages in case of overtime
Humane working conditions
Working hours:
8 hours/day
1 break (1 hour)
6 days/week
Social benefits:
All employees receive:
One month paid holidays (October, after all customer orders are exported)
Payment of contributions to pension insurance (IPRES = Instution de Prévoyance Retraite du Sénégal), Végétaux pays both contributions (from employer and employee, 30% of monthly gross wage each)
Year round employees receive free accomodation on the compound
In cases of simple illness, Végétaux dispenses medication to their employees
In case of need (e.g. death in the family): financial support and interest-free, longterm loans (which is deducted later against salaries,)
Educational opportunities:
See above "Special features": care for employees, prevention and education
Transparency
Payroll is available
Pay slips are available
SAR (Self Assessment Report) was duly submitted to CONTIGO
Monitoring
Volimata and Philippe Raguin visited CONTIGO in Göttingen (2018)
Country information
See Encyclopaedia Britannica: Senegal
Photos
Volimata and Philippe Raguin visit the CONTIGO headquarter + public lecture at the CONTIGO Fairtrade Shop in Göttingen (September 2018): 
Photos from Bandia: