This trade relationship is currently not active.
Profile of CONTIGO´s partner Tòhe
"Every child is an artist. The problem is how to remain an artist once we grow up." (Pablo Picasso)
Products
Cotton products printed with little artist's artwork
Location
Hanoi, Vietnam – distance to Europe: 8,600km
Founded in 2006
History
Ngan Pham Thi and Anh Thi are engaged in a social project organised by an NGO
They teach painting courses in institutions for children with disabilities, orphanages, hospitals, etc. (for example, one orphanage in the north-west of Hanoi with 160 children, 170 adults, and 25 babies)
Children are encouraged to be creative and use their imagination
In many institutions these children live in very poor conditions: unbalanced diet poor in vitamins, no recreational activities, no support in their personal development
2006: the This start to use the children's artwork on cotton products like clothing, housewares, toys, accessories, bags: Tòhe is founded
Concept:

Tòhe organises art courses in 4 institutions in the surroundings of Hanoi
Distribution of fruit and dairy products during art classes, healthy diet supposed to be combined with creative, fun activities
Tòhe provides painting and handicraft materials
Children are 4-10 years old, children with disabilities are up to 18 years old
Tòhe accompanies development of children over several years, very talented children are promoted with scholarships for school
Project manager: Thuy is supported in mission by volunteers

Initial difficulties lead to a new start in 2009 with the help of a British NGO
2010: GIZ (German Agency for International Cooperation) donates US $15,000 for purchase of printing machine
2012: show room is reopened and is also used as shop that also attracts international visitors
Search for sale opportunities abroad
Main costs at Tòhe: importing costs for colours from the U.S. and Europe
Tòhe wants to demonstrate that creative work creates economic value
2014: Sewing workshop relocated to village Van Khe in Ha Dong, 20km outside of Hanoi, 10 women are employed full-time with the goal of employing 20 sewers in 2014
2014: Tòhe takes part in GIZ-funded training in Munich, topics cover business management, increasing market opportunities, production optimisation
Tòhe collaborates with different organisations:

Centre for children with disabilities and for orphans, 70km outside of Hanoi, 20 of the 160 children regularly take advantage of Tòhe's opportunities
School for autistic children in Hanoi
Centre for families with disabilities
Orphanage, in Nangking, ca. 100km away from Hanoi
Cooperation with CONTIGO since 2013
Structure of the business
Number of employees:
30 employees (24 women and 6 men)

10 trained sewers
2 sample makers
2 part-time employees responsible for printing
3 designers
1 product manager
Management department consists of administration, sales and social projekt coordinator (Thuy, she represents Ngan in schools)
Project coordinator Do Huyen Trang organises 20 volunteers that conduct weekly painting courses
Sales
Home market (65%) via a shop in Ho Chi Min City,  local companies (as promotional gift), and customers from surrounding area in Hanoi
Exports (35%) to Australia and Germany
Goals
To increase international marketing
To optimise production
To strengthen the self-confidence of people with disabilities
To develop the creative skills of children and teenagers through creative activities
To support children in fully making use of their creative potential provide potential career opportunities in this sector
Special features
Financial support of mutual fund that pays for art and crafts classes
Profit is invested in scholarships for talented students

Why does CONTIGO work with Tòhe: The innovative product design is combined with priceless education projects. A start-up company that is very worthy of support.
Fairtrade classification
FTA = Fairtrade approved
Fairtrade aspects
Tòhe complies with the following Fairtrade Principles:
No child labour
No discrimination
No discrimination due to gender, disability, religion, ethnicity, sexual orientation, political orientation, or infection with HIV
Fair wages
Average wage in the region: US$ 110/month
Salary at Tòhe: US$ 200-300/month
Monthly payment in cash
Holiday bonus
Higher wages in case of overtime (on weekends 100%, on bank holidays 200%)
Humane working conditions
Working hours: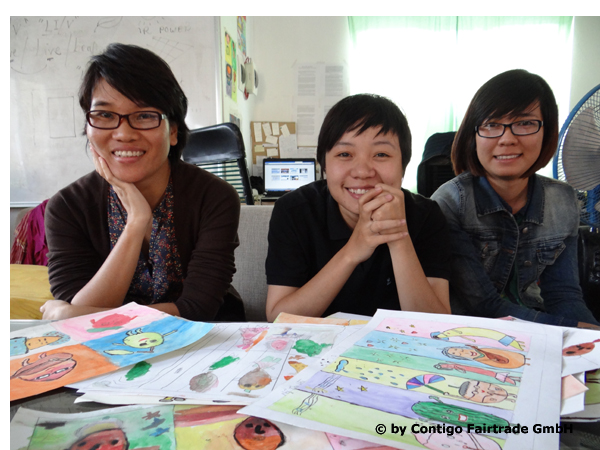 8 hours/day
5.5 days/week
Social benefits:
Health insurance
Unemployment insurance
Continued payment of wage in case of sickness or accidents
Paid holidays
Educational opportunities:
Designers visit international design trainings, courses
Thorough initial training for all new employees
Sewing training for women
Transparency
Work contracts are available
Payroll is available
Pay slips are available
SAR (Self Assessment Report) was duly submitted to CONTIGO
Monitoring
Personal visits in Hanoi (2012, 2014)
Country information
See Encyclopaedia Britannica: Vietnam
Photos
Tòhe´s Little Artists