This trade relationship is currently not active.
Profile of CONTIGO´s partner Swane
Products
Baskets and products made of metal
Location
Dakar, Senegal – distance to Europe: 4,800km
Founded in 2010
History
Selly Wane, born and raised in Senegal, studies of economics in Wuppertal, Germany
She finances her studies by importing crafts from Senegal
Selly learns about sustainability during her studies with the Institute for Climate, Environment and Energy
Selly writes her PhD thesis about the influence of ecological and social sustainability of a business on shareholder value
2010: Founding of SWANE, Selly enshrines ethical and social responsibility in the business model and is convinced that this will make her even more successful
2011: Swane meets CONTIGO
2015: Participation in several trade fairs, new customers, production increases
Cooperation with CONTIGO since 2011
Structure of the business
Number of employees:
3 part-time employees in the workshop (recycling products)
Partnership with 4 external workshops (production of metal items)
Partnership with weaving cooperatives from villages (production of baskets)
Organisation of workforce:
In Germany:
Selly Wane: product development, marketing
Three additional freelance employees for communications, website maintenance, and marketing
In Senegal:
Regular meetings once a week with all employees to coordinate and optimise production and to improve work environment
Swane workshop: 3 people
Partnership with 4 external workshops
Partnerships with village cooperatives from the region Thiès (approx. 70km east of Dakar), for basket weaving

Weaving is only done by women
These women weave baskets because it is a convenient way to earn extra income next to farming, taking care of their households and children
Organisation of  their work:

One person is responsible for buying/distributing raw material, quality control, the collection of baskets and transportation to Dakar
Women share the orders among themselves

Swane supplies the raw materials (plastic stripes for baskets, metall) to the producer groups
Sales
Home market (10%)
Exports (90%) to Germany
Goals
To employ all employees of the Swane workshop on a full-time basis
To provide trainings to all employees according to their needs and skill set
To establish a platform for the women in the village to organise themselves
To develop high quality products with modern designs made out of recycled materials
Special features
Why does CONTIGO work with Swane: They are a very promising company with a dedication to Fairtrade. The baskets are best sellers.
Fairtrade classification
FTP = Fairtrade in Progress, a visit in Senegal has not taken place as yet.
Fairtrade aspects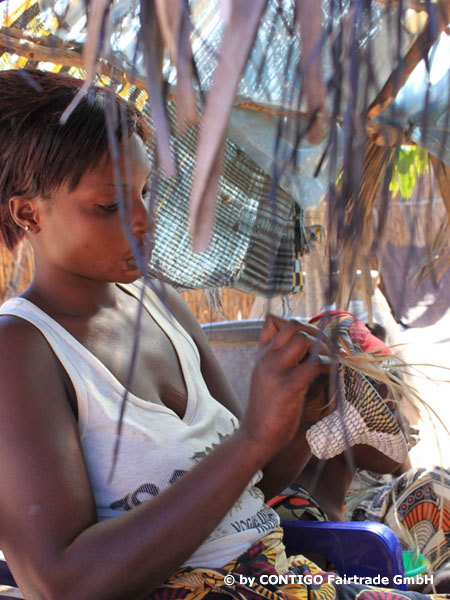 Swane complies with the following Fairtrade Principles:
No child labour
Every employee must be of full age. Apprentices can be allowed by the age of 15.
No discrimination
No discrimination due to gender, disability, religion, ethnicity, sexual orientation, political orientation, or infection with HIV
Fair wages
Average wage in the sector/region: € 2,56/day
Wage at Swane: Triple of the daily minimum wage
Bonuses for:

Higher quality of the products
Complying with the production schedule
Religious holidays
Humane working conditions
Working hours:
Employees organise the time and work by themselves:
6-8 hours/day
5 days/week (a sixth day is optional)
Social benefits:
Breakfast and lunch provided
Transparency
SAR (Self Assessment Report) was duly submitted to CONTIGO
Country information
See Encyclopaedia Britannica: Senegal
Photos