This trade relationship is currently not active.
Profile of CONTIGO´s partner BeadforLife
Products
Recycled jewellery made out of paper
Location
Kampala, Uganda – distance to Europe: 6,100km
Founded in 2004
History
2004: NGO BeadforLife founded by Torkin Wakefield, Devin Hibbard, Ginny Jordan, and Millie Grace Akena from Uganda
Founders inspired by the bead makers in the slums of Kampala
BeadforLife teams established in:
Kampala/Uganda
Boulder, Co./USA
Montpellier/France (started in 2009)
2009: CONTIGO meets BeadforLife
Cooperation with CONTIGO since 2010
Structure of the organisation
Number of employees:
390 seamstresses and bead makers
540 employees employed by these bead makers
2,880 people derive their livelihood (directly and indirectly) from the craft
Organisation of workforce:
BeadforLife is an NGO
Members are organised into 5 groups with 85 members each
Members receive orders from BeadforLife twice a month
Members are mainly young mothers, disabled people, widows, people misplaced by war, and people infected with HIV
New members are recruited through visits to the slums and HIV centres
Sales
Exports (100%) to Germany, France, Spain, Switzerland, England, and Belgium
Goals
To alleviate extreme poverty
To special help for/recognition of women
To create and save jobs
Special features
Social engagement in Uganda:

Rural development programmes
Programmes for teenagers with HIV/AIDS (Power of Hope)
Collecting donations for medical treatment of refugees in northern Uganda
Sponsoring the costs for paediatric chemotherapy (children's cancer charity Uganda)
Payment of a bed in the International Hospital of Kampala to treat emergency cases

Organisation of BeadParties (USA, England, France): selling paper jewellery and informing attendees of the work in Uganda
100% of net earnings are invested in projects serving communal well being
Why does CONTIGO work with BeadforLife: BfL enjoys a good international reputation. They have transformed from a NGO into a economically self-sustaining project. The future prospects for the partnership are great.
Fairtrade classification
FTA= Fairtrade in Progress, a visit in Uganda has not taken place as yet.
Fairtrade aspects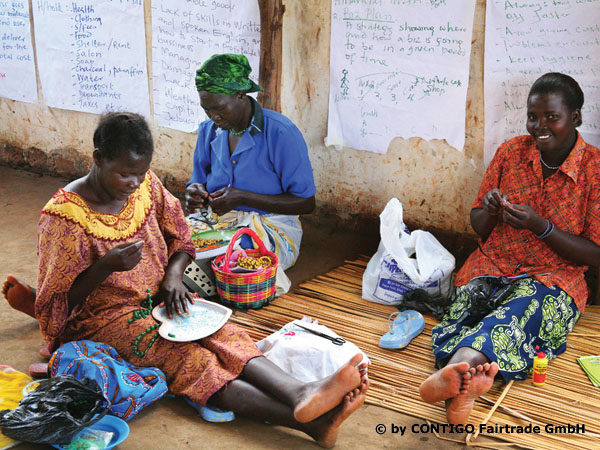 BeadforLife complies with the following Fairtrade Principles:
No child labour
No discrimination
No discrimination due to gender, disability, religion, ethnicity, sexual orientation, political orientation, or infection with HIV
Fair wages
Average wage at BeadforLife: US $275
Humane working conditions
Working hours:
Social benefits:
Malaria testing and treatment
Free HIV tests for all employees and children
Health training
Partial payment of mosquito nets, contraception, and glasses
Support for employees to found their own businesses (including training for starting a business, help with creating custom savings plan, and accessing financial help)
House building program targeted at the bead makers
Educational opportunities:
Start-up trainings for women so they can launch own business
Work orientation programme for teenagers from poor families
Classes on health (prevention and treatment)
Training:

Duration: 27 months
Month 1 to 2: learn beading and basics for production of necklaces
Month 3: courses on saving money, family planning, health
From month 6: training in starting a business
After 13 months: collecting first practical experiences in starting and running a small business
After 27 months: the women should be independent from the organisation and running their own business
Transparency
Payroll is available
Pay slips are available
SAR (Self Assessment Report) was duly submitted to CONTIGO
Monitoring
Member of:

Fair Trade Federation (FTO)
Country information
See Encyclopaedia Britannica: Uganda
Photos
10 years of BeadforLife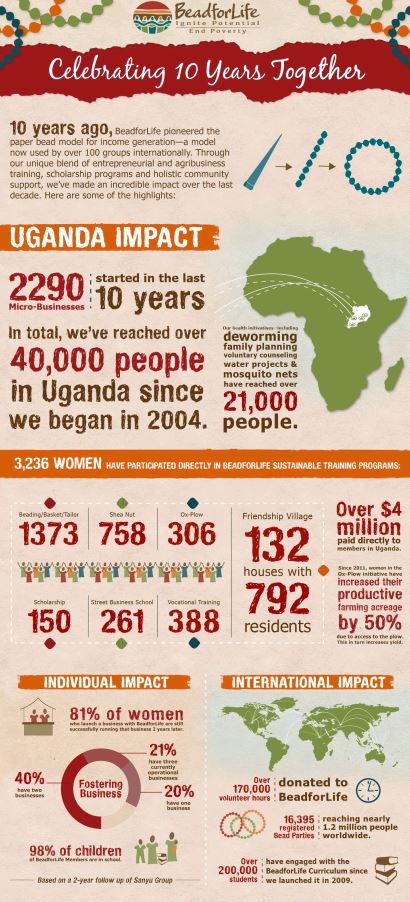 Production
Stories of success: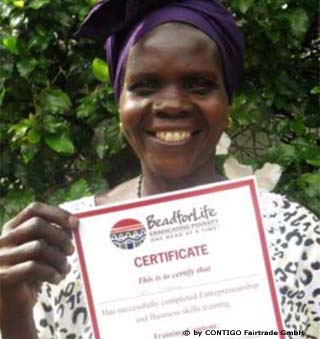 Grace Aol, 49: "I was afraid to hold a pen, but the literacy classes let that fear disappear."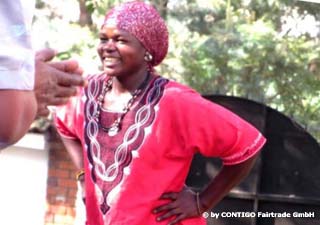 Fatina Apio is happy that she can dance in a circle, as it is custom in Uganda, with other members of Bead for Life. They celebrate their new lives without poverty together.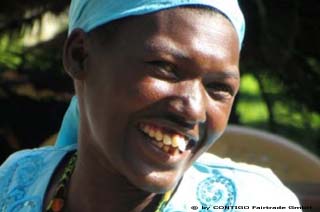 Shalila Musa is a great example for women that gain increasing independence due to technology: "I am happy that I am registered with Mobile Money. I can withdraw money in many places and if my purse ever gets stolen I can withdraw money and continue with my business. I also use it to pay the school fees at Bushenuyi for my son."
Videos