This trade relationship is currently not active.
Profile of CONTIGO´s partner Craft Link
Products
Bamboo place mats
Cotton and silk scarfs
Horn items
Ceramics decoration
Velvet and silk accessories
Location
Hanoi, Vietnam – distance to Europe: 8,600km
Founded in 1996
History
1996: Founding of Craft Link as NGO
Craft Link has been financially independent and did not receive any subsidies until today
Craft Link accompanies producer groups on their way to independence
Focus: employment of people with disabilities, from ethnic minorities and from small enterprises
2002: Craft Link has 10 employees
2006: CONTIGO contacts Craft Link
2008: Relocation of headquarters
2010: Increase in employees and affiliated producer groups
2012: Employment of three additional people
Annual salary increase: ca. 15% (depending on inflation)
2013: improvement of financial situation due to new customers from North America
Craft Link supports 4 groups every year, among them one workshop with employees with disabilities (support includes trainings and consulting for 2 years)
Cooperation with CONTIGO since 2006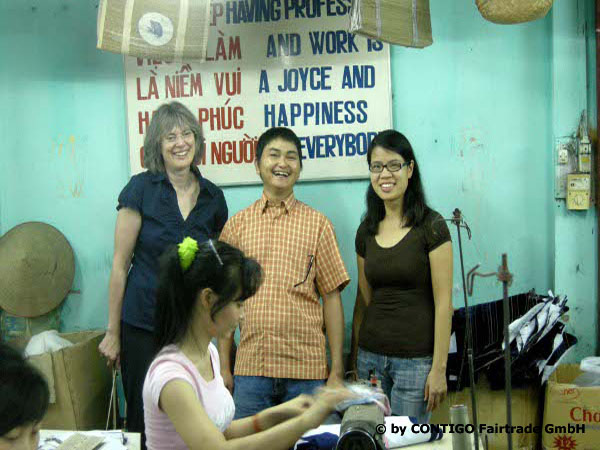 Structure of the business
Number of employees:
30 employees
2 part-time employees
Partnership with 35 producer groups (45% of them belong to ethnic minorities)
5000 people are involved in production processes
Organisation of workforce:
Production of goods in different workshops with continuous quality checks during production
Shipping of finished goods to Craft Link headquarters in Hanoi
Craft Link ships goods to customers
Development Section:
4 projects per year are selected to receive special support, focus: support of minorities
Goals: preserving traditional craftsmanship and support of women's role in society
Craft Link provides trainings in traditional crafting techniques and cost calculation
Projects run for 2 years, after which producer groups are supposed to be independent
Project partners are found through other NGOs, the Museum of Ethnology in Hanoi or via other contacts
Selection process determines who can become project partner
Financed through donations from international development organisation
Workshops:
Workshop in Thai Binh
Production of majority of Contigo's scarfs
Supervisor: Mr. Do Van Thà
Employees: 40 people from the village (20 women: weaving and quality checks; 20 men: dye works)
Since 2000: workshop gets 6 semi-automatic looms (they can be powered with both, electricity and mechanically)
Workshop is a family business for many generations
Special feature: many new ideas and innovation
Bamboo weaving mill in Hanoi
Supervisor: Trang Le
10 employees
50 weavers that work in the area
Working hours: 8 hours/day, 6 days/week
Wage: $250-350/month
Looms on 2 floors
Works with Craft Link since 2006
Sales
Home market (22%) via own shops
Exports (78%) to Europe, America and Australia
Goals
To increase incomes
To increase training capacities (calculation, product development, design, organisation)
To preserve cultural and craftsmanship heritage
Special features
Craft Link supports people with disabilities and wants to secure and income for them
Communal development fund established (pays for medical care of employees and for child care)
Why does CONTIGO work with Craft Link: Craft Link fulfils all Fairtrade criteria and is very professional.
Fairtrade classification
FTA = Fair Trade Approved
Fairtrade aspects
Craft Link complies with the following Fairtrade Principles: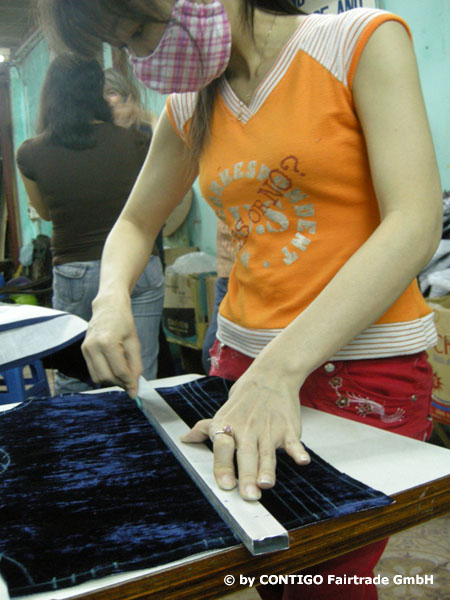 No child labour
No discrimination
No discrimination due to gender, disability, religion, ethnicity, sexual orientation, political orientation, or infection with HIV
Fair wages
Average wage in the sector/region: US$ 50/month
Average wage at Craft Link: US$ 250-350/month
Wage for beginners in the workshops: US$ 200/month
Part-time employees receive payment-by-piece
Monthly salary transferred to employees own bank account
Holiday bonus
Quarterly bonus (50% output-related, 50% related to job tenure)
Craft Link pays:

40% financing upon placing the order
60% of the value upon receiving the order
Humane working conditions
Working hours:
8 hours/day
1 break
5 days/week
Social benefits:
Social security (22% paid by employer, 5% paid by employee, 2% unemployment insurance) 
Parental leave: 4 months paid for by health insurance, 4 additional months paid for by Craft Link
Work clothing provided
Travel insurance for employees from remote areas
Free lunch provided
Paid holidays (12 days annually, increase related to job tenure)
Continued payment of wage in case of sickness or accident
Donation to a charitable development fund (for medical support and child care)
Educational opportunities:
Thorough initial training for all new employees
Regular courses on work safety and health
Transparency
Work contracts are available
Payroll is available
Pay slips are available
SAR (Self Assessment Report) was duly submitted to CONTIGO
Monitoring
Personal visits in Hanoi (2010, 2012, 2014)
Feedback interview during several visits in Germany
Member of:

WFTO (World Fair Trade Organization) since 2002
Country information
See Encyclopaedia Britannica: Vietnam
Photos
Visiting Craft Link