Profile of CONTIGO´s partner Rick & Julie
Products
Houseware and living accessories made of acacia wood
Location
Sta Ignazia, Tarlac City, Luzon Island, Philippines – distance to Europe: 10,000km
Founded in 1996
History
1996: Founding of "RJ Southwestern Design Furniture", RJ refers to the initials of the founding couple Rick (Enrique Miralles) and Julie
Factory premises in Tarlac City are built up from scratch; before there were only fallow fields at this place
Initially RJ is specialised in the production of furniture and hand carved products in Western style, mainly for the U.S. marktet
2007: Due to the financial and real estate crisis, sales collapsed in the U.S. RJ is forced to decrease his business, new focus on the home market and development of new product ranges (table ware made of wood)
Since 2013:  RJ becomes a partner of several European Fairtrade organisations; with the help of loans, technical innovations and product developments RJ succeeds in stabilising his business and in exporting his products
2013: The Dutch fair trade organisation Kinta introduces RJ to CONTIGO, until today the cooperation with RJ is in close teamwork with Kinta
Cooperation with CONTIGO since 2013
Structure of the business
Organisation of workforce / number of employees:
Administration, accounting: 3
Quality control: 5
Production management: 3
Purchase of raw material: 1
Production:

23 so-called "sub-contractors" with 50-60 crafters in total
Depending on order situation 80-100 additional crafters from nearby villages are available on request
Crafters receive piece rate wage
Due to quality aspects all production steps are processed on-site.
Sales
Home market (10%)
Exports (90%) to Europe, Japan and the U.S.
Special features
Why does CONTIGO work with Rick & Julie: Rick is a passionate artisan and knows all steps of woodworking very well. He is focussed on quality, long-term cooperation and preservation of the craft, as well as offering stable incomes for craftsmen in the rural areas of Sta Ignazia.
Fairtrade classification
FTP = Fairtrade in Progress
Justification statement by Monika Herbst: RJ did a lot to optimise work processes in the last years. Permanent staff receive health and social insurances. But work contracts are still missing; they are important to record transparency with regards to employer´s and employees´rights and duties. Due to his business situation RJ is not able to pay minimum wages for all employees by now. He aims to do so.
Fairtrade aspects
Rick & Julie complies with the following Fairtrade Principles:
No child labour
No discrimination
No discrimination due to gender, disability, religion, ethnicity, sexual orientation, political orientation, or infection with HIV.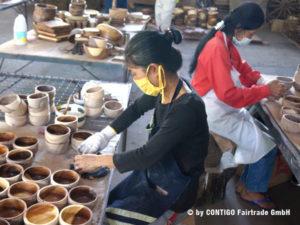 Fair wages
Minimum wage in the sector/region: PHP 357/day (PHP= Philippine Peso)
Average wage at Rick & Julie: PHP 300-450/day (for salaried employees)
Piece rate: earnings depend on performance, appr. 80-100 USD/week (this correlates to a daily earning of PHP 650-810)
Weekly payment of workers in cash
Humane working conditions
Working hours:
8 hours/day (for salaried employees)
"Sub-contractors" can organise their work on their own
1.5 hours break for a snack and for lunch
6 days/week
Social benefits:
For salaried employees:
Paid holidays (10 days)
Continued payment of wage in case of sickness or accidents
Contributions to health insurance (Philhealth) and social security system (SSS)
Contributions to national pension fund "pag-IBIG" = Home Development Mutual Fund (loans for housing, other multipurpose loans)
For "sub-contractors" with piece rate wages:
Contributions to health insurance (Philhealth)
For artisans coming from far-off villages, free accommodation on-site (equipped with sanitary facilities, kitchette), only electricity must be paid by the employees
In times of less work: providing of free rice
Educational opportunities:
Twice a year training for students from high schools and from low-income families how to build the traditional "Bahay Kubo" houses made of bamboo, in cooperation with the local department of trade and industry
Occupational safety:
All safety standards are met
Transparency
Payroll is available
Pay slips are available

SAR (Self Assessment Report) was duly submitted to CONTIGO
Monitoring
Personal visits in Sta Ignazia (2016)
Country information
See Encyclopaedia Britannica: Philippines
Photos