Profile of CONTIGO´s partner Vinayak
Supply chain
Trading Partner: Vinayak, medium enterprise
Function: Producer
Structure: Own production plant
Tradeway: Direct import CONTIGO
Products
Printed scarves made from certified organic cotton
Location
Jodhpur, in the state of Rajasthan, India
Founded in 2010
History
2010: Foundation of Vinayak Exports by Mahendra Prajat. Specialisation in the production of high-quality scarves, clothes and bags in cooperation with the father's screen printing workshop
2015: The company gets GOTS (Global Organic Textile Standard) and ISO certified
Cooperation with CONTIGO since 2016
Structure of the business
Number of employees:
33 employees (4 women and 29 men) in the tailor´s shop, administration and shipment
Organisation of workforce:
Production is split in three locations:
Two screen print workshops in Jodhpur:

Production step: textile printing with screen print technique in 3 print units
50 permanent employees, in case of bigger orders commissioned work to other textile print workshops
Payment:

Piece wage per running metre (higher piece rate for complex work)
Fixed salary for qualified tasks (colour-master: blending of colours)

Facilities and equipment:

Washing, bleaching and dyeing facilities
Manual screen print at 40 metre long tables, (frameworks and scraper) for small volumes, sun drying on frames on the rooftop
Automatic screen print devices for textile quantities of more than 2,000m per design, hot air tunnel (for drying)
Wastewater treatment, sewer system is available

Origin of the materials:

Organic cotton from cooperatives in South India via a certified supplier
GOTS authorized colours and fixatives, natural thickener guar flour
One sewing workshop in Jodhpur: Production steps: product design, sewing, digital print, quality control, packaging, shipment and marketing

Owner: Mahendra Prajapat
Employees: 20 men, 6 women work in production and quality control, 6 employees for design and administration
Payment: fixed salary, sewers receive piece rate wages
Facilities: one-storey factory and office building, digital print, cutting, sewing
3. location in Noida (ca. 600km northeast from Jodhpur)

Rented facility
Production steps: sewing, quality control, packaging
Ca. 10 employees
Payment: piece rate wages
Sales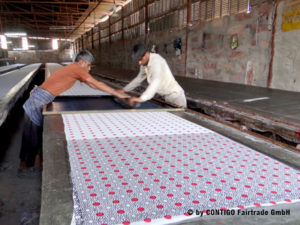 95% Export (France, Italy, Germany, USA)
5% Home market
Goals
To preserve the future sustainability and competitiveness, therefor

Centralisation of all production steps
Purchase of a bigger property for the new building 
Special features
Environment: Vinayak is member of the "Jodhpur Pollution Niwaran Trusts", the wastewater flows into the "Common Effluent Treatment Plant", the sewer system leads to a processing plant
Why does CONTIGO work with Vinayak: The consequent focus on quality and design is impressive.
Fairtrade classification
FTP = Fairtrade in Progress, young business relationship
Fairtrade aspects
Vinayak complies with the following Fairtrade Principles:
No child labour
No discrimination
No discrimination due to gender, disability, religion, ethnicity, sexual orientation, political orientation, or infection with HIV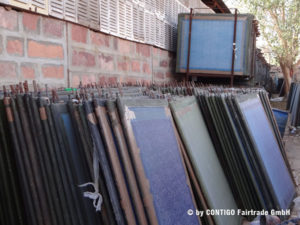 Fair wages
Minimum wages in the state of Rajasthan: (INR = Indian Rupee)

Un-skilled worker: INR 5,382/month
Semi-skilled worker: INR 5,642/month
Skilled worker: INR 5902/month

Average wages at Vinayak:

Un-skilled worker: INR 8,000/month
Semi-skilled worker: INR 8,000 – 10,000/month
Skilled worker: 10,000 – 20,000/month

Depending on job and responsibility, the employees receive a fixed salary (supervision, quality control) or a performance related salary (piece rate)
Salary increment every year based on performance
Monthly transfer to bank accounts of the employees, cash payment or cheque
In case of overtime salary is doubled
Bonus payment for the Diwali-Festival
Humane working conditions
Working hours:
8 hours /day (9:00am-6:00pm)
Breaks: 30 minutes for lunch, two tea breaks à 15 minutes
6 days / week
Social benefits:
Paid holidays (10-14 days for the traditional Holi and Diwali-Festivals)
Continued payment of wages in case of illness or accidents
Payment of contributions to pension scheme PF (= Employees' Provident Fund): employer and employee each pay  12% of the monthly gross wage
Payment of contributions to health insurance "Mediclaim"
Work safety:
All safety standards are met
Transparency
Work contracts are available
Payroll is available
SAR (Self Assessment Report) was duly submitted to CONTIGO
Monitoring
Personal visits in Jodhpur (2017)
Certified by

GOTS (Global Organic Textile Standard) since autumn 2015
ISO 9001:2008 since autumn 2015
Country information
Information about India
Pictures