Profile of CONTIGO's partner Nook Nook
Products
Soft toys: FUNimals (playful animal dolls in patchwork look), PettiPets (dress up animal dolls)
Home decor and home textiles
Location
Chiang Mai, Thailand – distance to Europe: 8,300km
Founded in 2007
History
Since 2000: Vaniché is established by members of the Vanichmongkol family in Bangkok, production and export of Thai silk products, cushions, interior accessories
The silk market collapsed in Thailand due to increasing competition by China and India
2007: Company is restructured, development of soft toy ranges and modern textile accessories, all women from the former textile department are employed in the new company
2009: Development of the FUNimal range under the brand name "Nook Nook" (Thai: "Lots of fun") by the sisters Saipin Vanichmongkol and Ying Sainamphung
2010-2015: Participation in international trade fairs
2010 CONTIGO meets and visits Nook Nook
2011: First order of FUNimals arrives in Germany and is a huge success
2012: Office in Bangkok closes, production in Chiang Mai is relocated to a larger building, new showroom
2014: Nook Nook is selected to be part of Thailand´s first design week in Chiang Mai
2016: Worldwide economic crises affects Nook Nook, global sales drop considerably
2016-2018: Focus on developing the domestic market (duty free shops, hotels, resorts)
2017: New product brand N2 is taken to the domestic market, lifestyle products in traditional Indigo fabrics
2019: Restructuring of the company by reducing the work force, streamlining the production processes and relocation of office and showroom
Cooperation with CONTIGO since 2011
Structure of the business
Number of employees:
Main workshop in Chiang Mai:

2019: cut down to five women in core working fields : prototype making, production management and quality control, administration, marketing, material purchase
Directed by the founders Saipin (CEO) and Ying (designer)
Daily staff for distribution of materials, collection of ready made products and packaging

Work / production at home:

2019: six seamstresses instead of 28 "subcontractors"
Two ladies for machine cutting of fabrics
Ten ladies for decoration, embroidery, stuffing, hand stitching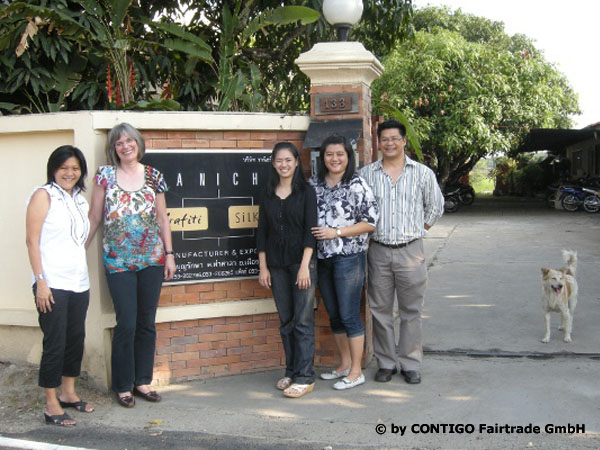 Work environment:
2019: relocation in a rented building:
Ground floor: office
First floor: showroom and meeting area
Second floor: sample making (3 professional sewing machines) and storage
Third floor: private rooms
Organisation of workforce:
Main workshop:

Administration and product development
Central purchase of raw material, storage
Production of prototypes
Preparation of material packages for home production
Quality control, final packaging and export
Training for outdoor workers whenever new products are introduced, if needed training is also given in the villages by the sample maker and the production manager

Women work at home:

"Subcontractors": collaboration with highly experienced women stipulated by contract, they work in the outskirts of Chiang Mai and in the Karen villages in the mountains north of the city, they are in charge of complex sewing and machine cutting of the materials
Outdoor workers for stitching and embroidery: single mothers, former employees with toddlers, young women with other jobs, who want to earn an extra income after-work; they have a network of neighbours and relatives who can join to work in peak times
Outdoor workers receive piece rate, depending on complexity of work and expenditure of time
Sales
Home market (30%): Products are sold via duty free shops in Bangkok
Exports (70%) to Germany, France, Belgium, South Korea
Goals
To consolidate business after reorganisation of the company
To support single mothers by providing them work at home
To grow the domestic market
Special features
High proportion of women in the production process
Capacity building by regular trainings
Support of "The World´s First Elephant Hospital" through donations and FUNimal sales (this private initiative nurses injured elephants which became victims of landmines, as well as elephants with skin and eye diseases)
Why does CONTIGO work with Nook Nook: The ladies at Nook Nook are highly skilled and creative. Fruitful cooperation, excellent mutual understanding, ingenious toy ranges which create work, income and perspectives for young women with little education. Nook Nook means "lots of fun" and CONTIGO has the impression that everyone at Nook Nook lives according to this motto.
Fairtrade classification
FTA PLUS = Fairtrade Approved PLUS
Fairtrade aspects
Nook Nook complies with the following Fairtrade Principles: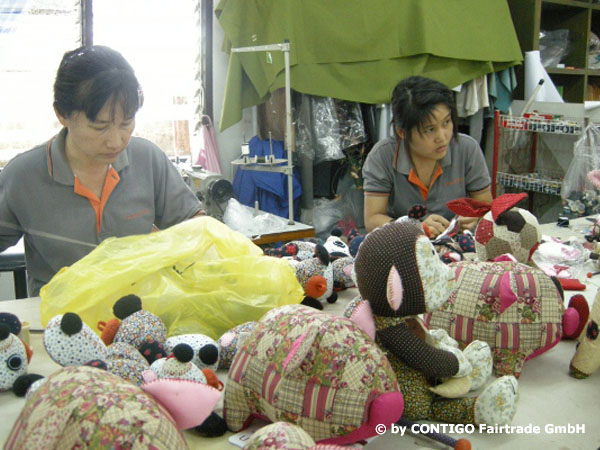 No child labour
No discrimination
No discrimination due to gender, disability, religion, ethnicity, sexual orientation, political orientation, or infection with HIV
Fair wages
Average wage in the sector/region (Chiang Mai): THB 300/day (THB = Baht)
Wages at Nook Nook:

Minimum: THB 367/day
Average income at Nook Nook: THB 527/ day

Salary is paid out to bank account (on 1st day of the month), extra income (overtime, home work, lunch fee) is paid out to bank account on 15th of the month
Higher wages in case of overtime and work on the weekend
Bonus paid out annually on occasion of Chinese New Year (variable amount)
Yearly salary increase (due to inflation)
Humane working conditions
Working hours:
Social benefits:
Payment of contributions to governmental health insurance and social security system, employer and employee pay each 5 % of the salary as contribution
New work clothing is provided every two years
Paid holidays (max. 31 days, depends on seniority of employee; special feature: 1 extra holiday for Chinese New Year)
Continued payment of wage in case of sickness or accident (30 days)
Maternity leave: salary of 1,5 months before birth is paid by Nook Nook, salary of 1,5 months after birth is paid by social insurances
Free potable water
Lunch fee, daily THB 25
Educational opportunities:
Regular trainings for departments in-house (e.g. for the accountant) and trainings for women groups in home work
Participation in safety courses (fire protection, first aid courses)
Transparency
Work contracts are available
Payroll is available
Pay slips are available
SAR (Self Assessment Report) was duly submitted to CONTIGO
Monitoring
Personal visits in Chiang Mai (2010, 2012, 2016, 2019)
Feedback interview during serveral visits in Germany
Country information
See Encyclopaedia Britannica: Thailand
Photos
Visiting Nook Nook in Chiang Mai (2016):
Visiting Nook Nook in Chiang Mai (2012): 
Video