This trade relationship is currently not active.
Profile of CONTIGO´s partner Isaac
Products
Hammocks and hammock chairs made out of cotton
Location
Fortaleza, Brazil – distance to Europe: 7,600km
Founded in 1987
History
1987: production begins as a small, local producer with few machines
1989: first export
Cooperation with CONTIGO since 2002
Structure of the business
Number of employees:
21 employees (10 women and 11 men)
2 part-time employees (both women)
Organisation of workforce:
80% of production carried out at Isaac premises
20% of production is outsourced
2 production locations
Meetings with all employees to inform everyone about the development of the company
Sales
Exports (98%) to Germany, Netherlands, Denmark, and Austria
Goals
To create jobs with secure incomes for the local community
To expand the customer base
To offer additional product ranges
To continuously improve quality
Special features
Why does CONTIGO work with Isaac: CONTIGO has successfully worked with Isaac for 10 years already. Hammocks are historically an important product in Fairtrade and are particularly important to Fairtrade/world shops.
Fairtrade classification
FTP = Fairtrade in Progress, a visit in Senegal has not taken place as yet.
Fairtrade aspects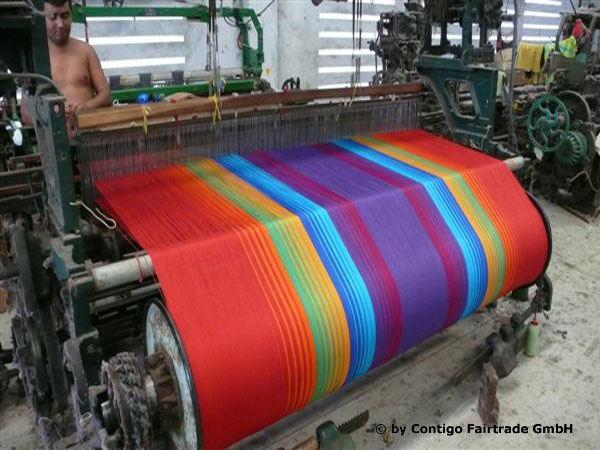 Isaac complies with the following Fairtrade Principles:
No child labour
No discrimination
No discrimination due to gender, disability, religion, ethnicity, sexual orientation, political orientation, or infection with HIV
Fair wages
Minimum wage in the region/sector: R 566/month (R=Real)
Average wage at Isaac: above average
Monthly payment of workers in cash
Higher wages in case of overtime
Bonus for holidays
Humane working conditions
Working hours:
8 hours/day (Monday to Friday: 9am – 5pm; Saturday: 9am – 1pm)
2 breaks (1.25 hours)
6 days/week
Social benefits:
Health insurance
Pension fund for all employees
Parental leave (paid): women receive 4 months, men receive 5 days
Additional vacation days in case of death in the family (3 paid days)
Continued payment of wage in case of sickness or accident
Paid holidays
Educational opportunities:
Courses in health and safety are offered each year
Discounted courses at SESI (Servicio Social de Indústria)
Apprenticeships offered
Transparency
Work contracts are available
Payroll is available
Pay slips are available
SAR (Self Assessment Report) was duly submitted to CONTIGO
Country information
See Encyclopaedia Britannica: Brazil
Photos