Profile of CONTIGO´s partner Feather Touch
Supply chain
Trading Partner: Feather Touch, medium enterprise
Function: Producer
Structure: Own production plant, affiliated production groups
Tradeway: Direct import CONTIGO
Products
Leather products, focus on ECOfriendly leather from vegetable tanning
Goat leather, vegetable tanning
Location
Kolkata, in the state of West Bengal, India – distance to Europe: 7,300km
Founded in 2005
History
Nandeswar Prasad Chowdhury, former product development officer for EMA (Equitable Marketing Association; Kolkata´s first Fairtrade marketing organisation) found Feather Touch as a marketing organisation for different handicrafts from groups in Uttar Pradesh and West Bengal
2000: Death of founder; son Vivek Chowdhury (19 years at the time) takes over the family business
2005: Feather Touch moves to an own production site in Kolkata and specialises in leather products
2010: CONTIGO meets Feather Touch for the first time
2013: Deepening of the cooperation between CONTIGO and Feather Touch; focus on own designs and high quality
2015: Feather Touch specialises in high-quality products made of ECOfriendly cow-hide leather. Ranges with goat and buffalo leather are produced as well
2016: Development of own ECOfriendly leather varieties in cooperation with an associated tannery
2017: Start of an own, rented tannery
2017: Relocation of production site to the southeast of Kolkata is targeted, plot of land and the building admission are already available
2019: Tannery is relocated to another building in Bantala CLC
November 2019: Purchase of a new five stories building for packing and production, located in a nearby commercial area; the plans to move to Southeast are dropped
Cooperation with CONTIGO since 2010
Structure of the company
Number of employees: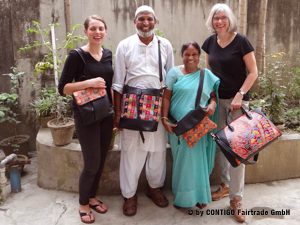 Internal employees / at the central workshop: 40-45 employees

Thereof 20 employees with fixed salaries in these departments: administration, purchase, design & product development, sample making, cutting and quality control
7 producer groups with 20-25 employees in total, paid by piece-wage, produce bags and wallets

External / decentralised producer groups:

2 groups for production of wallets and small leather items
1 group for shanti leather: owner Zameer Ahmed, cooperation with Feather Touch since 15 years
1 group for spray painted leather goods
6-10 people in each producer group
Work environment: 
Own production building: two former residential buildings, 3-storey
Ground floor: offices for accounting, administration, design and show room
Adjoining buildings at the same level: warehouse, workshop with special machines for embossing, skiving, clicking, as preparation for further worksteps
Upper floors: on each floor three rooms for several production groups (each 3-6 people), material storage
Attic storey: quality control and reparations
Technical equipment:

Light and bright rooms with day light
Ventilation/ air conditioner
Modern technical equipment and machines for cutting, embossing, skiving, clicking
On each floor bathroom facilities and inspected fire-extinguisher
New purchased building in Kolkata:
Five stories building and roof top. Removal of the production starts in November 2019. The take over from the former owner takes place in steps, as the previous tenants still continue work. The building disposes over generous working space, well set up office and show room facilities, a cafeteria, passenger lift and freight elevator. Two upper floors are already funished with tables for the packing department.
Organisation of work force:
Production groups with leader and team:

Team consists of handcrafters with different skills and experiences (un-skilled, semi-skilled and skilled) for simple glueing tasks up to complex works (cutting and sewing)

Production at the central workshop:

Entire bag production
Production of ECOfriendly leather ranges

Production at decentralised workshops:

Workers produce leather accessories in their own workshops in the surroundings of Kolkata
They receive prepared material packages, as well as advance payment for operating and labour costs
Sales
Exports (100%) to Austria, UK, Germany, Italy, Australia, Netherlands
Goals
To expand the work force to 250 crafters of the new bag and wallet production site within the next years
To upgrade an own tannery to procure high quality ecoleather
To increase the number of women in production. This will be in place as soon as the new premises is set up
Special features
Special focus on environental friendly production and ecofriendly leather processing
Outstanding knowledge and expertise in all fields of the leather production process from raw hide to ready made product
Why does CONTIGO work with Feather Touch: Feather Touch is an upcoming company with focus on continuous improvements of design, quality and working conditions.
Fairtrade classification
FTA = Fairtrade Approved
Fairtrade aspects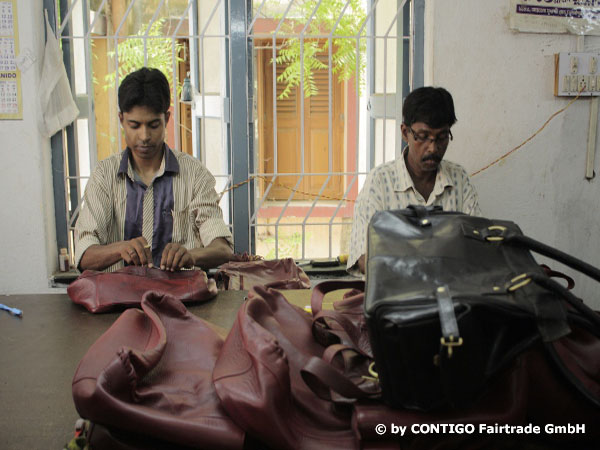 Feather Touch complies with the following Fairtrade Principles:
No child labour
No discrimination
No discrimination due to gender, disability, religion, ethnicity, sexual orientation, political orientation, or infection with HIV
Many different religions work together at Feather Touch.
Fair wages
Minimum wage in the state of West Bengal: (INR = Indian rupee), for tannery and leather industry

Un-skilled : INR 8,005/ month
Semi-skilled: INR 8,806/ month
Skilled: INR 9,687/ month
Employees with fixed wages:

Wages in quality control and back work: INR 7,000 – 8,000 / month
Wages in production (semi skilled): INR 9,500 -12,000 / month
Wages of specialists: INR 13,500 – 22,000 / month
All above mentioned wages are minimum and increase depending on order situation (bonus, overtime)
Monthly remittanceto personal bank accounts

Staff in production groups (at the central workshop as well as at decentralised workshops) receive piece-rated wages:

Minimum wage: INR 8,000/ month
Team leader receives INR 15,000/ month
Income depends on order situation and attendance time of worker
Predominantely cash payment
Wages are 10% higher than paid for comparable jobs in the region
Salary increment every year (due to inflation)
Higher wages in case of overtime on Sundays and bank holidays
Bonus payment for salaried staff (1 monthly salary)
Bonus payment for group leaders and good performing staff in the production group  (50% of monthly salary)
Humane working conditions
Working hours: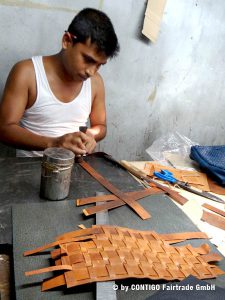 8 hours/day (Saturday 10:30am-7:00pm)
30 minutes break
6 days/week
Social benefits:
For all salaried employees:
Paid festival holidays (17 days per year)
Continued payment of wage in case of sickness or accident (12 days)
Recreation holidays (4 days)
Payment of contributions to health insurance ESI (=Employee State Insurance): employer pays 3,75%, employee pays 0,75% of monthly wage
Payment of contributions to pension scheme PF (=Employees´ Provident Fund), employer and employee pay each 12 % of monthly wage (less "housing allowance")
In case of need or family reasons: interest-free loans for all employees with individual refunding
In case of overtime: Feather Touch provides food and accomodation
Occupational safety:
All safety standards are met

Protective clothing is provided: breathing masks, protective glasses
First aid kit is available, a training for 2 first aid officers is carried out in December 2019
Fire license (with regular external controls, internal training)
Two emergency exits, external staircases
Transparency
Payroll is available
SAR (Self Assessment Report) was duly submitted to CONTIGO
Monitoring
Personal visits in Kolkata (2011, 2013, 2014, 2015, 2016, 2017, 2018, 2019)
Feedback interview during several visits in Germany
Country information
See Encyclopaedia Britannica: India 
Photos
Visiting Feather Touch in Kolkata (2018)
Visiting Feather Touch in Kolkata (2014)
Visiting Feather Touch in Kolkata (2013)
Visiting Feather Touch in Kolkata(2011)